Four more #Liverpool2018 events launched! Plus, our Top 10 Things To Do over the next fortnight…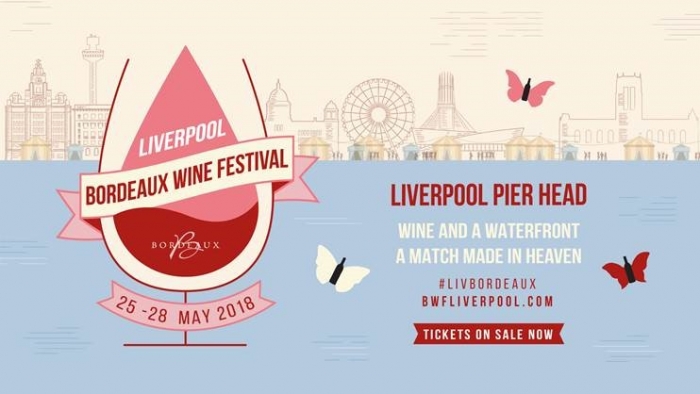 Wow, what a crazy couple of weeks it's been on the city's cultural scene, as #Liverpool2018 proves to be the gift that keeps on giving!
---

---
In the time since we released our last blog, we have announced two events that will prove to be big hitters within this year's offering: Liverpool International Music Festival, which will welcome artists including Example & DJ Wire, Wiley, Jax Jones, Hacienda Classical, Basement Jaxx (DJ Set), Young Fathers and DJ Jazzy Jeff to name a few; and Bordeaux Wine Festival (above), which is a major coup for the city and will run alongside our equally-impressive Three Festivals Tall Ships Regatta on Liverpool's World Heritage Site waterfront in a match made in Heaven. More news will follow on Tall Ships soon, so do keep your eye out in the coming weeks.
In addition to this, another #Liverpool2018 event, Liverpool Biennial ,has been announced – now in its 20th year, the 10th edition takes place on the 10th anniversary of Liverpool's reign as European Capital of Culture, and will welcome 40 artists from around the world as they ask the question: Beautiful World, Where Are You?
---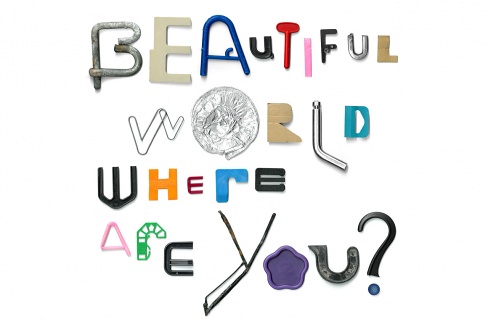 ---
And the good news doesn't stop there – in fact, it continues with "the art of news", which will be delivered to you from another Culture Liverpool-led project in Rapid Response Unit, which is the UK's first artist-led news bureau and is now up and running in St John's Shopping Centre. Follow the team on Facebook, Twitter and Instagram at @RRUNews for their reaction to the latest current affairs. You can also follow the team's AR Trail, which will display an animation a day in response to shifting news and be shared around Liverpool through a number of 'street portals' – that will activate the animations at the location via Layar, a free app. A map of the locations is available below (click to enlarge):
---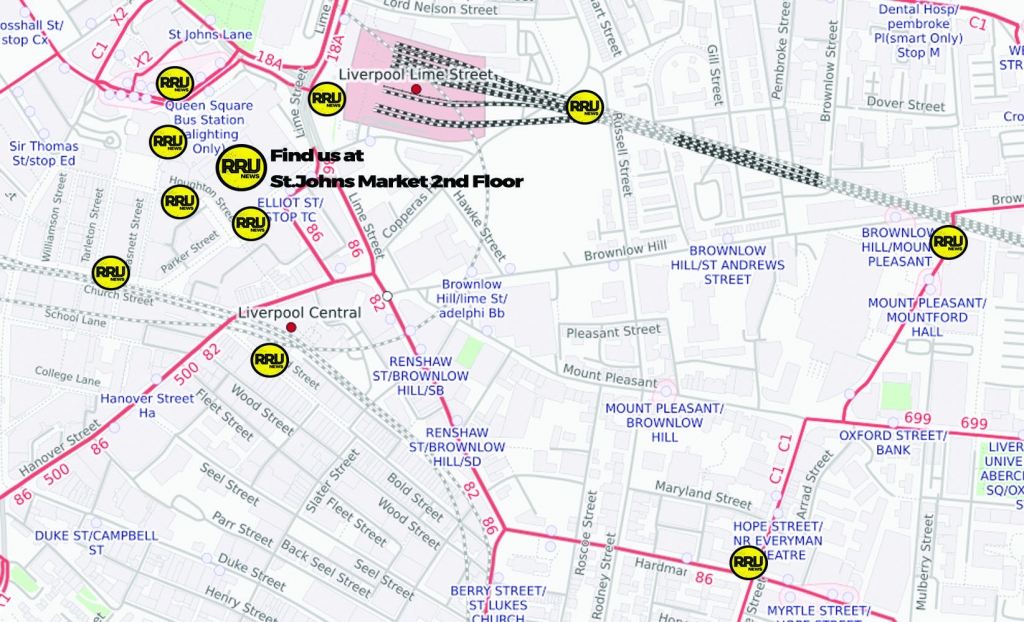 ---
As you can see, we have so much to look forward to in the coming months, but let's now switch our focus to what's happening across the city region over the next couple of weeks (listed in chronological order, so you can plan ahead easily)…
---
Top 10 Things To Do: From now until the end of March
---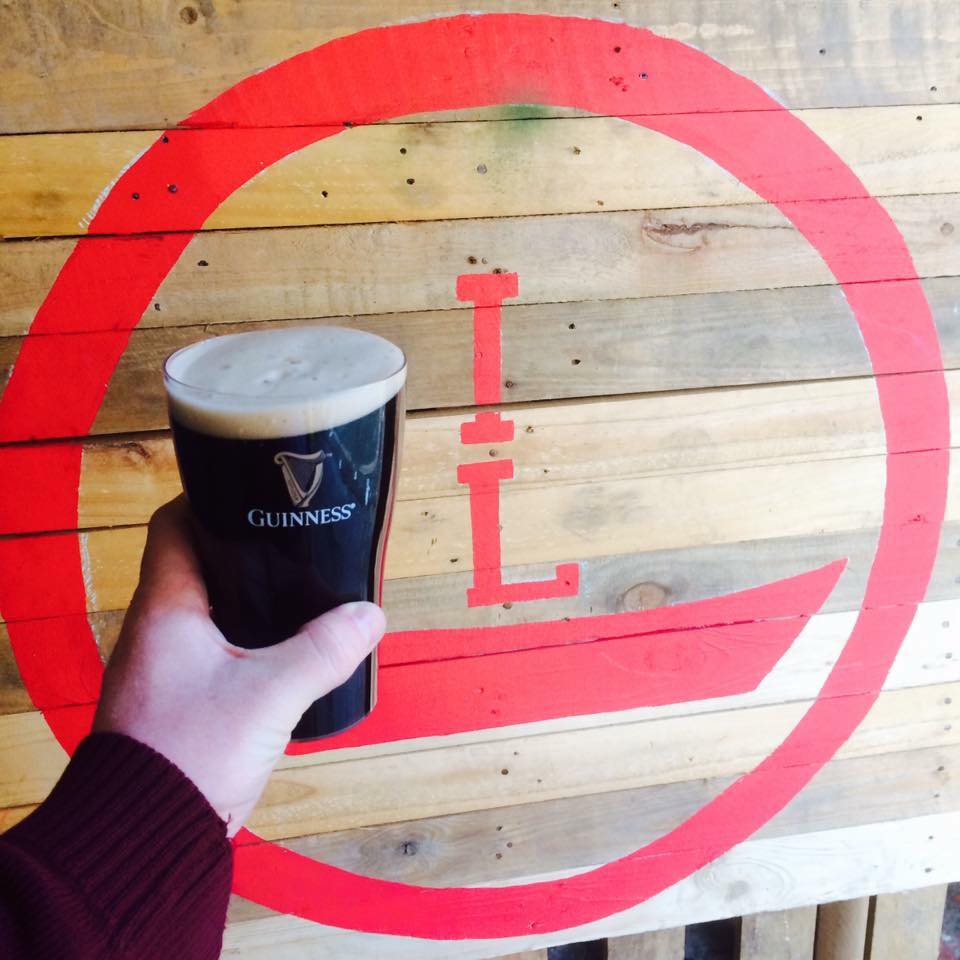 ---
10. Independent Liverpool's Big St Patrick's Day Weekender
---
When? Thursday 15 – Sunday 18 March
Where? The Great Baltic Warehouse
Why go? In case you missed it, Independent Liverpool's St Patrick's Weekender launched yesterday – but don't fret, there's still plenty of time to get involved with the Craic! Guinness are taking over the bar, Jameson Irish Whiskey will be flowing and there will also be a wide range of food (from wood-fire pizzas to halloumi fires). Of course, there'll also be plenty of Irish tunes from local bands, as well as Irish dancing and a special DJ set from Jonny Bongo!
---

---
9. States of Play: Roleplay Reality
---
When? Thursday 22 March – Sunday 17 June
Where? FACT
Why go? FACT's first major exhibition of 2018 explores the world of gaming, of creating virtual worlds and the avatars living in them. How can we use, and make, video games which truly explore our contemporary collective imagination and anxiety? An immersive, experiential and participatory show, States of Play: Roleplay Reality focuses on the independent and industry (AAA) games to readdress the way the format is used. Feminist titles created in the aftermath of gamergate, post-colonial retellings of well-known stories, artists who place you in the uncomfortable position of voyeur: the playable games, and artworks in this exhibition explore how we can really play with the format, and the preconceptions by which it is surrounded.
---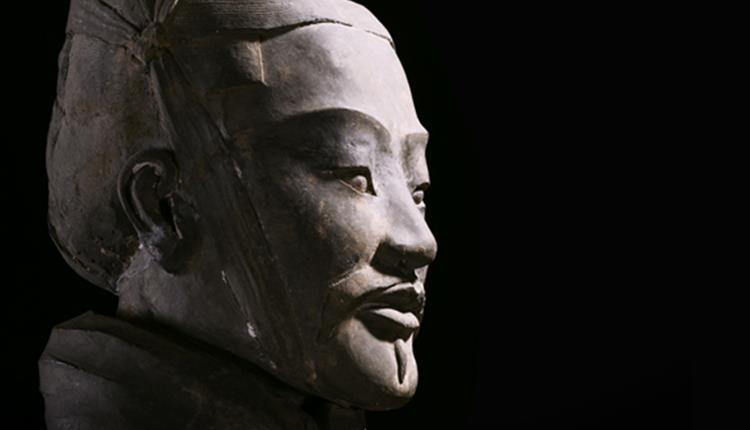 ---
8. Terracotta Warriors: An Evening with Lucy Johnson
---
When? Thursday 22 March
Where? World Museum
Why go? Experience China's First Emperor and the Terracotta Warriors after-hours at a special dinner event hosted by National Museums Liverpool. The evening will feature a fascinating talk from Lucy Johnson, Senior Exhibitions Officer, as well as a drinks reception, entry into the exhibition, three-course dinner and half a bottle of wine or two bottles of beer. Lucy Johnson, who worked extensively on the blockbuster exhibition, will provide an insight into to the life of China's First Emperor, Qin Shi Huang, exploring his rise power, his incredible burial site and the legacy of his achievements in the Han Dynasty. The talk will also highlight some of the star objects in the exhibition and what they tell us about life in Ancient China.
---
---
7. Young Makefest
---
When? Friday 23 March
Where? Liverpool Central Library
Why go? Young Makefest is a fun one day festival consisting of hands on activities and demonstrations for young people interested in creating art, digital technologies, performing or making with a range of materials and technologies. From crafting, to gaming to coding it's all here! Activities are suitable from 11am – 3pm on Friday 23 March for upper primary and secondary schools.
---
---
6. What Career Live? & What University Live?
---
When? Friday 23 – Saturday 24 March
Where? Exhibition Centre Liverpool
Why go? Having trouble deciding what steps to take after finishing school? Coming to Liverpool for the first time in 2018, What Career Live? and What University Live? are the essential events for 15-19 year olds to compare all the post-school options available, from apprenticeships to universities. Put your questions to the UK's top employers including J.P. Morgan, Amazon, Health Careers (NHS), Superdrug, Jaguar Land Rover, Deloitte and more. Speak with representatives from the Universities of Liverpool, Nottingham, Leeds, Hull, Huddersfield, Southampton and more.
---

---
5. Feast of Fire
---
When? Friday 23 March
Where? St Johns Gardens (at the back of St George's Hall)
Why go? Another event belonging to the #Liverpool2018 programme! Feel the heat as you walk through sizzling displays from world-class fire performers, set against the beautiful backdrop of the iconic St George's Hall. As you take your trail of discovery through St John's Gardens, be enchanted by sculptural metallic trees on fire, meander through a flaming arch and watch flowers ignite and bloom in front of you, performed to an amazing atmospheric soundtrack. As dusk turns to dark, warm yourself up with an appetising line up of artisan street food and drinks. From wood-fired pizzas and toasted marshmallows to flaming cocktails and chilli hot chocolate; Feast of Fire will quite literally set your taste-buds alight.

---
4. Milapfest Presents Music for the Mind & Soul: 25 Shreya Devnath
---
When? Saturday 24 March
Where? The Capstone Theatre
Why go? The beautiful melodic tones of the violin weave into the rhythmic mastery of the mridangam, kanjira and tabla in this very special concert experience. Shreya Devnath is a student of the legendary Sri Lalgudi Jayaraman, currently under the guidance of Sri Lalgudi GJR Krishnan, and strives to be a worthy representative of this prestigious school of music. She has been actively performing within and outside India for the last seven years. She performs dual roles, mainly as a soloist, but also as an accompanist, performing alongside various other artistes. Her music is characterised by substance and freshness with paramount importance given to aesthetic beauty.
---
---
3. Rock and Roll feat. The Bluejays
---
When? Sunday 25 March
Where? The Epstein Theatre
Why go? Much more than just a concert show, The Bluejays take you on a historical journey via breathtaking renditions of the biggest hits of the 1955-1959 period (Rock Around The Clock, That's All Right, That'll Be The Day, Tutti Frutti, Summertime Blues, Johnny B. Goode, Wake Up Little Susie, La Bamba, A Teenager In Love and many more) and reveal how the Rock 'n' Roll movement, rather than being a communicable disease, brought about a dream of equality and freedom that we still chase to this day.
---
---
2. Hard Times
---
When? Tuesday 27 – Saturday 31 March
Where? Liverpool Playhouse Theatre
Why go? Conrad Nelson directs Deborah McAndrew's witty adaptation of Charles Dickens' great Northern novel to bring you a joyful juggling and tumbling through this touching and often hilarious tale of repression and longing. Imagine a world where imagination is forbidden. Coketown is such a place. Thomas Gradgrind will not permit fanciful thoughts in his school or his home. But what effect will this policy have on his own children, Tom and Louisa? How can he protect them from corrupting influences – especially when the circus comes to town?
---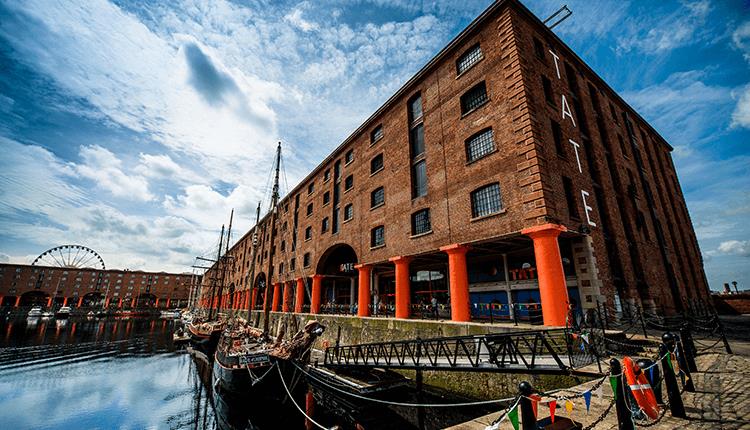 ---
1. Tate Liverpool at 30. Ken's Show:
Exploring the Unseen
---
When? Friday 30 March – Sunday 23 September
Where? Tate Liverpool
Why go? #Liverpool2018 marks the year of Tate Liverpool's 30th anniversary. Since opening in 1988 one man has been a constant presence at the Albert Dock gallery: Art Handling Manager Ken Simons. To celebrate this landmark year, Tate Liverpool will present a once-in-a-lifetime exhibition of 30 artists' works from the Tate collection curated and conceived by Ken. Ken's Show: Exploring the Unseen, in the ground floor Wolfson Gallery, includes some of his favourite artworks – many of which he has previously installed in the galleries. Together the works explore the unseen or mysterious spaces in our world and point to Ken's particular interest in sculptural and landscape art. Many of the chosen artists have worked directly with Ken, and a number of their works have now become central to the Tate collection.
---
P.S. Don't forget that you can find all of the latest Liverpool City Region
events at cultureliverpool.co.uk/events>