Liverpool Builds Bridges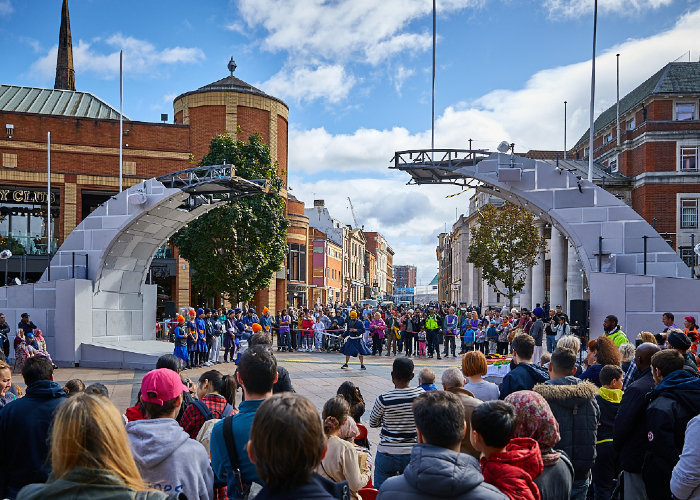 A spectacular bridge is set to mesmerise north Liverpool – bringing together culture, communities and civic pride.
The 72ft long and 19ft high structure will be located in Walton and will be the focal point of a three-day (5-7 August) event called Bridge. Each day it will play host to a series of free activities, and for two nights an extraordinary outdoor performance is set to wow crowds..
From 10am-5pm Thursday to Saturday, the community, artists and designers will come together in a series of workshops, conversations and activities which look to discover and tell the story of County ward and the people who live there.
At 8.45pm on Friday and Saturday, a gravity-defying circus acrobatics, dance, comedy, theatre and live music experience, inspired by local people's stories, will create a thrilling climax.
This will be a FREE ticketed performance and further details on ticketing will be announced on Tuesday 20 July.
As part of the project, communities will be encouraged to make their own bridges and share stories of bridge-building (and bridge-burning), using special kits which will be provided. The aim is to bring together people who wouldn't normally meet, to create an astonishing and beautiful structure in public and outdoor spaces. Community groups, schools, businesses and individuals are welcome to build their own bridges.
To apply to build a bridge, click HERE.
---
As well as building bridges, people can also get involved in the event by:
---
Staging activities as part of the Under the Bridge daytime programme – anything ranging from choirs, fitness classes to demonstrations.
Taking part in the evening finale performance. Aimed at experienced performers and dancers aged 16+, you must be able to learn a specific choreographed piece and attend a dress rehearsal on 5 August. Places are limited.
---
To find out more about how to get involved in this exciting cultural event, visit www.cultureliverpool.co.uk/bridge/
---
Bridge will be located at Breeze Hill, Millennium Green – known locally as The Rezzy (which can be found less than one mile north of Everton FC's Goodison Park stadium.
The outdoor experience is produced by Coventry-based company Imagineer Productions and is created by artistic director Orit Azaz. The event has been made possible by Culture Liverpool, Liverpool City Region Combined Authority, County District Community and Arts Council England.
Follow @CultureLPool (Twitter), @culture_liverpool (Instagram) and Culture Liverpool (Facebook) for the latest information.
Bridge forms part of two of the pledges made by the city council in March when it set out Liverpool's very own roadmap to recovery. These are The Comeback which aims to support a cultural programme across the city and Next Generation Neighbourhoods which has the ambition to build safe, sustainable and inspiring neighbourhoods. Head to the pledge website to find out more.
---
Liverpool's Cabinet Member for Culture and Visitor Economy, Councillor Harry Doyle, said:
---
"This is one of the first Culture Liverpool events to take place under my tenure as cabinet member, and I'm delighted that it will shine a spotlight on such a tight-knit, north Liverpool community.

"The concept of building bridges is something we can all identify with, and as we move towards normality after such a challenging and unsettling year, this event sends out positive messages around a community coming together and sharing in this wonderful experience.

"Local people play a key role, and with a number of opportunities for people to get involved across the two days. I'd like to thank residents, local councillors and council staff for their work on making the Bridge happen, and I hope as many people as possible get stuck in in what is set to be a real celebration of Walton and Liverpool."
---
Orit Azaz, Bridge Artistic Director said:
---
"The themes of Bridge seem more relevant than ever as we continue to feel the impact of the pandemic on all our lives. For us, Bridge offers a means of celebrating creativity and inclusivity as well as allowing us to invite people safely back together outdoors to share fun and playful experiences.

"Bridge also allows us to support artists and creatives through employment opportunities as the outdoor arts sector tentatively, and together, look ahead to a summer of outdoor performances."
---
Councillor Janette Williamson, the Portfolio Holder for Inclusive Economy and the Third Sector for the Liverpool City Region Combined Authority said:
---
"Our culture is what makes us unique as a city region. It is part of what defines us and plays a key role in all of our lives, and our communities are at the heart of that. Our town centres and high streets play a role in this, being the focal point of our communities so I'm delighted we could support this event through the Town Centre Fund.

"It's the perfect time to celebrate building bridges, coming together to share stories and to show the importance of community."
---
Jen Cleary, Director North and Combined Arts, Arts Council England said:
---
"I'm delighted that we have supported Bridge.

"After so long apart, it's fantastic that the community of Walton can join together to celebrate their stories and collaborate in creative endeavours leading to a free spectacular evening finale.

"As we start to emerge from the pandemic, I hope that everyone involved enjoys the event and is encouraged to explore more of the great arts and culture available in Liverpool."
---