Helping Hand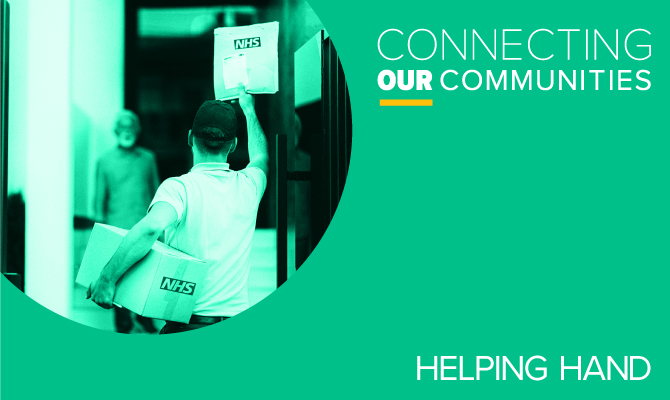 ---
Liverpool is known for being a very generous city, where people look out for one another, and the current crisis has shown some heart-warming examples of that when it's been most needed.
Here are just a few expressions of community help going on across the city…
---
---
An incredible outpouring of community spirit has resulted in more than 3,000 people volunteering to become part of Liverpool's 'community army' to help tackle the coronavirus challenge.
Mayor of Liverpool Joe Anderson set up the hotline on Friday 20 March and it was immediately inundated with pledges of help. The overwhelming response means the volunteer hotline has been temporarily suspended.
---
---
Mayor Anderson has opened up a Covid-19 Appeal as part of the established Mayor's Hope Fund, through which anyone can pledge to support those in desperate need of help during this difficult time.
And to kickstart the appeal Mayor Anderson will contribute £20,000 from his council budget.
The Mayor's Hope Fund was set up by the mayor to raise money to tackle poverty, particularly for families and people struggling to find or pay for their food supplies.
During the coronavirus pandemic, more people than ever are counting on the council and local community organisations for essential supplies because they are shielding, self-isolating or have lost their job. Every penny that is donated to the Mayor's Hope Fund will go directly to Liverpool-based community organisations.
You can contribute to the Mayor's Hope Fund Appeal at www.themayorshopefund.org.uk.
---
---
---
---
The Aigburth-based charity have launched the Wellbeing Support Line, which aims to help advise, signpost and support local people living with cancer or other long-term conditions through this difficult time. The number is 0151 726 8934, the line is manned by experienced counsellors and is open from 10am-3pm on weekdays and 11am-2pm on weekends.
---
---
Liverpool mum, Karen Canty, is leading teams of 'sewists' providing scrubs and scrub hats for hospitals across the city.
Karen reckons that she and her teams have already created more than 50 sets of scrubs, scrub hats and scrub bags for Aintree and Walton Neurological Trust.
And now she has rallied more machinests and organisers to create hundreds more for them and other hospitals across Liverpool.
---
---
For a long time L6 Centre has been putting in an amazing effort to run community services for North Liverpool including a food union, youth club, foodbank and many other activities. The centre plays a crucial role year-round, but lately have been even busier than usual as the effects of Coronavirus have taken hold. Their social media shows the results of some of this work, helping to provide food to hundreds of people around L6 and working with other areas around the city. You can support their work here.
---
---
Any business connected to the events industry has been significantly impacted by COVID-19, and this was certainly the case for Liverpool-based catering company Relish, who saw much of their business diminish as events were cancelled.
The team, however, were determined to do something positive and have flipped operations to cater for some of the city's vulnerable people. Relish is now using its facilities to benefit individuals in the community and support organisations with the preparation and delivery of meals.
---
Fans Supporting Foodbanks is another example of an initiative which has been running for several years and has become even more important due to the Coronavirus. This unique partnership between Everton and Liverpool fans has been collecting food outside matches for foodbanks since 2015, but now has moved to a new hub at Anfield Sports Centre from where they can help feed even more people. Keeping with the football theme, #MIFA2020 is a project with hundreds of artists designing football stickers to raise money for Fans Supporting Foodbanks, which you can check out here.
---
---
Croxteth Gems community centre has not let COVID-19 stop their youth club services. Instead they've taken them online, running a brilliant virtual service to keep in contact with the children they work with. Have a look at Croxteth Gems on Facebook to find out more.
---
---
Garston Adventure Playground has over 40 years' experience of working with children in Garston and giving kids a place to explore and play. While the playground itself is obviously not open, they are posting loads of activities for kids to do at home, which don't require much equipment. So far there have been easy-to-follow videos on how to make cheesecake and chicken skewers, create a dream catcher and other craft activities. They are also joining the movement of people making rainbows to thank health and care workers, and creating a giant community one. You can read about it on their Facebook.
---
---
dot-art has teamed up with member artist John Petch to offer this stunning limited-edition print, At Home, All's Well, for sale in support of the NHS in our region during the COVID-19 crisis.
---
---
As a thank you to NHS staff for their continued hard work, Yoga Therapy Liverpool are now offering free sessions on Zoom! More details on how to get involved can be found here and private sessions are also available to help people destress, reset and recharge. To book your session, email [email protected].
---
Chinese Wellbeing
---
Chinese Wellbeing works to improve health and reduce social isolation affecting carers of all ages and people over 50. In recent weeks they have had to adapt to the new ways of working. As many of their service users have no access to Government guidelines, staff have been individually calling and messaging people to make sure they have the latest news. They have also been running online activities for people to stay connected including senior pompom dancing, singing, handicrafts and games. Staff make it easy for people to join in even if they are not used to technology.
---
Residents
---
But it's not just organisations who are doing their bit. All over the city, hyperlocal WhatsApp groups have sprung up in the last couple of weeks as residents have mobilised to support those immediately around them. Some of these have been just within a single street, or a whole postcode. These are very informal groups where more vulnerable people can ask for help with shopping, prescriptions, getting online or even just a call or chat through the window to stem loneliness.
---
This is only a small number of examples in a city that's full of them, we'll be adding more to this list over the coming weeks.