Lost Castles
Liverpool will welcome French artist Olivier Grossette - renowned for recreating extraordinary structures out of cardboard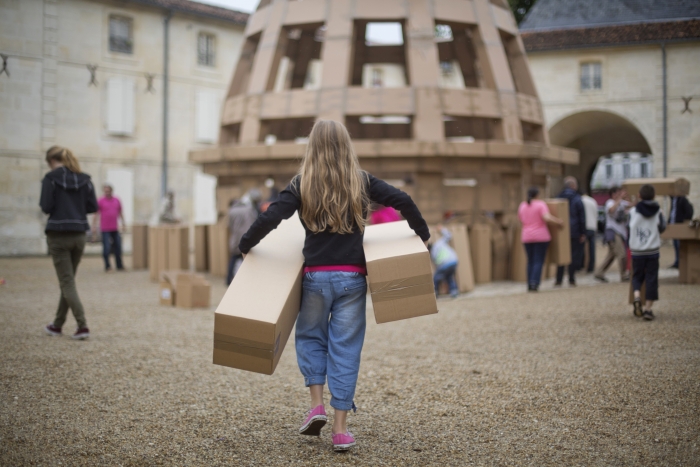 Liverpool will welcome French artist Olivier Grossette – renowned for recreating extraordinary structures out of cardboard – he will work with communities to recreate some lost castles from across the city region in the exact places they once stood. From 9 – 12 August, these structures will become magical venues for performances and events to take place. Lost Castles is the first cultural project involving all six boroughs which will see hundreds of volunteers work with Olivier and his team.
Construction will begin on site for Liverpool, Wirral and Sefton on Thursday 9 August, and Knowsley, St Helens and Halton will be on site from Friday 10 August. Once the creations are completed, a programme of family friendly free activities will take place on Saturday (11 August) ranging from street theatre, storytelling, falconry displays, live music and even appearances by a dragon or two.
Communities are encouraged to come together once again on Sunday (12 August) to topple the structure.
Many of the cardboard buildings are expected to tower over 20metres high, with each borough using their own heritage as inspiration.
Liverpool
What is being built?
Located in Williamson Square, a castle will be built inspired by Liverpool Castle which stood at the top of modern day Lord Street, and is thought to have been built early in the 13th Century – around 1230s.
What to expect on Saturday
From midday to 6pm, expect a fairy-tale themed programme which will see knights in shining armour, juggling and stilt walking jesters, princes, princesses, kings, queens and a dragon to entertain the crowds. There will be story-telling to keep the family entertained throughout the day along with live music supplying a medieval soundtrack to the activities.
What time is it being toppled on Sunday?
5pm
All the cardboard will be responsibly recycled after the event.
Visit the Lost Castles website for more information.
---
Event Date: Thursday 9th August – Sunday 12th August 2018
---