Visit the Poppies
This page is from 2015 and has been archived.
Please be aware that the information may be out of date.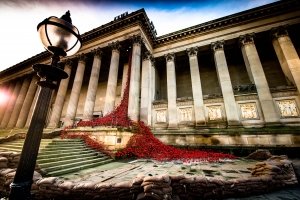 The Weeping Window sculpture will be at St George's Hall from 7 November 2015 – 17 January 2016. We recommend you visit from 10.00am – 5.00pm for the best viewing experience.
During the time the Poppies: Weeping Window is in place, there are a variety of activities taking place in and around St George's Hall. You can find out more about these acitivites in our digital guide here or visit our events page which features the latest events, activities and workshops you can attend – many of which are free of charge.
Please keep checking for the latest updates or alternatively follow us on @culturelpool on Twitter or the Culture Liverpool Facebook for live updates.
When will I be able to visit the Poppies?
The Weeping Window sculpture will be available to visit from 7 November 2015 –  17 January 2016 at St George's Hall. To get close to the Poppies: Weeping Window we advise you visit from 10.00am – 5.00pm. After this time, you will still be able to see the sculpture from afar but will not be able to get close.
Please remember – the last date to see the Poppies is Sunday 17th January when they will close at 5pm. On this day there will be a short musical accompaniment from the Liverpool Welsh Choral Union at 2.00pm featuring songs such as Abide With Me. There will also be a poignant close to the art installation as a bugler from the Band of the Duke of Lancaster's performs the Last Post at around 4.45pm. Throughout, a standard bearer from the Liverpool Pals Memorial Committee will be present in full period uniform.
Is there a charge?
No, there is no charge to view the Weeping Window – it is FREE to come and visit the sculpture.
Is it accessible for disabled visitors?
Yes, the site of the sculpture at St George's Hall is fully accessible.
Where can I find out about activities, workshops and getting involved in the Poppies?
There are lots of different activities taking place at St George's Hall as well as St George's Quarter and the surrounding areas. These activities range from workshops to walking tours to exhibitions and talks and are suitable for children, families and adults. Many of the activities are free of charge and don't need to be booked with additional resources available for groups who wish to book should you wish to.
We have a full guide available online here which details the Poppies: Weeping Window installation as well as some of the events taking place. For a full up to the minute listing of all events taking place, we would advise you visit our events page here for the latest news.
I would like to buy merchandise, where can I purchase it from?
We have a range of merchandise available to purchase from the Tourist Information Centre in the marquee outside of St George's Hall (to the left of the Poppies) as well as in the Heritage shop in St George's Hall. If you would prefer, you can also purchase items online via the Tourist Information Centre online shop. The Tourist Information Centre is open from 10am – 4pm. Please check social media for any changes to opening hours.
Can I purchase food and drink at the Hall? 
Yes, there is an indoor area in the marquee with a sit down cafe area serving both hot and cold food which is open daily when the Poppies: Weeping Window is open.
I would like to bring a school / community / group to visit the Poppies – is this possible and how do we arrange this?
Yes, schools and groups are welcome to visit but as we expect a large amount of visitors we do advise that you pre-book with us. Schools and groups which are pre-booked are welcome to visit from 9.30am.
If you are visiting as a group there is the usual drop off and collection point at William Brown Street outside the World Museum and Central Library – please enter via Byrom Street. Please note, there is a fifteen minute drop off and collection waiting time. If you would like to arrange a visit for a group or educational visit please contact us via email here.
How do I get to St George's Hall?
By Rail: Liverpool Lime Street Station is directly opposite St George's Hall – when leaving the station come out of the main entrance and down the front steps / accessible lift and use the crossings which will bring you directly to the Hall – for the latest train times please contact National Rail Enquiries on 08457 484 450. If you are travelling locally by train the Merseyrail website can help with local train enquiries.
By Public Transport: Queen Square Bus Station and Lime Street Station are both less than five minutes walk away. www.merseytravel.gov.uk has comprehensive transport information and a 'Journey Planner' service or you can call Traveline on 0870 608 2608. Alternatively get directions by public transport and car with Transport Direct. Please enter the postcode of your starting point.
By Car: Take the M62 or M53 to Liverpool. At the end of the motorway head towards the city centre. On entering the city follow signs for Lime Street train station. The entrance is at the Heritage Centre on St George's Place. The nearest multi-storey car park is in Queen Square – please use postcode L1 1RH in a satnav.
If you are travelling from outside of Liverpool and would like detailed transport information, we have teamed up with GoEuro to provide a tailored travel plan which can be viewed on our GoEuro page here.
I would like to volunteer and be an Ambassador for the Poppies: Weeping Window – how do I do this?
We have now closed our volunteer recruitment campaign so unfortunately we are unable to take more applications. If you would like more information on getting involved in other events or if you would like to chat to a member of the team please email us here.