The Bluecoat marks Dementia Action Week with events, workshops and a new video artwork by Suki Chan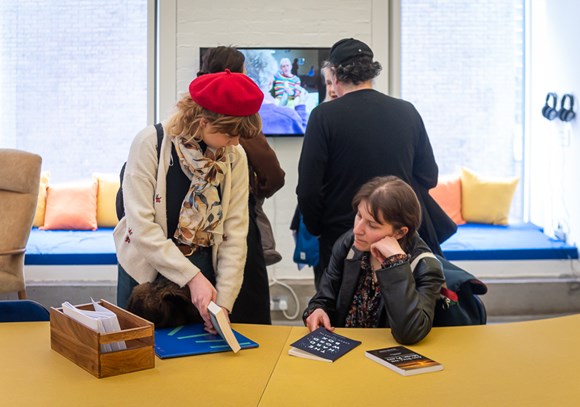 As part of Dementia Action Week taking place from 16 – 21 May 2022, the Bluecoat will be hosting events, workshops and a video artwork by artist Suki Chan. The programme relates to two exhibitions currently on show at the Bluecoat until Sunday 12 June, CONSCIOUS by Suki Chan, and group exhibition Where the Arts Belong: Making Sense (Of It All).
To mark Dementia Action Week, the Bluecoat will present a new commission by Suki Chan. FOG is a 360º video work that delves into the world of writer Wendy Mitchell, who wrote her first book after being diagnosed with early-onset dementia at the age of 58. Mitchell, who also features in Chan's film Fog in My Head, describes dementia as a 'fog descending on the brain'. In this new work, available on Youtube, Wendy's home emerges from a cloud of fog as she explains how she uses visual signifiers around the home to trigger her memory and help live her life as independently as possible. The viewer can control the camera and navigate the rooms of Wendy's house, giving a glimpse into how dementia affects consciousness.
Later in the week, the Bluecoat will host A Coffee Morning with Wendy Mitchell and Suki Chan on Thursday 19 May. They will discuss CONSCIOUS and Mitchell's new book What I Wish People Knew About Dementia (2022) as well as her best selling memoir Somebody That I Used to Know (2018).
On Monday 16 May, Project Lead Tabitha Moses will jointly facilitate an online discussion with the Bluecoat's Head of Programme, Marie-Anne McQuay and some of the leading artists whose work is displayed in the exhibition. Artists Francisco Carrasco, Gav Cross, Alan Dunn, Roger Hill, Brigitte Jurack, Mary Prestidge, and Jonathan Raisin will share their processes and experiences working on this groundbreaking artistic project.
In the upstairs gallery at the Bluecoat, The Brain Charity will be running a series of workshops with people affected by dementia. Music Makes Us! is an initiative which brings music-based therapy to people living with dementia, their family, friends and carers. They will be running weekly singing and speech & language therapy sessions at the Bluecoat from Sunday 22nd May at 12.30pm.
Suki Chan (UK/HK), b.1977, is a critically-acclaimed artist and filmmaker whose work uses moving image, photography, and sound to explore our perception of reality.
CONSCIOUS brings together different perspectives from scientists and ordinary people which shake up our preconceptions about individual and collective consciousness. Within her wider study of consciousness and perception, Chan worked with people living with dementia to explore how memory loss can destabilise our understanding of the present, while opening up other realities. The artist discusses this exhibition in a film by the Bluecoat.
Alongside CONSCIOUS is an exhibition exploring our ongoing Where the Arts Belong project which saw a group of artists work creatively with people living with dementia on a wide range of artistic activities. Where the Arts Belong (Making Sense Of It All) shares insight into the processes, artist works and responses created across this period, including photography, ceramics, audio works, handmade books, a reading area and a space for visitors to respond creatively to the project.
Events Listings:
Mon 16 May – Where the Arts Belong in Conversation
Online
Free, booking required
Book here
Thu 19 May – A Coffee Morning with Wendy Mitchell and Suki Chan
£5/£4, free for Carers and Support Workers
Book here
Sun 22 May – Sun 12 Jun, 12.30pm – Music Makes Us! Workshops (Weekly)
To register, please sign up on The Brain Charity's website calendar, email

[email protected]

, or ring 0151 298 2999, and ask for Kym.
FREE
Artwork and Exhibition dates:
Suki Chan, CONSCIOUS – Showing until Jun 12
Where the Arts Belong (Making Sense Of It All) – Showing until Jun 12
Suki Chan, Fog – Showing online from Mon 16 May – See a preview of the work here