Milap to release new Indian Instruments Sample Pack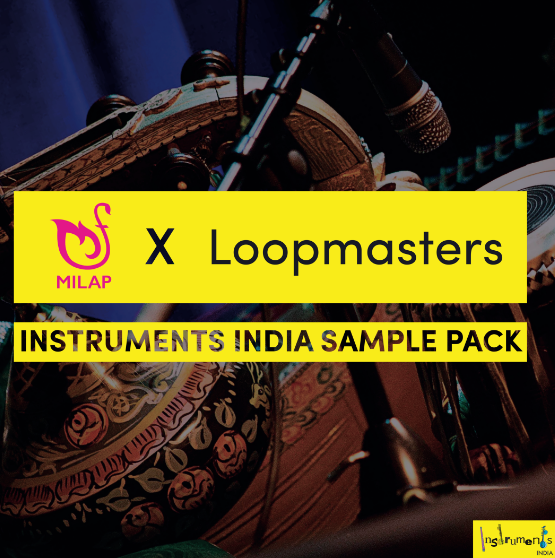 Using an extensive archive of recordings from 2013, Milap (the UK's leading Indian Arts and Culture Company) – in collaboration with The Open University – have created a brand new Sample Pack showcasing a range of traditional Indian instruments to be released on Loopmasters.
A key cornerstone of Milap's work, Instruments INDIA is a rich and varied musical archive that captures the inspirational sounds and histories of instruments from the entire Indian sub-continent; including how they are played and exploring the types of settings they are usually heard in.
The musical archive is the result of a partnership between Milap and Liverpool Hope University, funded by the Arts and Humanities Research Council back in 2013. Dr Manuella Blackburn worked closely with Milap associated musicians, recording over 5 hours of material from 28 different Indian instruments.
From this unique archive, Milap, the Instruments India team and The Open University have created a brand new Sample Pack showcasing the full spectrum of Indian sounds, to be released via Loopmasters later this month.
The release will coincide with a virtual panel discussion on 31st March 2-4pm (UK time). 'Selling Cultural Sounds: Indian Music in the Sample Pack Industry' will feature a round table discussion from industry experts, musicians, producers and academics, including Dr Rajeeb Chakraborty, Conor Bailey, Hussein Boon, Dr Haekyung Um and Girishh Gopalakrishnan – plus more to be announced soon!
Click here to register for the event.
Whether it's the evocative and haunting sound of the bansuri flute or the unmistakable drone of the shruti box, and from the percussive beats of the mridangam and tabla to the introspective sarod and inimitable overtones of the sitar… this brand new Sample Pack features a rich plethora of instruments and sounds.
Milap and The Open University are delighted to announce that the Sample Pack will be distributed by Loopmasters from March 31st 2022, giving creatives within the worldwide music community the opportunity to acquire for themselves Milap's incredible sonic archive.
Discussing the three most important outcomes of the project, Milap's CEO & Artistic Director Alok Nayak said,
"First, we've created a new set of sample packs of Indian instruments, available to composers and artists around the world. Indian music samples are of mixed quality and often limited. This will bring new sounds onto the market and pave the way for more in the future.

Second, these sample packs are showcasing and representing the artists who provided them fairly, addressing the lack of understanding and equality afforded to artists from outside western music genres. It's crucial that all across the music industry inequalities are addressed and prejudices rebalanced.

Finally, the project represents the really significant ongoing partnership we have enjoyed since 2013 with Dr Manuella Blackburn, now of The Open University. I've really valued the collaboration with her, and it is a fantastic example of fair and open cooperation which is mutually beneficial.

I'm really excited that we are sharing the music of some brilliant composers who have created these sample packs, and we're going to write and talk about this more in the future, and share ideas on where the project will go next after 2022."
Musicians who appeared in the archive contributed to curating the samples from the existing sound recordings. This process of engaging in dialogue with musicians (Dr Rajeeb Chakraborty and Kousic Sen) revealed important considerations, including formatting conventions and the application of subtle effects to 'touch up' sound materials so they are ready for producers to use in their creations.
Speaking about the project, Dr Manuella Blackburn said,
"It's great to be able to offer this sample pack of Indian musical instrument sounds to music production communities worldwide. What is special about this opportunity is that it is specifically aimed at young composers, artists, and producers. Hearing the range of responses and interpretations of Indian instrument samples has been a pleasure and it has clearly captivated the imaginations of these submitting artists who are starting out in their creative journeys."
The virtual panel discussion will be taking place on Thursday, March 31st at 2-4pm (UK time).
Click here to register for the event