Families head to Calderstones for the Storybarn's biggest summer ever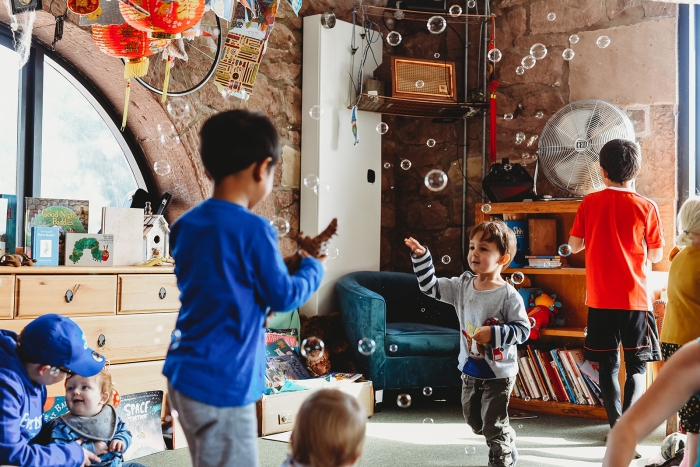 This summer sees the biggest programme of events the Storybarn has ever offered families, with four different experiences to take part in over the school holidays.
Part of national charity The Reader, the Storybarn is a beautifully converted barn nestled in Calderstones Park, that's been carefully created to help bring books and stories to life, and spark a life-long love of reading for children and families.The space is open to the public for weekly family reading activities and events, as well as being a destination for schools trips and partner organisation events.
From July, families can take part in a brand new, self-led outdoor summer trail based on the picture book The Story Thief by Graham Carter. Family tickets include a map for everyone and a copy of the book to take home and enjoy again and again.
Throughout August, the Storybarn will be hosting Fishing for Stories; a nautical-themed adventure involving seaside games and sea shanties, and I Spy A Story, a part-imaginative play, part-escape room escapade!
There are also three new Welly Walks this summer, starting with a Beatles-themed Swinging into the 60s walk on Wednesday 27 July. The 29 August walk will explore Unearthing the Past and the 11 September walk will be centre on the ancient Calder Stones based in the park.
In addition to the summer programming, the Storybarn runs weekly drop-in sessions throughout the year, including Incy Wincy Rhymers (a singing-and-stories session for 1 – 4 year olds) and Relaxed Reading for Parents & Carers, a free, adult Shared Reading group for people who want to bring a little one along too.
As well as the Storybarn, visitors to Calderstones Park can enjoy a visit to the Ice Cream Parlour, The Reader Café, The Reader Bookshop, and the Heritage Rooms inside the Mansion House, where you can uncover the history of the park.
For details of The Reader's activities at Calderstones and how to get involved, visit www.thereader.org.uk