50 days to go until the Vitality Netball World Cup 2019
Thursday 23rd May marks 50 days to go until the Vitality Netball World Cup - the world's most prestigious netball competition – which takes place at the M&S Bank Arena in Liverpool.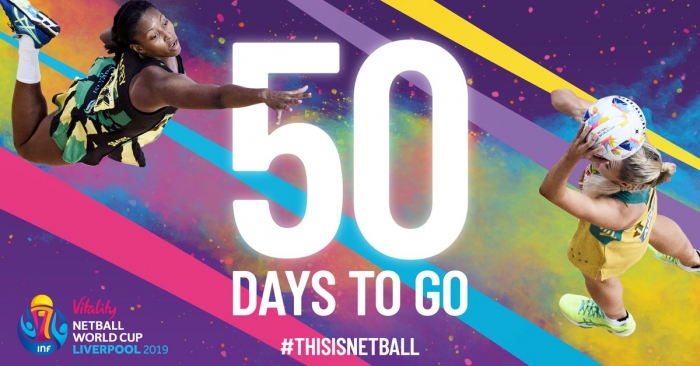 The tournament will feature the top 16 teams in the world, including Home Nations England, Scotland and Northern Ireland.
Ticket sales for netball's premier international sporting tournament have been selling rapidly, with over 92,000 spectators confirmed so far.
Thursday 23rd witnesses big news from the England Roses, as they announce their official squad for the tournament. The team will be looking to build on their success at 2018's Commonwealth Games, where they defeated favourites and world number ones the Australian Diamonds to clinch Commonwealth gold.
The event – which is to be delivered by Netball World Cup Limited in partnership with England Netball, UK Sport, Liverpool City Council and ACC Liverpool, on behalf of the International Netball Federation – will take place from 12-21 July 2019.
Vitality Netball World Cup ambassador Jade Clarke said:
"With just 50 days to go now excitement is at fever point, among players, teams and fans! From the Roses' point of view, we can't wait to welcome the world and we know that the international teams are looking forward to coming over to Liverpool. It's going to be a historic event."
Tickets are still available for selected sessions. Head to the Netball World Cup website for more information.
The full competition schedule can be viewed on the Netball World Cup website schedule.