Unique conference puts racial inequalities in the spotlight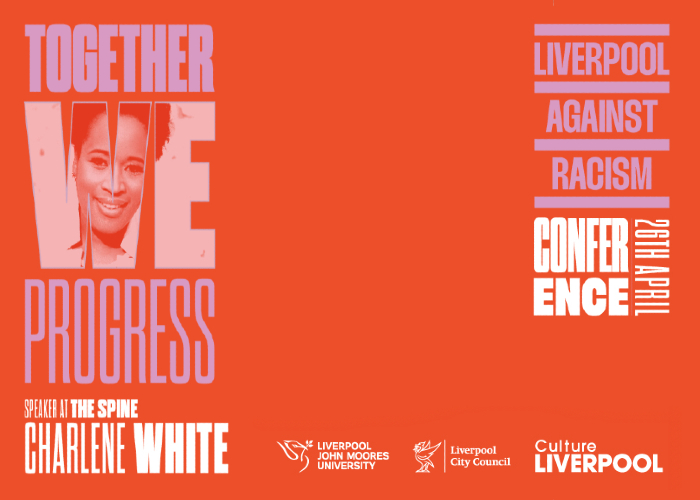 A BAFTA winning film-maker and historian, an ITV news anchor, a former professional boxer and a critically acclaimed American author are just some of the people coming together in Liverpool to address the issue of racism.
Liverpool Against Racism takes place next month (Sunday 24-Saturday 30 April) and on Tuesday 26 April a unique conference will see a day of conversation and debate around systematic racism in today's society.
Led by Mayor of Liverpool Joanne Anderson, who has instigated the festival as part of the city's response to the worldwide Black Lives Matter campaign, she will be joined by presenter and historian David Olusoga OBE, Loose Women and news anchor Charlene White, activist and journalist Kevin Powell and former boxer turned actor Tony Bellew.
The day will cover sectors such as education, sport, the media, fashion and technology – with more than 60 speakers and facilitators on the line-up delivering the sessions.
---
Some of the highlight debates include:
---
Kicking It Out – Can meaningful change be achieved in football? The Equality, Diversity and Inclusion leads at both Liverpool and Everton Football Clubs join professional football player Neil Danns on a panel around race in the beautiful game and what best practice looks like.
Representation in the Media – BBC Asian Network's Bobby Friction hosts a panel featuring Charlene White to find out about how people from under-represented groups navigate the media industry, what barriers are in place and how to make effective change.
The Power of Community Organisations for Sustained Change – Dominique Walker from the Anthony Walker Foundation shines a spotlight on what impact local organisations can have in improving local communities.
Liverpool: Before and Beyond Slavery – Historian and activist Laurence Westgaph reflects on the city's long relationship with the Black community
Equality on Stage? – Creative Director of the Everyman and Playhouse, Suba Das, chairs a roundtable discussion featuring actor Cathy Tyson, looking at the ongoing challenges people of colour face when pursuing a career in the theatre.
Sports for Social Change – Ex-champion boxer Tony Bellew and Olympian Anyika Onuora take part in a panel which looks at how sport can be a beacon for change, cohesion and community.
Moving Towards the New Face of Fashion – Designer and artist Andrew Ibi leads conversations around what are the next steps needed to make the fashion industry more diverse.
---
The full day conference has been organised in partnership with Liverpool John Moores University and will take place in brand new city centre venue The Spine. Tickets cost £20 plus booking fee per person. Places are limited
For the latest event and line-up information, or to purchase tickets, head to www.cultureliverpool.co.uk/liverpool-against-racism/.
Anyone looking for somewhere to stay during the Liverpool Against Racism festival, can use the accommodation booking service through the Liverpool Convention Bureau. This is an online service which allows you to book accommodation to suit your needs and budget. Accommodation rates have been secured at a number of options close to the conference venue. For more information and to book accommodation click here.
#LiverpoolAgainstRacism
---
Keynote speaker, historian, presenter and filmmaker, David Olusoga, said:
---
"Without a doubt, the conversations we have had around race have evolved over recent years, with the likes of Windrush and the murder of George Floyd causing a monumental shift and altering the narrative. Acknowledging the challenges we face is reason enough to feel optimistic about the future, and events like Liverpool Against Racism are pivotal in furthering the conversation around discrimination. I'm looking forward to heading to Liverpool for what is sure to be a fascinating event."
---
Media personality and conference speaker, Charlene White, said:
---
"It sounds like Liverpool is doing what it does best and blazing a trail by staging the Liverpool Against Racism event which I'm honoured to be asked to be part of. It's a topic close to my heart – discrimination is something I've experienced my entire life, and has only been exacerbated since being in the public eye. But no matter how hard it can sometimes feel, we need to continue to keep talking about racism and the impact it can have – we should never shy away from having this conversation and I can't wait to be part of this unique event which brings the subject to the fore with flare and creativity."
---
Liverpool Against Racism Creative Consultant, Yaw Owusu, said:
---
"We can never underestimate the importance of events like this and the potential impact they can have.

"Under one roof we are going to have some of the leading voices in discrimination and equality from across world talking honestly and openly about the challenge of making our society more inclusive, diverse and equal.

"It's a packed, one-day programme that will be thought-provoking, passionate, emotionally-charged and profound."
---
Moni Akinsanya, Equality, Diversity, Inclusion Manager at Liverpool John Moores University, said:
---
"Here at Liverpool John Moores University we are extremely proud to be the lead supporters of the first Liverpool Against Racism Conference. This conference is an opportunity to bring people together to debate the issues affecting minority communities and to come up with tangible outcomes for individuals, businesses and various sectors across the city region.

"From access and recruitment, to retention and progression, we all have a responsibility to minimise any barriers and to bring about positive change. We, as the Equality Team at LJMU, are really looking forward to hearing from this impressive line-up of speakers and we encourage everyone to join this fantastic event."
---