La Machine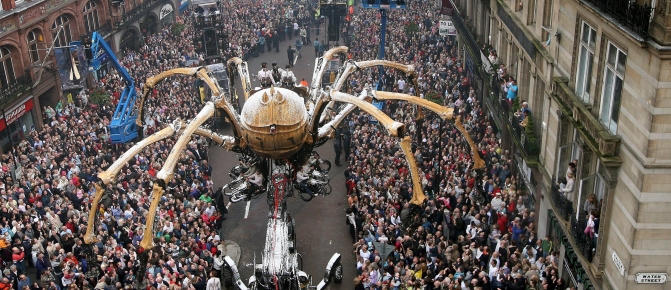 Following on from the incredible Sultan's Elephant, that brought London streets to a standstill in May 2006, as the city marvelled at the sight of a gigantic wooden elephant and a little­girl giant in a green dress, Artichoke and François Delarozière with his company La Machine, created a magical and astonishing new show especially for Liverpool's European Capital of Culture celebrations.
La machine created a 50′ mechanical spider ­ La Princesse ­ which first appeared in the early morning, hanging from a city office block in the city; purportedly discovered in the course of the extensive redevelopment work that was taking place in Liverpool at the time.
Over the course of the four­day spectacle the creature was removed from the building to a special testing area outside the Liverpool Echo Arena where a team of specially trained technicians could perform various experiments involving fire, water, snow and music to awaken the creature.  Once awake, La Princesse took the city by storm, scuttling around on a delicate "rampage" across the Liverpool waterfront and through the city centre, serenaded by a parade of musicians in cherry pickers and winning the hearts of more than 500,000 people who had come into Liverpool to see her.  After climbing back onto the building where she had been first discovered, she decended on the final evening for her farewell performance in the city's cultural quarter, before escaping down the Mersey Tunnel in a spectacle of fire, water, light and smoke ­ supposedly never to be seen again…
The commissioning of this event is estimated to have generated £2,007,588 for the Liverpool economy.
This amazing show was subsequently repeated in Yokohama in Japan, as part of the port's 150th anniversary celebrations, where La Princesse was joined by a second mechanical spider.
Artichoke
Founded by Helen Marriage and Nicky Webb, producers of extraordinary live events, Artichoke works in unusual places: in streets, public spaces or in the countryside. Previous projects include the first arts programme at Canary Wharf in the early nineties, and the transformation of the Salisbury Festival from a local event into what The Times called 'a miracle of modern British culture'.
Artichoke believes that the arts shouldn't only take place behind the closed doors of our theatres and art galleries, choosing instead to put on events that, though ambitious and complex, have something to say to the widest possible audience. By putting on extraordinary shows that change the way people look at the world and working with the best creative minds, Artichoke produces events that live in the memory forever.