What's Your Story?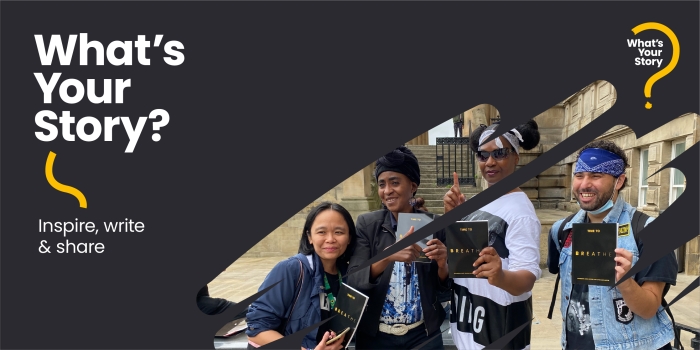 Have you got a story to tell? Want to be creative and meet people?   
What's Your Story? is a creative writing course with a twist. As WoW's longest-running programme, What's Your Story? is a place where the group is just as important as the individual. Through regular writing sessions, we'll help you build the confidence to share your story, develop creative work, and get published. As well as working alongside your peers, the project provides an opportunity to work with a professional writer and receive expert guidance.
 
How to get involved 
Writing on the Wall (WoW) have partnered with Culture Liverpool to launch two What's your Story? projects coming in March 2022 and April 2022.  
The COVID-19 pandemic highlighted how important community is and the benefits of connecting with others and sharing our stories. As a global community, we experienced the pandemic together, yet we know that some of us were disproportionately affected. Covid-19 impacted our ability to move around freely, our mental health, job opportunities, connections with others and much more. WoW and Culture Liverpool are providing free creative spaces for communities to reconnect, share and write, and we want to hear from you.  
We'll be delivering two projects, one with clinically extremely vulnerable (CEV) people and the other with frontline workers in the Liverpool City Region. We will work with you to capture your stories and this moment in time. How do we move forward together and create new communities? 
Are you a frontline worker? Do you identify as clinically extremely vulnerable? Meet others with your experience, get creative, and get writing!  
Please see eligibility for these two What's Your Story? Projects below: 
Living in the LCR 

Clinically extremely vulnerable (CEV) OR 

Employed as a frontline worker 
Once you have submitted your interest form we will be in touch within 2 weeks.  
If you have any questions, please email [email protected] 
---
Event Date: Tuesday 1st March – Saturday 30th April 2022
---