Liverpool Theatre Festival presents: Twice Nightly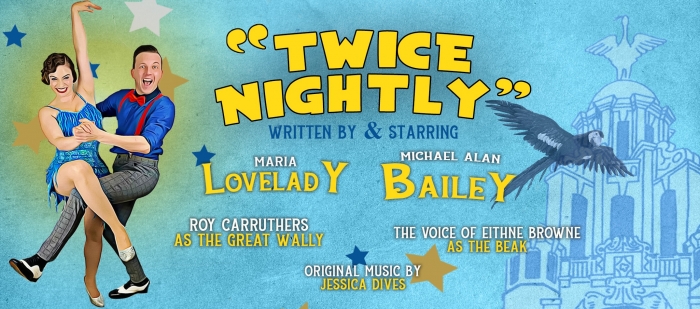 Billed as a highlight of Little LTF new works festival in July, Twice Nightly is back and selected to perform again at the main Liverpool Theatre Festival.
It's 1931 and variety is the spice of life. Liverpool's theatres are sizzling with the hottest music hall acts of the day and there's something for every taste!
Don and Madge, a song and dance double act, are living the sweet life… until things turn sour. A night they can't remember finds them in hot water and if they want to be back on stage for their second show, they must chew the fat over some golden nuggets from their career before they get in a pickle. Tales of a sex-crazed parrot, a strong man and The Great Wally all add to the flavour, but the imposing pandemic of cinema makes the duo stew over what life in the theatre means to them.
Featuring original songs and celebrating theatre's golden years, this homemade comedy will leave you wanting second helpings!
"A wonderful piece of theatre… full of pazazz and showmanship" Writebase
"Liverpool's greatest 24 carat glitter variety performers" North West End
Running Time: 70 mins no interval
Produced by FRAME THIS! PRESENTS…
Starring MICHAEL ALAN BAILEY & MARIA LOVELADY, featuring ROY CARRUTHERS and The Voice of EITHNE BROWNE as 'The Beak'
Written and directed by MICHAEL ALAN BAILEY & MARIA LOVELADY | Music and original score: JESSICA DIVES
---
Event Date: Tuesday 7th September – Tuesday 7th September 2021
LOCATION: Bombed Out Church, Liverpool
Please note:
This event has been submitted by the event organiser and is not endorsed by Culture Liverpool or Liverpool City Council. If you have any questions, please direct them to the event organiser.
---