Limelight: Saturday Night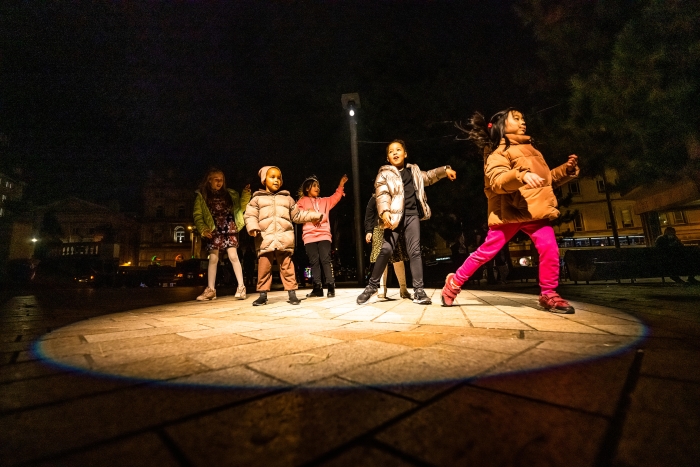 Limelight: Saturday Night transforms the street into a stage and the spectators into performers by replacing two conventional streetlights with outdoor theatre spotlights that point to the same single spot.
The theatre spotlight is a recognisable and familiar symbol of performance. By making this subtle change in lighting the street becomes a space for spontaneous action and interaction. Limelight: Saturday Night changes a passing place into a stage while the passers-by become the actor or the spectator. This public space becomes a place where the creativity and energy ever-present in the city, but rarely invited to be public, can be showcased: an action shifts from the subconscious to conscious; a few dance steps become an instant spectacle; a few sung words become music; a kiss turns into a scene from a film.
Limelight: Saturday Night invites you to consider the potential of how the public realm can be a place of interaction and celebration and an alternative approach to the city's lighting that serves more than a purely functional purpose.
Since 2010, Limelight: Saturday Night has traveled to 17 cities across the world and over 10,000 people have performed in the Limelight.
About the Artist of Limelight: Saturday Night
Sans façon is the collaborative practice of artist duo Charles Blanc and Tristan Surtees.
---
Accessible Information about Limelight: Saturday Night
Description of Limelight: Saturday Night installation for visually impaired visitors
In Derby Square with a backdrop of the Queen Victoria monument, the heads of two conventional existing Liverpool street lights are replaced with theatre spotlights. Their overlapping cast creates a sharp pool of bright light that illuminates anyone who wishes to step into the limelight, inviting passers-by to make this impromptu stage their own through spontaneous performance. Much like the experience of being on stage, the performers are dazzled by the spotlight, the audience by contrast appears in the darkness.
---
Event Date: Friday 22nd October – Sunday 7th November 2021
---