Following on from a busy 2015, 2016 began in earnest with the popular 'Chinese New Year' celebrations.
The year would continue to produce some of Culture Liverpool's finest moments, with the most successful 'International Mersey River Festival' to date among a calendar of events which also included 'Out of the Darkness: Liverpool May Blitz Commemoration', 'Disney Magic on the Mersey' and 'Cunard 100: A Centenary Celebration'.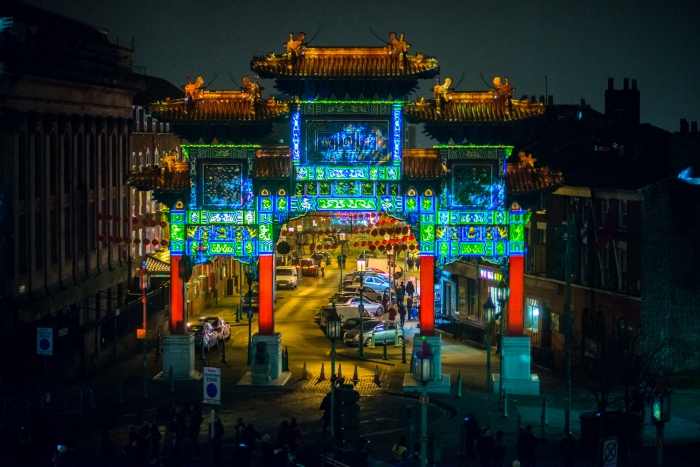 Chinese New Year
In collaboration with local community groups and the Liverpool Chinese Community, the 2016 'Chinese New Year' celebrations welcomed the 'Year of the Monkey'. The crowds were entertained once again with a vast array of activities for all to enjoy including arts and cultural events, street festivities, the Chinese Market, a spectacular firecracker display, traditional Chinese cultural performances from Wah Sing Chinese Community Centre, the Pagoda Chinese Community Centre, Tai Chi with Kwong Tam School of Tai Chi (in association with See Yep Association) and the hugely popular Dragon, Lion and Unicorn dance performances. Taking place on Sunday 7 February, the event attracted an audience of 20,000 people.
---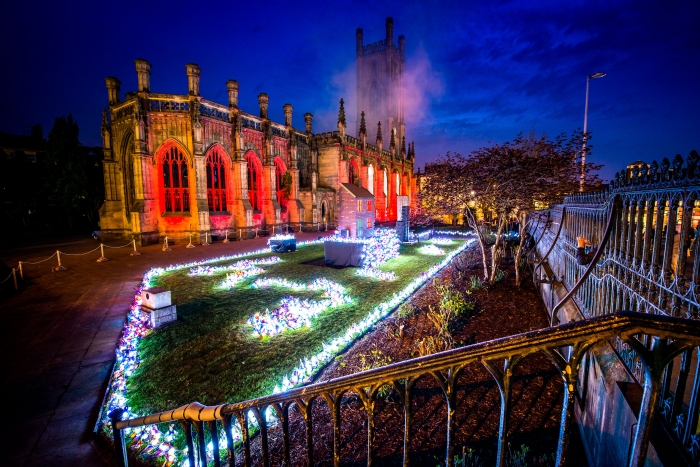 Out of the Darkness: Liverpool May Blitz Commemoration
To commemorate 75 years since the Liverpool May Blitz of 1941, which took place during the Second World War, St Luke's Church (known affectionately as 'the bombed out church') hosted 'Out of Darkness' – a free moving light and sound display, so that the city could pay its respects on 6 May 2016.
Lanterns, decorated by schoolchildren, lit up the church's gardens, as the story of St Luke's Church – which was hit on 6 May 1941, leaving just a burnt out shell – was told. The church has since stood as a memorial to the thousands of people who lost their lives during the Liverpool Blitz.
---

International Mersey River Festival
From Friday 3 to Saturday 5 June, Culture Liverpool hosted a free three-day extravaganza of family fun, amazing music and entertainment along the city's iconic waterfront, with the International Mersey River Festival 2016.
The spectacular event made waves with an incredible musical line up gracing three stages, a host of creative workshops and entertainment for the whole family.
Revellers discovered Liverpool's glorious history, incredible present and dazzling future with an interactive treasure hunt around the UNESCO heritage site, whilst experiencing a number of activities along the way, including:
On the Water: Tall ships, Northern Boat Show, Flyboarding, Canoe Polo, Wakeboarding and Water Sports.
Shore Side Fun: Eldonian Village Canal Festival, Pavement Art, Model Boat Show, Liverpool Signing Choir, Street Theatre, Drumming, Arts Workshops, Family zones, Events at Open Eye Gallery and Liverpool Museum.
Among the artists this year were LIMF Academy 2015 graduates, Xam Volo, Jalen N'Gonda, Amique, Hicari and Harlem who performed alongside beloved musicians Huey Morgan (Fun Lovin Criminals' frontman), Shola Ama, Gwen Dickey's Rose Royce, Soul II Soul, The Real Thing, and the legendary Billy Ocean.
The International Mersey River Festival 2016 was the most successful River Festival to date, attracting 250,000 festival-goers and bringing in £13.7million to the local economy – which was up by £5.2million on 2015.
---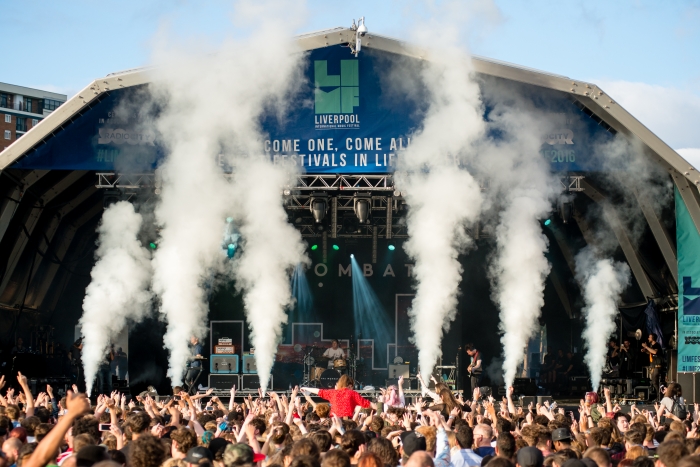 Liverpool International Music Festival
The sensational Liverpool International Music Festival (LIMF) returned for its fourth outing in 2016, celebrating the city's musical pedigree, diversity and heritage on a global scale. Taking place from Thursday 21 to Sunday 24 July, LIMF explored the theme of 'ReDefinition' with five commissioned projects and performances that are and have redefined music and popular culture. These included a curated live show by BBC 6 Music's Gilles Peterson called 'From The Soul', a celebration of Liverpool's counter-culture over the last 40 years with '76-16: From Eric's To Evol' and 'House Nation' where renowned Liverpool-based DJ and Producer Yousef  explored what defines house music in four international cities.
LIMF Summer Jam returned with a three-day free outdoor music celebration featuring its best line-up to date including Sigma, The Wombats, Lianne La Havas, Kwabs, Netsky, Ms Dynamite, Maverick Sabre, a very special Royal Liverpool Philharmonic Orchestra Friday evening performance and much more.
---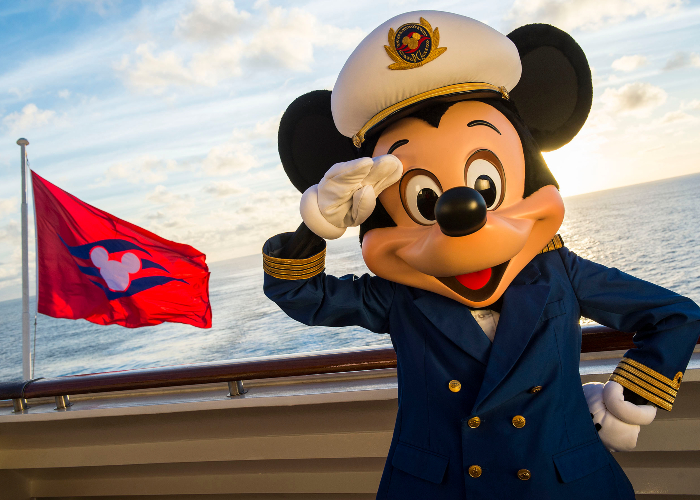 Disney Magic on the Mersey
The city had the pleasure of welcoming the cruise ship 'Disney Magic' on Friday 27 May 2016, when it berthed at Cruise Liverpool for the very first time. During her second visit on Sunday 12 June of the same year, Liverpool pulled out all of the stops.
The Pier Head came alive with music and colour in a free event for all the family, with an outdoor cinema that showed Disney classics 'Frozen' (sing-a-long), 'Finding Nemo', 'Toy Story' and 'Mary Poppins' throughout the day
There was even a bandstand in front of the Cunard Building, as Royal Marines Bands played a Disney medley to spread the spirit of the event among the Magic Garden, which appeared on the Pier Head, complete with potting sheds, toadstools, giant flowers and fairy houses.
The event attracted an estimated 100,000 visitors, some of whom even donned Disney-themed fancy dress! Following an afternoon of fun, the evening culminated in a firework display as the vessel sailed away, happily ever after.
---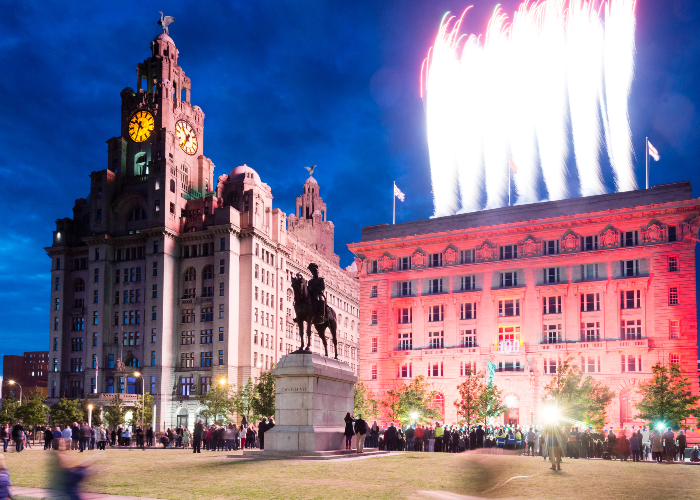 Cunard 100: A Centenary Celebration
Saturday 2 July 2016 marked the 100th birthday of one of Liverpool's Three Graces, The Cunard Building.
To celebrate this momentous occasion, Cunard's Queen Elizabeth sailed in for the day, offering viewers a chance to revel in her majestic beauty before departing later that night among the backdrop of a stunning mid-river fireworks display.
Prior to this finale, Lord Mayor at that time, Cllr Roz Gladden, joined Captain of Queen Elizabeth, Inger Klein Olsen (first ever female captain of Cunard ship) to unveil an impressive, 50 metre long stone seat which stretches the full length of the Cunard Building. The granite bench, located on the Strand side of the building, features a specially designed piece of artwork called 'The Journey' which uses bronze illustrations and writing to chart the history of Cunard, from 1839 to the present day.
Two free concerts later took place on the Pier Head in the afternoon and then once again in the evening, with performances from the Royal Marines Band, Liverpool Welsh Choral and opera singer Danielle Thomas entertaining the flag-waving masses. The latter concert proved the perfect build-up to the mid-river fireworks finale, with Danielle Thomas singing classics such as 'Rule Britannia' and 'Land of Hope and Glory' alongside contemporary numbers such as 'Proud Mary' and 'All You Need is Love'.
---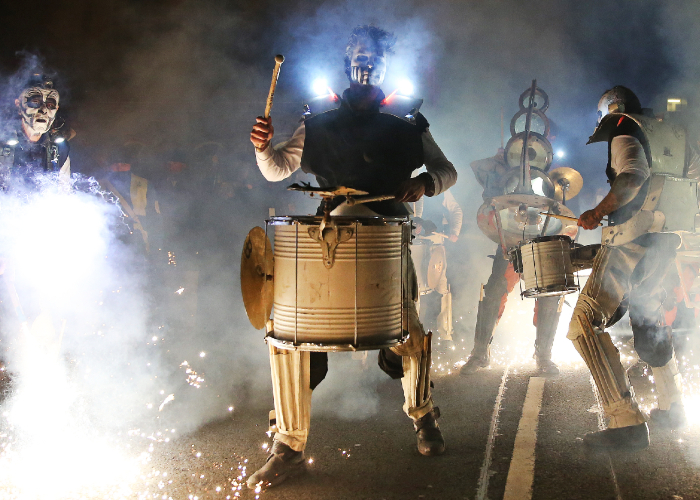 River of Light
Having marked November 5th's Bonfire Night fireworks across Sefton Park and Newsham Park over the years, 2016 saw the annual event relocate to Liverpool waterfront, with a focus on joining forces with Wirral and incorporating pre-display animation activities in the run-up to the main event.
Two Twister airplanes took to the night-time skies to produce a stunning aerobatic display in which sparks of flames flew from their wings, whilst in Liverpool there was also a stunning pyro-percussion display by drummers, Les Commandos Percu and Deabru Beltzak.
The pre-display animation proved to be a huge success and although the display was lauded by many, there was still room for improvement – with post-event surveys calling for a more robust viewing experience and greater atmosphere when it came to the fireworks finale.
Always learning and improving, Culture Liverpool used this feedback to shape River of Light 2017, which proved to be a roaring success.