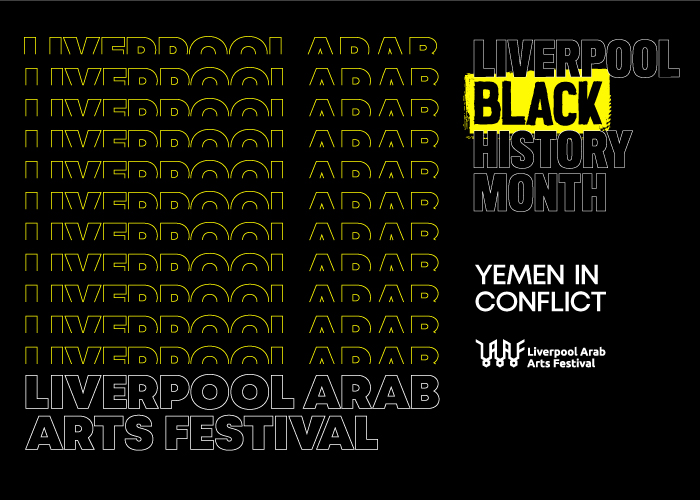 ---
Brought to you by Liverpool Arab Arts Festival
Online at Liverpool Arab Arts Festival
Thursday 1 – Saturday 31 October 2020
---
Yemen in Conflict is a national partnership between Liverpool Arab Arts Festival, the University of Leeds and the University of Liverpool. It explores how Yemeni literature and poetry can be safeguarded, and how it can further the understanding of the situation in Yemen.
The cultural heritage of Yemen is at extreme risk due to war: displacement has resulted in many children not learning cultural traditions and linguistic practices of their regions. Many native speakers believe the only way to protect their oral heritage is to share the language of their regions.
It seeks to show how storytelling and poetry can heighten understanding of the situation in Yemen, while showcasing the creativity of the Yemeni diaspora and refugee communities in the UK.
Four poem films – video works combining poetry and film – by Olivia Furber, Mariam Al-Dhubhani, Diyala Muir and Noor Palette, have been created in response to original poems by contemporary Yemeni poets Ahmed Alkhulaidi, Liverpool-based Amina Atiq, Hamdan Damaag and Dr Abdul Hakim Al-Qazi.
Whether they evoke the iconic streets of Sana'a in Yemen, or Liverpool, these works are part of a 'living archive' that speaks to the experiences of Yemenis living in Britain today.
---
Join the conversation:
---
Web: arabartsfestival.com/yemen-in-conflict
Facebook: @arabartsfestival
Twitter: @arabicartsfest
Instagram: @liverpoolarabartsfestival
---