Time to Breathe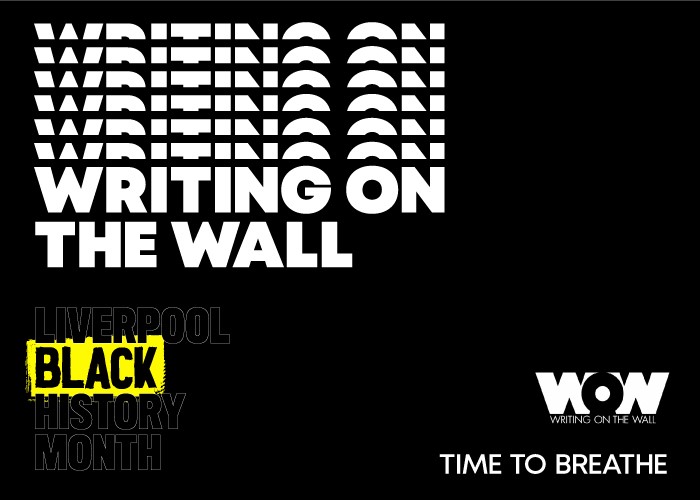 ---
Brought to you by Writing on the Wall
Online LIVE Stream & Zoom
Thursday 1 – Saturday 31 October 2020
---
The global Black Lives Matter protests that characterised our summer were truly inspirational. Black communities and anti-racists across the globe are demanding change. Writing on the Wall are proud to present our programme for Black History Month featuring some of the most inspirational local, national and international black artists, creatives and activists, featuring Man Booker Prize winner, Jamaican writer Marlon James and Berkeley Professor Stephen Small; Afrofuturist author and filmmaker Ytasha Womack returns from Chicago to take up residency on the Writing Bloc. They are also delighted to welcome George Doman, Toni Hickman, Keith Jones and Leroy Moore, US Krip Hop activists and stars of the Netflix documentary Phoenix Rising.
Throwing themselves into the debate around the Decolonization of Curriculums are Dr Leona Vaughn and Dr Sandeep Parmar, while the 1919 Walking Tours, Mandela 8, the L8 Archive and The Windrush Music projects reveal hidden histories. Sophie Williams will be discussing her new book, How To Be An Anti-Racist Ally, and we see the return of the multi-talented Black Girl Lit Club. Arena Films dig into their archive to present Linton Kwesi Johnson's Caribbean Journey, with contemporary discussions and poetic responses from Karen McCarthy-Woolf, Ashleigh Nugent, Levi Tafari, Olive Senior, Colin Grant, Danielle Boodoo-Fortuné and Vladimiar Lucien.
Bringing the struggle home, Kim Johnson MP, Liverpool's first black MP, and Tracey Gore, the newly appointed chair of the city's Race Task force, will consider how we level the playing field in Liverpool, while films from WoW's Time to Breathe writing project portray just how pressing that it is. Throw children's Story Time, featuring multi-award winning poet Patience Agbabi, into the mix and there's something for everyone.
As the President of the 'free world' dog whistles to white supremacists and in the UK black people are increasingly targeted by police and far right thugs line our shores to beat back those fleeing war and famine, the most pressing questions now for the Black Lives Matter movement and anti-racists everywhere is 'What's Next?' Throughout WoW's Black History Month we will explore this question, and invite you to celebrate great writing and performance and engage in discussion and debate on these vital issues.
---
WoW look forward to seeing you throughout October. For all ticket information go to wowfest.uk
---
Join the conversation:
---
Web: wowfest.uk
Facebook: @writingonthewall.liverpool
Twitter: @wowfest
Instagram: @wow_fest
Hashtags: #WoWBHM #BlackHistoryMonth #BHMFest
---