The Good Business Festival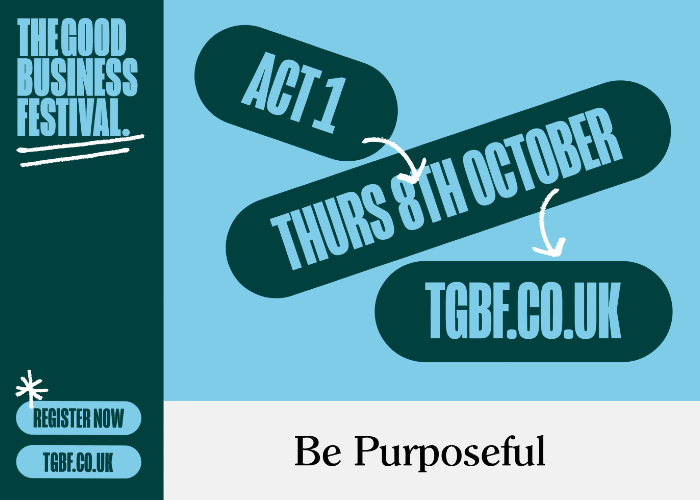 ---
Get ready for The Good Business Festival (TGBF) Act 1, which lands on Thursday 8th October 2020.
---
Don't miss out. Reserve your place for free: REGISTER NOW.
---
This hybrid digital event certainly has an impressive list of guests and contributors (more about that later) and should well and truly be marked in the diary.
Taking place in a live studio setting, moderators will invite guests and panelists to join them digitally from all over the world, where themes and issues across good business that impact everyone, from Covid recovery, purpose-led business strategy, sustainability, inclusivity, levelling up and much more will be covered throughout the duration of the day.
Guests and contributors from the world of broadcast, entertainment, sports and culture, politics, philanthropy, activism and leading business figures include:
---
Aasmah Mir (Broadcaster)
Evan Davis (Broadcaster & Economist)
Gabby Logan (Broadcaster)
Steve Rotheram (Metro Mayor Liverpool City Region Combined Authority)
Andy Burnham (Mayor Greater Manchester Combined Authority)
Sadiq Khan (Mayor of London)
Lawrence Dallaglio OBE (Former Athlete & Founder of Dallaglio Rugbyworks)
Yath Gangakumaran (Director of Strategy and Business, Formula 1)
John Sauven (Executive Director, Greenpeace)
Ann Cairns (Vice Chair, Mastercard & Global Chair, 30% Club)
Gina Miller (Co-Founder, SCM Direct and Campaigner)
Richard Curtis (Screenwriter, Producer, Film Director)
James Timpson (Chief Executive, Timpson)
Lord John Bird (Founder, The Big Issue)
Holly Tucker (Founder, Notonthehighstreet and Holly & Co)
Lady Nicola Mendolsohn (VP EMEA, Facebook)
Massive Attack
---
Don't miss out. Reserve your place for free: REGISTER NOW.
---
What sessions I can book on?
---
WTF Is Happening – a whistle-stop tour of key figures in business and society who'll share their take on what is happening to all of us, the effect this year has had on their own businesses and a look at what happens next.
Never Waste a Crisis – Has the response to Covid-19 highlighted that business leading the agenda and collective action against climate is possible? Or will its devastating economic impact further entrench those who seem unwilling to recognise the need for rapid and deep action to tackle the climate crisis?
Profit Comes from Purpose – How can business leverage its capabilities and influence to mobilise supporters towards action and social change? You'll hear from in-house activists and social entrepreneurs who have infiltrated corporate corridors to change their companies for the better, inside and out.
Capitalism After Covid – Beyond the bottom line – can capitalism after Covid-19 reinvent itself? Leading figures in global economics discuss the big issues that will redefine a roadmap for capitalism in the wake of the crisis.
Real Purpose or Woke Washing – What can be learned from organisations and companies that both got it right and got it wrong? Can Covid-19 be an opportunity for brands to move beyond promises to powerful action? How is success defined in marketing in the new world we now inhabit?
Take Me to Your Leader – broadcasting from Australasia and North America – with New Zealand and Canada being hailed as the poster children for how to swiftly and effectively deal with crises, question – do we have to choose between governance led by compassion or economics? Does supporting social impact mean risking economic growth or can compassionate leadership boost not only GDP but health, happiness and national image?
Raising the Game – Some of the leading names in global professional sports, top athletes, grassroots heroes, and disruptive thinkers from other sectors will be asked to reimagine the way that their sport is governed, funded, played and consumed.
---
Join the conversation:
---
Web: thegoodbusinessfestival.com
Facebook: @goodbizfest
Twitter: @goodbizfest
Instagram: @goodbusinessfestival
LinkedIn: thegoodbusinessfestival
Email: [email protected]
---