Tall Ships – a weekend of sail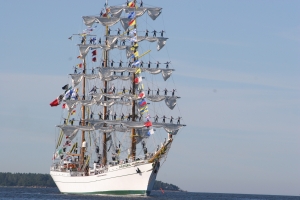 Few things match the sight of the Mersey full of sails – and the Three Festivals Tall Ships Regatta will be a weekend for sailing fans to savour.
Not only will the river play host to some of the most beautiful and evocative Tall Ships still sailing the seas, but also welcome a wonderful range of other rigged and masted craft over the four days, which together will create a truly memorable occasion.
The Tall Ships will be berthed on the Liverpool Cruise Terminal, Canning Dock, Canning Half Tide Dock and Albert Dock during the festival weekend.
See what ships will be joining us below!!!
From 12pm on Friday 25 May – Sunday 27 May, visitors will be encouraged to 'come on-board' for a closer look.
The historic Lancashire Nobbies, or Morecambe Bay 'prawners', will take to the river on Saturday for their annual four-hour race on the Mersey.
And on Sunday 27 May, visitors will be able to see them at berth in the Albert Dock, where they will also be open for visits.
Visits are FREE and without reservation (about 20 minutes per boat).
The highlight of the event will be the magnificent Parade of Sail on Bank Holiday Monday, 28 May, when the Tall Ships will make their way up and down the River Mersey, accompanied by a flotilla of other craft, before sailing for Liverpool Bay at the start of their race.
For news and updates straight to your mobile or desktop, you can follow us on the Culture Liverpool social media channels including Facebook, Twitter and Instagram.
*All timings subject to tide availability

Fri 25 May '18 - Mon 28 May '18

The handsome Lord Nelson is a real head-turner. Named after the famous British admiral, she is also one of only two vessels worldwide to be specially designed and built to…

Albert Dock
Fri 25 May '18 - Mon 28 May '18

Formerly an Arctic fishing trawler and then a coastal trading vessel, Pelican of London was transformed in to a sail training ship in 2007. She is unique among square riggers…

Albert Dock
Fri 25 May '18 - Mon 28 May '18

Under full canvas the sleek, speedy and elegant Morgenster is a magnificent sight. The class A tall ship is nearly a century old, and was originally built just after the…


Fri 25 May '18 - Mon 28 May '18

French naval training vessel Belle Poule was launched in 1932 and her design based on a traditional fishing vessel uses off the coast of Iceland. In 1940 the two-masted schooner…


Fri 25 May '18 - Mon 28 May '18

French-registered and Scottish based, the pretty two-masted La Malouine started life in Gdansk and was transformed in to the current brigantine in 1992, sailing the Baltic Sea under the name…


Fri 25 May '18 - Mon 28 May '18

Heralded on her launch in 1896 as "strongly built and bids fair to be a good, useful boat", the Master Frank is the oldest 'longliner' cod fishing boat on the…


Fri 25 May '18 - Mon 28 May '18

The newly-launched Sir Stelios is a Marine Society & Sea Cadets training ship which flies under the British flag and is based in the Solent, providing nautical adventures for young…


Fri 25 May '18 - Mon 28 May '18

The 60ft two-masted schooner Adventure Wales, formerly named Ocean Venture, was built for adventure and over the years she has circumnavigated the world, won First in Class in the famous…


Fri 25 May '18 - Mon 28 May '18

TS Royalist is the Sea Cadets flagship, a training brig that takes twenty-four cadets to sea for six day voyages. The vessel was designed by Acubens, built during 2014 /…


Fri 25 May '18 - Mon 28 May '18

Sail in the wake of the Vikings, the Normans, the Monastic settlers, Cromwell's Fleet and of course, the Wild Native Irish in the ship named after the legendary High King…


Fri 25 May '18 - Mon 28 May '18

After the Cutty Sark Tall Ships' Races in 1990, a group of liaison officers from La Coruna, who were all sailors, were so taken with the philosophy of the races…


Fri 25 May '18 - Mon 28 May '18

The Bulgarian Tall Ship Royal Helena was built in 2009 with the intention to promote Sail Training. Despite her young age, the Royal Helena has already taken part in many…