Statues Redressed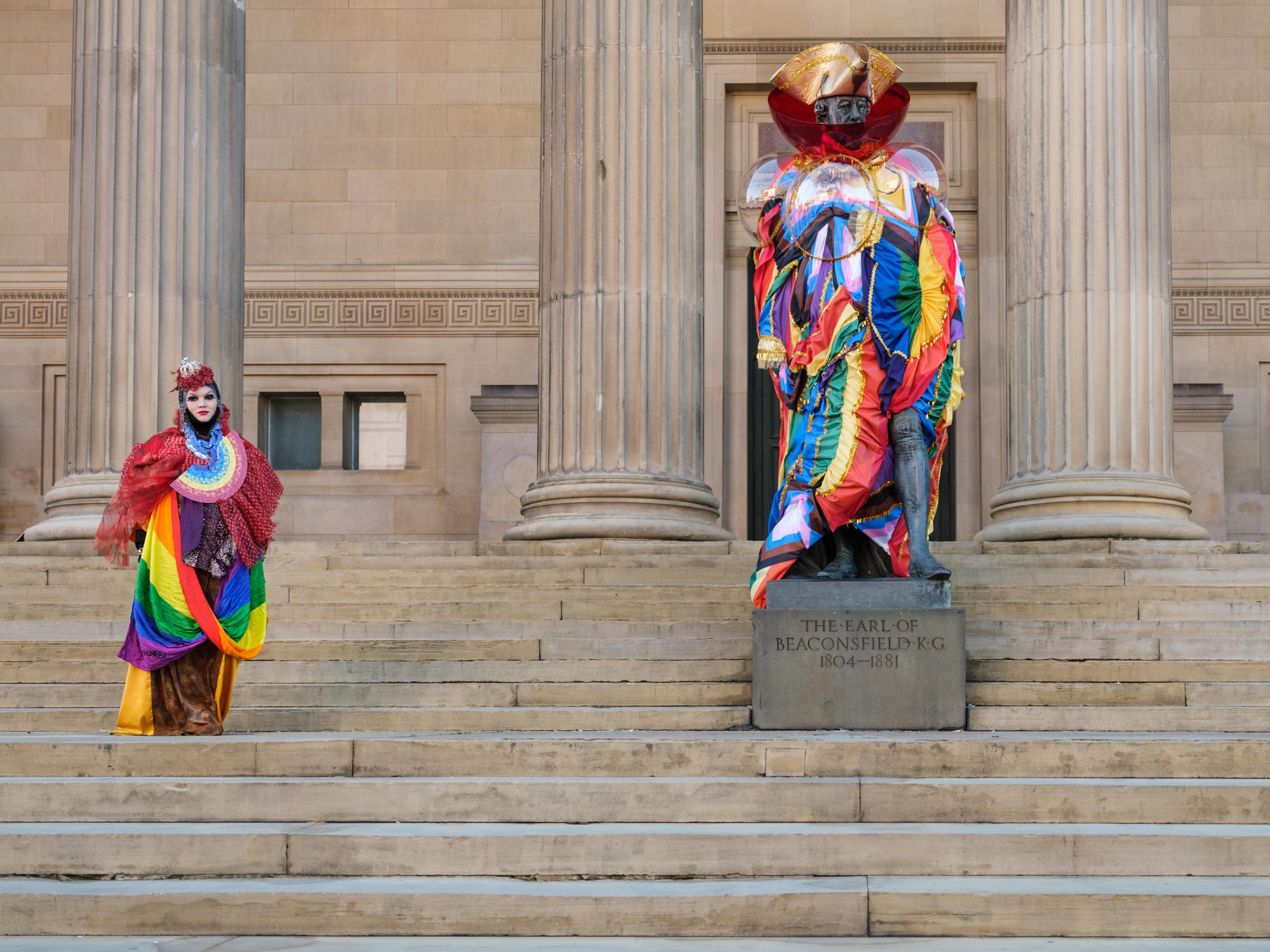 ---
Statues Redressed
Brought to you by Sky Arts in partnership with Culture Liverpool
Friday 1 October, Various Times
Online & Liverpool ONE, College Lane, Liverpool, L1 3DL
Free. No booking necessary
---
This summer, Sky Arts followed a collection of inspiring artists for a unique project to creatively reimagine some of Liverpool's most iconic statues, giving them a whole new look by dressing them up or creating art around them.
Chosen because of its rich history, Liverpool has the highest number of statues in the UK outside of London, including cultural icons like The Beatles through to sporting heroes, royalty, and monuments depicting people linked to slavery and Britain's colonial past.
Some of the artists' interventions ranged from the celebratory to the confrontational, and all were thought-provoking. As each statue was gradually revealed to the public, spectators were prompted to look again, think again, and question how we feel about the public art that surrounds us. The artists involved in the project included major artists and heavyweights in the public art scene, as well as rising stars, local artists and designers. The reimagined statues included:
Artist Bob and Roberta Smith boldly placed a 'We will get through this with art' banner underneath Jacob Epstein's famous Liverpool Resurgent sculpture, reinforcing the statues original post-war message of hope and giving it new meaning following the impact of the pandemic.
Designer Daniel Lismore gave the statue of Victorian statesman Benjamin Disraeli a whole new look with a Pride-themed Empress of India dress. The redressing is a commentary on Disraeli's reputation as a flamboyant dresser and a dandy who wrote love letters to men, and on the fact that Victorian anti-homosexuality laws were imposed by Britain across the Empire. In many ex-colonial countries today, those laws still apply.
Taya Hughes dressed statues of Christopher Columbus, Captain Cook and Henry The Navigator in elaborate Elizabethan-style ruffs made from fabrics associated with indigenous populations in Africa, New Zealand and Australia as a commentary on these explorers, who claimed to 'discover' these parts of the world.
Designer Stephen Jones gave The Beatles statue outside the Museum of Liverpool a new look creating four spectacular hats, each inspired by a different Beatles song to celebrate the iconic band.
The project took on many of the city's most iconic statues, from Peter Pan in Sefton Park (George Frampton, 1928) to the imposing Queen Victoria memorial in Derby Square (CJ Allen, 1906).
From Friday 1 October, visitors to the city centre will also be able to enjoy a photographic exhibition of the Sky Arts Statues Redressed project in College Lane, Liverpool ONE, featuring images of all the installations which appeared in the city in the summer.
A documentary special, Statues Redressed, will be coming to Sky Arts and streaming service NOW on the 18 October, and will see the artists challenge and celebrate the role of these statues in modern times, as part of the ongoing debate around who and what should be immortalised as public monuments.
---
More information: www.statuesredressed.com
---
Join the conversation:
---
Twitter: @skyarts
Facebook: @sky1arts
Instagram: @skyarts
---