Spread your Wings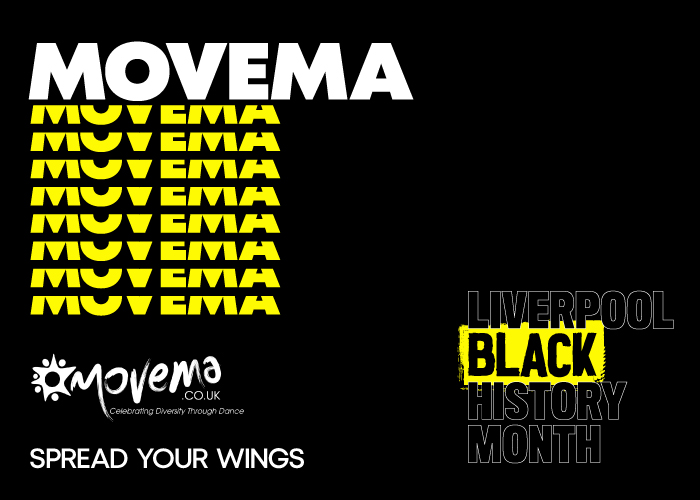 ---
Brought to you by Movema
Various times & locations
Friday 16, Friday 23 & Saturday 31 October 2020
---
Spread Your Wings is a programme that Movema have designed in response to the Black Lives Matter movement, a response to create a platform for black dance artists to be celebrated, listened to and supported. With the ambition of creating and developing channels of communication for ongoing support, networking and opportunities.
The programme is three-fold, including a dance performance, masterclass and conversation designed to celebrate black dance
---
Friday 16 October 2pm – 4pm: The Masterclass
---
Caribbean dance masterclass delivered by A'Keitha Carey, a Bahamian dance Educator, Performer and Scholar. The masterclass will provide dancers an opportunity to explore A'Keitha's CaribFunk dance technique a fusion of Afro-Caribbean, and ballet principles rooted in Africanist and Euro-American expressions. Followed by a discussion on her PHD research the erotic subjectivity in Jamaican dancehall and Trinidadian carnival.
---
Friday 23 October 1.30pm – 3.30pm: The Conversation
---
Movema will host a conversation that will be facilitated by two Black dance specialists, a panel of dance artists, educators, scholars and programmers to provide a safe, open and structured environment for black dance artists in the North West to share and discuss barriers and challenges within the dance sector. Information will be used to inform the sector of future support, training and opportunities, necessary to support black dance artists career potential. Delivered in collaboration with Black People in Dance (UK).
---
Saturday 31 October 2020: The Performance
---
'Flying Home' is a new outdoor walkabout dance performance that explores and reveals experiences of migration told through 4 symbolic birds; Sankofa bird from Ghanaian culture, the Phoenix from Chinese culture, Peacock from Indian culture and the Liver bird to represent British/Irish culture.
Presented at various locations around Liverpool city centre as part of Culture Liverpool's Without Walls Programme.
The full version of this show "Taking Fight " Commissioned by Dance Consortium North West, SpareParts & Cheshire Dance and funded by Arts Council England will tour Summer 2021.
---
ALSO Every Friday during October 12.30pm – 1.15pm
---
Welcome to Movema's BHM special edition of our Friday World Fusion Class online! We have invited our friends to share a diverse range of movement and techniques, to get you moving, having fun and celebrating black dance.
All classes and The Conversation will take place on YouTube Live.
---
Join the conversation:
---
Web: movema.co.uk/online-classes-2#
Facebook: @Movema
Twitter: @movema
Instagram: @movemadance
Hashtags: #DanceAtHome #SocialDisDancing #LetsCreate
---