Princes Avenue STEP Scheme
---
This £4m scheme was part of Liverpool City Region's Sustainable Transport Enhancement Package (STEP) and focussed on the regeneration of the central reservation along Princes Avenue and upgrading the carriageway and footpaths along Princes Avenue and Princes Road.
The STEP programme is part of the Local Growth Fund (LGF). Local Growth Funding is awarded to the Liverpool City Region Local Enterprise Partnership (LEP) and invested through the Liverpool City Region Combined Authority through its Strategic Investment Fund. Growth Deals provided £1.9m funding for the scheme.
As part of the proposals there were opportunities to improve the area including:
* New and improved pedestrian and cycle paths linking into the wider neighbourhood
* New and improved toucan crossings
* Enhanced traffic signalised junctions with state of the art segregated pedestrian & cycle facilities
* Enhanced drainage infrastructure
* Resurfacing of Princes Road & Princes Avenue
* Planting of 20 new trees
* Public realm improvements including new ornamental planting
* New seating, lighting & bins
* New public artwork to celebrate the history and people of Toxteth and Liverpool
The scheme has improved access along the Boulevard for both pedestrians and cyclists, creating spaces for seating, informal meetings and small events. The features along the Boulevard tell the story of the Avenue, its heritage, its communities and its future. Through creative engagement the schools and community groups have really put their stamp on the new spaces and made it their own.
---
Enhanced Sustainability Benefits
---
By installing a 1km long cycle path and pedestrian walkway within the central reservation – a first for Liverpool – the scheme aimed to improve active sustainable transport and enhance both the cycle and pedestrian connectivity between south Liverpool and the city centre.
The new access paths also formed an extension of a new 'green corridor' to Otterspool that was due to be delivered in the same period, under the separate EU funded URBAN Green UP project. The £3.4m funded URBAN GreenUP project plans to install and test three 'green corridors' across the city, introducing a range of environmental improvements and providing improved accessibility and connectivity between the new green interventions whilst directly delivering on key recommendations in the city council's Strategic Green and Open Spaces Review.
By partnering with the STEP programme at an early stage the URBAN Green Up project supported 1265m2 of pollinator turf planting along the length of the boulevard, making an instant visual impact and increasing biodiversity in an urban city area.
The Princes Boulevard works also provided an important 1km extension to this planned green corridor, linking Otterspool Promenade to the very edge of the city, and providing opportunities to connect to the city centre and other green routes that are being established under the URBAN Green Up project.
The addition of both the new pedestrian and cycle routes along Princes Boulevard help to extend and encourage sustainable active travel and provide enhanced connectivity for the green corridor route.
---
**********
**********
---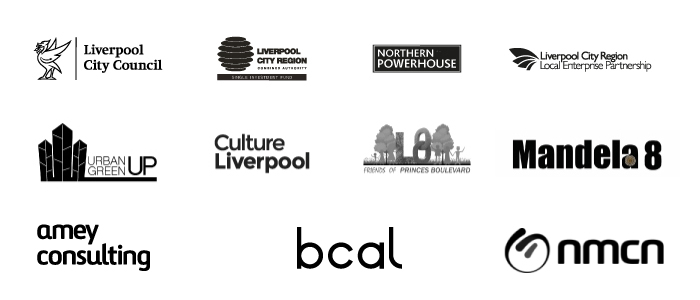 ---