Writing on the Wall Present The Writer's Bloc LIVE with Short Story Writer Roy at Toxteth TV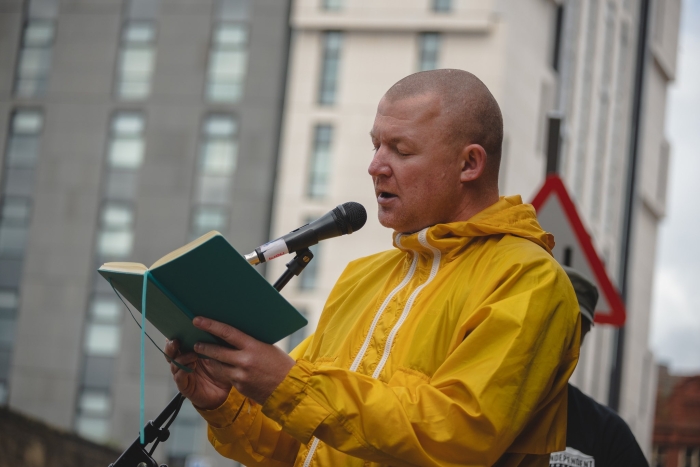 Writing on the Wall, LCR's Arts Organisation of the Year 2020, is hosting their very first live and in-person event for The Writer's Bloc! Taking place from 6-8pm on 25th March at Toxteth TV, the Bloc Party will be an eclectic evening of performances from Roy and our community of writers.
Roy (PJ Smith) was born in North Liverpool. His deft, articulate and startlingly observed stories veer from the comic to the calamitous in a breath, cutting to the quick of the broad swathe of people and personalities that comprise his native city. His first publication, Algorithm Party, came out on Rough Trade Editions in 2020.
Roy performs live and is resident at Liverpool's La Violette Società. He has appeared on BBC Radio 6 Music, Soho Radio and lends a vocal narrative to the title track of Paul Heaton's "Manchester Calling" album. In 2021 he toured as the support act for Paul Heaton and Jacqui Abbott. He is currently preparing to appear at a number of festivals over the summer of 2022.
Bloc Party!
The Bloc Party is a chance to showcase the work created during Roy's residency. Whether you produced fiction, poetry or script, we want to celebrate your creative responses! We currently have four open slots for anyone who would like to perform their writing. To take part, please email [email protected] These slots are allocated on a first come, first served basis, so please contact us as early as possible to ensure your spot.
Don't have anything to read? Then come along to hear some exciting new work and support local, emerging writers! Plus, Roy will perform his creative response to the residency. You don't want to miss it. Click here to book your tickets.
The Writer's Bloc: Community & Creativity
Combining social engagement, activism, community and literature since June 2020, The Writer's Bloc: Community & Creativity is a unique online writing centre that champions creativity and supports writers at all stages of their journey.
Previous writers in residence have included Yvonne Battle-Felton, Anthony Anaxagorou, Cash Carraway, Ailsa Cox, Lowkey, Ytasha L. Womack, Winnie M Li, Joelle Taylor, Patrice Lawrence, Kevin Dyer, Bidisha and, more recently, Manon Steffan Ros, Dominic Berry, Toria Garbutt, Ashleigh Nugent, Luke Barnes, and Guleraana Mir, who during their residencies have led free workshops and discussions for local communities to interact with.
For more information about Roy's residency go to:  https://writingonthewall.org.uk/the-writers-bloc-main/