Stormtroopers set to storm Spaceport
Fan-favourites Luke Skywalker, Darth Vader, Princess Leia, Boba Fett, Kylo Ren, C-3PO and R2-D2 will pose for photographs and support with a series of interactive Stormtrooper workshops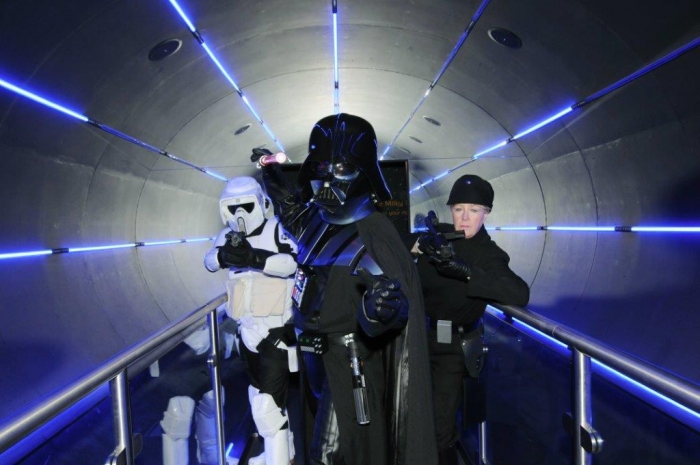 Renowned Stormtroopers and costume team, The 99th Garrison, is set to storm into Spaceport to celebrate the anniversary of the hugely popular "Sci-Fi Icons" exhibition
A troop of Star Wars fans' favourites will descend on Spaceport in Seacombe this April to help celebrate the first anniversary of the hugely popular "Sci-Fi Icons" exhibition.
Globally renowned Stormtrooper costume team, The 99th Garrison, will storm into Spaceport for the celebrations, and they will be joined by Darth Vader, Kylo Ren, Boba Fett as well as a host of other celebrated characters from the sci-fi blockbuster.
Visiting during the weekend of 28 & 29 April 2018, the 99th Garrison team will host four Stormtrooper workshops, each taking place after the main dome show.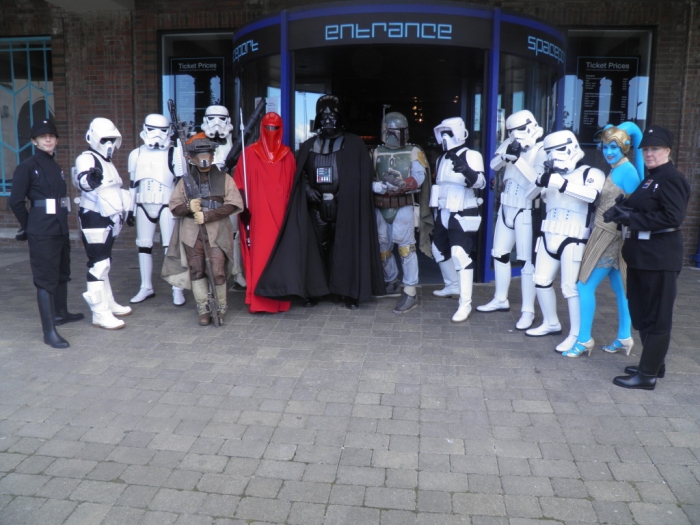 On Saturday 28th April, the stormtroopers will be joined by Princess Leia, Kylo Ren, Luke Skywalker, Boba Fett, Darth Vader and Padmé Amidala who will be meeting and greeting visitors in Spaceport and within the exhibition.
And, on Sunday 29th April, fans will get the chance to come face to face with C-3PO, R2-D2, and Rey along with a range of other characters from the franchise.
"The Sci-Fi Icons exhibition has really captured the public imagination over the past year," said Gary Evans of Mersey Ferries. "So we're delighted to host so many characters from the show over the weekend of the exhbition's anniversary.
"We're incredibly lucky to have such an extensive collection of Star Wars memorabilia from one of the UK's biggest collectors right here at Spaceport in Seacombe.
"Regardless of their age, people seem to drawn into the Star Wars universe like no other. Its timelessness makes it something that appeals to every generation of family members, so we're expecting the 28th and 29th April to be very busy days!"
The 99th Garrison's team help raise many thousands of pounds for Liverpool-based charity, the Walking With Giants Foundation, who support people and families affected by microcephalic primordial dwarfism.
Paul Truesdale a spokesperson for 99th Garrison said: "The Sci-Fi Icons exhibition is a true celebration of Star Wars, so all our volunteers are looking forward to visiting Spaceport this spring. We're excited to meet lots of fans across the weekend and are delighted that we're working with a much-loved science attraction in the North West."
The 99th Garrison's attendance will be for the weekend only. Tickets can be purchased on the day or in advance at spaceport.org.uk
Spaceport's standard admission prices apply with a family ticket costing £26 (2 adults and up to 3 children). You can extend your day out by combining your Spaceport visit with a trip on the Mersey Ferry – joint tickets are available offering great value! The exhibition is suitable for children aged 6+ years.
For more information or to book tickets, call 0151 330 1003, or visit the Spaceport website at https://www.spaceport.org.uk/exhibitions/Pages/special-events.aspx