Liverpool Philharmonic announces 6th Christopher Brooks Composition Prize for young composers in association with The Rushworth Foundation
The Christopher Brooks Composition Prize provides a unique opportunity for a young North West composer to develop their talent and access mentoring and guidance from leading artists and music industry professionals, culminating in writing a new work for performance by Royal Liverpool Philharmonic Orchestra musicians which will be premiered in Autumn 2021.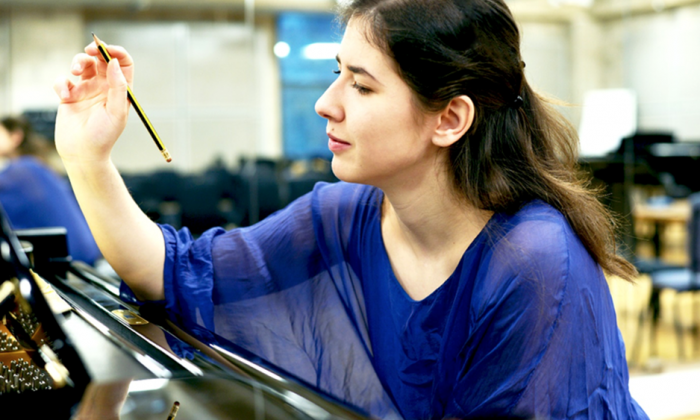 Now in its sixth year, the prize represents Liverpool Philharmonic's commitment to the commissioning and performance of new music and supporting home-grown talent.
The Christopher Brooks Composition Prize is open to any composer aged 18-30 living, studying or working in the counties of Merseyside, Cheshire, Cumbria, Lancashire, and Greater Manchester who is not represented by a publisher (self-published composers will be eligible)
The prize-winning composer will write a new work for an ensemble from the Royal Liverpool Philharmonic Orchestra.
A cash prize of £1,000 has been made possible through the support of the Lancashire Sinfonietta Legacy Fund and The Rushworth Foundation. The composer will also receive one year's complimentary membership of the Ivors Academy, the UK's leading professional association for music creators.
The prize-winner will be supported with a bespoke programme of workshops, masterclasses and mentoring sessions from resident and visiting musicians, conductors, composers, and other industry professionals associated with Liverpool Philharmonic. They will develop their composition and teaching practice through access to Liverpool Philharmonic's programmes for children and young people, including Liverpool Philharmonic Youth Company.
Athanasia Kontouwas the 2020 winner of the Christopher Brooks Composition Prize, and her new work, Antigone: Pure in her crime, will be premiered in concert by Ensemble 10/10, Liverpool Philharmonic's contemporary music group, on Thursday 22 October 2020 at Liverpool's St. George's Hall Concert Room.  Another previous prize-winner,Grace-Evangeline Mason, will have her new work Mahler's Letters premiered on 3 December 2020 by the Royal Liverpool Philharmonic Choir, and  The Imagined Forest performed by the Orchestra on 10 July 2021 (a co-commission with the BBC Proms).
The Judges
Entries will be judged by a panel which includes leading composers, Royal Liverpool Philharmonic Orchestra musicians and senior management, and music industry professionals.
Peter Garden, Liverpool Philharmonic's Executive Director, Performance & Learning said: 
"Liverpool Philharmonic is thrilled to provide opportunities for music creators from Liverpool and the North West of England. The Christopher Brooks Competition Prize builds on our extensive work supporting new music by composition students at University of Liverpool, young composers in Liverpool Philharmonic Youth Company, In Harmony Liverpool and Resonate Music Hub's A Level Music course, along with the many local, national and international composers we commission to write new work for the Royal Liverpool Philharmonic Orchestra and associated ensembles."
Jonathan Rushworth of The Rushworth Foundation said:
"The Rushworth name has been synonymous with music in Liverpool and the North West for well over a century. We are keen to preserve the legacy and heritage of the family's support for music and the arts in Liverpool and are delighted to support this competition to encourage composition by young people."
Grace-Evangeline Mason, a previous participant said:
"The Christopher Brooks Prize was a fantastic opportunity to surround myself with the expertise of brilliant professional musicians in the most welcoming and friendly environment imaginable, the Royal Liverpool Philharmonic. As well as writing for these musicians, there is a wealth of developmental experiences as part of the prize that are astonishingly valuable as a composer. It is a relationship that I now deeply cherish and will continue to do so for many years to come."