Creative Courses for the Winter from dot-art
The temperature has dropped and the nights are drawing in, making it the perfect time to get creative in an inspiring Liverpool venue.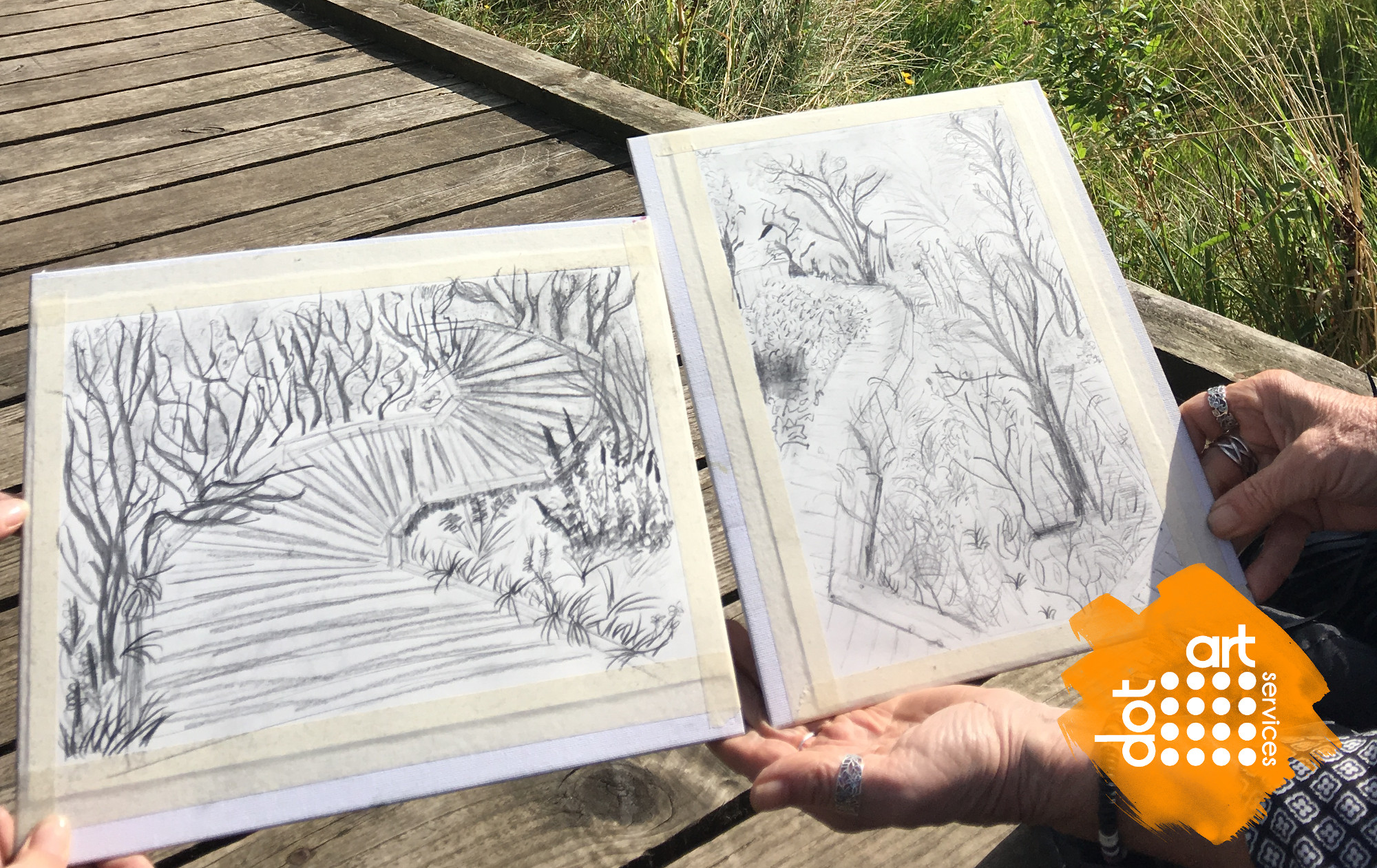 Taught by professional artists, our range of after-work courses and weekend workshops will help you to learn brand new art skills or grow an existing talent. Try something new or revive your love for art our with our widest ever choice of subjects, for all ages, across seven fantastic venues: Bluecoat, The Reader, Baltic Creative CIC, FACT, Anglican Cathedral, Faith Bebbington Studio and the dot-art Darkroom!
At Bluecoat from January, we have the return of our popular 10 week evening courses in Life Drawing and Beginners Painting (Acrylics). Joining these is a 10 week Portrait Drawing course, where you will learn the fundamentals of drawing characterful portraits, capturing a true likeness. We have 3 day weekend courses in Abstract Painting, where you can delve into the imaginative world of abstract painting, learning about layering, materials, composition and texture, Introduction to Pastels, where you will learn the fundamental techniques of using soft pastels to create beautiful art, and Digital Photography. These are joined by a single Sunday workshop in Feltmaking, and a new Cartooning for Teens day, where 13-16 year olds will be able to create their own characters or depict others in cartoon form led by professional illustrator Tommy Graham.
Our NEW venue for this season is FACT. Here on Monday evenings we will be holding our popular course in Drawing Techniques; as tutor Sarah-Jane says, no matter what medium you enjoy using, be it paint, pastel or clay, learning the essential drawing techniques will magnify your creative ability. Also at FACT is our 3 Saturday Drawing for Everyone course, where you can gain confidence in drawing in a relaxed sketching course led by artist Roy Munday. Finally we have a new one day workshop on 15th March, Image Editing 101, designed particularly for artists but useful for anyone who doesn't know their megabytes from their pixels, you will master your image files and learn how to edit and adapt digital images for a variety of uses.
At Faith Bebbington's Studio, we have Beginners Sculpture course, led by renowned sculptor Faith across 3 consecutive Sundays in March, where you will plan and create your own animal sculpture using a variety of recycled materials. Participants will learn the fundamental construction and modelling techniques for sculpture using newspaper, wire and adhesive tape.
We are also returning to Liverpool Cathedral on Sundays 15th February and 11th April for Sketching in the Anglican, a unique opportunity for both beginners and experienced artists to spend a Sunday morning drawing and learning new skills in this fascinating location.
At the dot-art Darkroom we have one day Introduction to the Darkroom workshops on 9th February and 14th March and Analogue Weekends, where analogue expert Rachel Brewster-Wright will take you through the whole process of shooting, processing and developing your own black and white film over 2 days, on 29th February – 1st March and 4th-5th April.
Don't forget, for experienced photographers and those who have completed one of these courses, we have also offer Darkroom Membership. Members have unlimited access to the space via our online booking system and can also choose to book it with a technician if they need a little more support.
Our ever-popular Sunday dot-art Club for creative children takes place at the fantastic Baltic Creative on Jamaica Street. We run afternoon sessions for 10-13 year olds, in two six week blocks, starting 12th January and 1st March. Every week our young artists will be encouraged to develop their drawing skills and build a lifelong love of art under the expert guidance of artist Sarah Jane Richards.
We have also launched a second dot-art Club at our new home in South Liverpool, The Reader at Calderstones Mansion. This one takes place after school on a Wednesday, 4-5.30pm and also runs in 6 week blocks, starting 8th January and 26th February.
Also at the Reader, we have a 10 week Photographic Adventures in Nature course on Tuesday afternoons, where you can try your hand at a range of analogue photography techniques and a 10 week Monday evening course in Textile Arts, creating a range of nature based items using felting, stitching, sewing and printing.
This term's 3 day courses at Calderstones are How to Illustrate a Short Story with Financial Times illustrator, Phil Disley on Sundays from 16th February and Organic Pattern Design, where you will learn how to draw intricate pattern designs inspired by nature in the beautiful surroundings of Calderstones Park, on Mondays from 6th April. We also have one day workshops in Walking Drawing: Mindfulness and Observation – the perfect way to de-stress is through being creative in nature, and Leaving Your Mark: Shared Mark Making & Storytelling, where you join artist Aimee Blackledge and awaken your creative voice through expressive abstract mark-marking and storytelling through art.
Full details, prices and booking information can be found here: dot-art.co.uk/art-classes. These courses often sell out, so don't delay!
Course
Dates / Times
Venue
Cost
Acrylic Painting (Beginners)
Tuesdays from 4th February

6.45 – 9pm

The Bluecoat
£160 for 10 classes.
Life Drawing
Tuesdays from 28th January

6.45 – 9pm

The Bluecoat
£160 for 10 classes.
Portrait Drawing

Tuesdays from 4th February

6.45 – 9pm

The Bluecoat
£160 for 10 classes.
Digital Photography

Sunday 29th March, 5th, 12th April

11.30am – 5pm

The Bluecoat
£125 for 3 days.
Abstract Painting
Sunday 26th January, 2nd, 9th February

11.30am – 5pm

The Bluecoat
£125 for 3 days.
Introduction to Pastels
Sunday 16th February, 1st, 8th March

11.30am – 5pm

The Bluecoat
£125 for 3 days.
Feltmaking
Sunday 15th March

11.30am – 5pm

The Bluecoat
£50
Cartooning for Teens
Sunday 22nd March

11.30am – 5pm

The Bluecoat
£50

 
Drawing Techniques
Mondays from 3rd February

6.45-9pm

FACT
£160

for 10 classes

Drawing for Everyone

Saturday 15th, 22nd & 29th February

11am – 5pm

FACT
£125 for 3 days
Image Editing 101
Sunday 15th March

11am – 5pm

FACT
£50
Beginners Sculpture
Sunday 1st, 8th, 15th March

11am – 4pm

Faith Bebbington Studio
£125 for 3 days.
Sketching in the Anglican
Sunday 15th February & 11th April

10am-1pm

Liverpool Cathedral
£25
dot-art Club (10-13 years)
Sundays from 12th January

Sundays from 1st March

1.30pm – 3pm

Baltic Creative
£90 for 6 classes
dot-art Club (10-13 years)
Wednesdays from 8th January

Wednesdays from 26th February

4-5.30pm

The Reader
£90 for 6 classes
Photographic Adventures in Nature
Tuesdays from 11th February

3-5pm

The Reader
£160

for 10 classes

Textile Arts
Mondays from 3rd February

6 -8pm

The Reader
£160

for 10 classes

How to Illustrate a Short Story
Sundays 16th, 23rd February, 1st March

11am – 5pm

The Reader
£125 for 3 days
Organic Pattern Design
Mondays 6th, 13th, 20th April

11am – 5pm

The Reader
£125 for 3 days
Leaving Your Mark: Shared Mark Making & Storytelling
Sunday 22nd March

11am – 5pm

The Reader
£50
Walking Drawing: Mindfulness & Observation
Monday 27th April

11am – 5pm

The Reader
£50