Liverpool Cultural Directory
This page is from 2015 and has been archived.
Please be aware that the information may be out of date.
The essential guide for businesses and public sector organisations looking to hire services and facilities is now available online!
Liverpool City Region is home to a host of world class and cutting edge organisations which can offer businesses innovative, creative and practical solutions to their commercial requirements.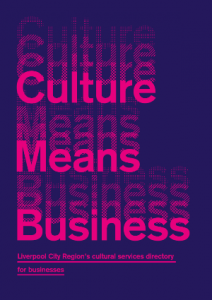 Liverpool & Sefton Chamber of Commerce has teamed up with Liverpool City Council, dot art and Wordscape and the city's cultural organisations to produce a new publication outlining how business can interact with the creative arts and culture sector.
Culture Means Business is a comprehensive 122 page directory of arts and creative organisations.  It provides relevant, detailed and specific information for businesses and organisations looking to buy goods and services from arts organisations that they might otherwise buy from mainstream commercial businesses.   The directory compiles all of this information with case studies of organisations that have formed successful local business partnerships including 20 Stories High, Hope Street, VIP Puppets and Impropriety Theatre.
This publication is designed to encourage commercial organisations large and small to think about buying from and working with these valuable community based organisations when making purchasing decisions. As well as including information about how to buy cultural services and products it gives guidance on commissioning art directly, strategic commissioning, sponsorship and setting up grants programmes.
The directory has been funded through the European Regional Development Fund New Markets for Growth Programme.
Hard copies are available for £10 each. To order send a cheque for £10 made to Liverpool City Council to Culture Directory c/o Sean Durney Culture Liverpool,  Municipal Buildings, Dale Street, Liverpool L2 2DH.
For further information contact [email protected]
Click to read the Cultural Directory of Services online now!