Health & Safety
This page is from 2015 and has been archived.
Please be aware that the information may be out of date.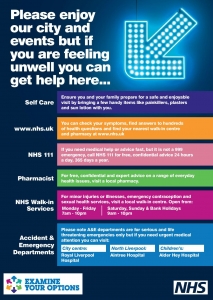 If you are visiting One Magnificent City events over the summer please remember that if you are feeling unwell, or need advice on your nearest first aid point that we are on hand to help.
If you would like any information on medical services and advice, keep a look out for our volunteers who will have advice leaflets on hand, or you can download one here.
Keep a look out for these NHS posters for advice when at an event.