The Pool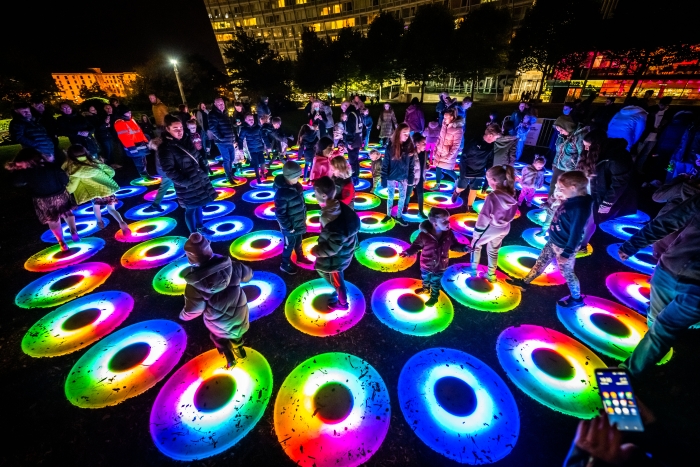 The Pool is a giant field of light featuring over 100 interactive LED platforms that change color and swirl with light when you walk on them.
Using mesh-network technology and custom code, you can activate the different platforms as you walk on them – the patterns change each time so why not see what creative artwork you can make?
The Pool – About the artist:
The Pool is by Jen Lewin, an internationally recognised new media and interactive sculptor based in Brooklyn, New York. Over her 27-year career, Lewin has honed her architectural background and a highly technical medium to fabricate large-scale, interactive, public sculptures that encourage community interaction and play. Uniting nature and technology, Lewin thinks beyond traditional media to create connected human experiences that bring vibrancy to public spaces.
Existing at the intersection of art, technology, and community, her sculptures underscore the ripple effects that each individual has on their community and habitat, the energy of human connection, and the power of collective action.
Jen's works have been featured at numerous events including the Takanawa Gateway Fest, Tokyo (2020); Istanbul Light Festival (2015); Vivid Sydney (2018, 2014); iLight Marina Bay, Singapore (2014); Signal Fest, Prague (2014); Burning Man, Black Rock City (2014, 2012, 2009, 2008, 2007, 2006, etc.); Biennial of the Americas, Denver (2013); and Gwangju Design Biennale (2007).
She has had exhibitions across the globe, including at the Oklahoma Contemporary (2020); Hong Kong Arts Centre (2020); Stavros Niarchos Foundation Cultural Center, Athens (2020); Museum of Design, Atlanta (2018); and the University of Colorado Boulder Art Museum (2013); among others.
Jen Lewin has designed, developed, and installed permanent interactive sculptures worldwide, including the Jeju Pool, South Korea (2018); Promenade, Denver (2018); Sidewalk Harp, Minneapolis (2015); and Magical Harp, Palo Alto (2015), among others. She has collaborated with artists and designers, including working with Claes Oldenburg on Paint Torch (2011), now in the collection of Pennsylvania Academy of the Fine Arts (PAFA); and with Lawrence Argent on Water Tree (2010), installed permanently in Vail, CO.
---
Accessible Information about The Pool installation
Description of The Pool installation for visually impaired visitors
The Pool is a giant field of light comprised of over 100 interactive LED platforms that change color and swirl with light when you walk on them.
Description of the soundscape for those who are hearing impaired
This installation does not feature any audio.
---
Event Date: Friday 22nd October – Sunday 7th November 2021
---