MDI Pop Up Studio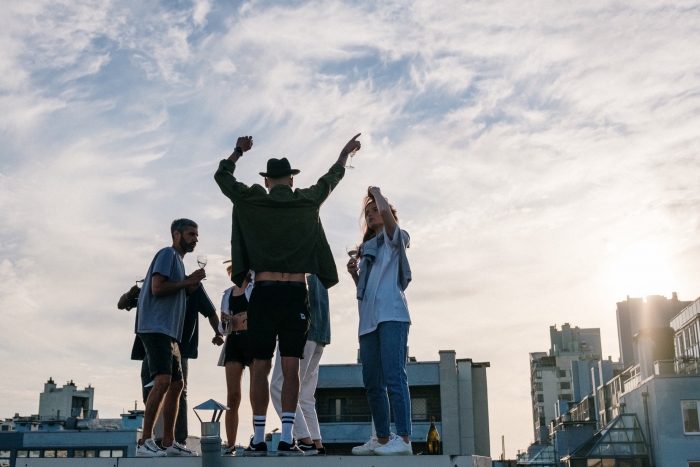 Join this month for a programme of outdoor classes at the Metropolitan Cathedral to celebrate the joy of dance!
Beginners and professionals alike will love these fun and inclusive classes.
We are delighted to be producing this event with the kind support of Metropolitan Cathedral of Christ the King Liverpool and Liverpool City Council as part of the Liverpool Without Walls programme.
SCHEDULE
Men Dancing with Jennie Hale
Tuesday 17th August | 1.30-2.30pm | FREE | Book here
Men Dancing is our weekly dancing project for men aged 50+. You may have danced professionally in the past, or prefer to take to the floor at a family party but if you are interested in dance in any form, this class is for you. Classes introduce movement technique and body awareness with a creative element.
---
50 Moves with Jennie Hale
Wednesday 18th August | 11:00-11:45am | FREE | Book here
With a focus on contemporary dance, these classes are for people aged 50 and over who are interested in dance, keeping fit and socialising with a great group of people. The class uses taught exercises to encourage increased mobility, balance and fitness, as well as promoting memory within movement, by building on sequences to create dance works for performance.
---
Intro to Hip Hop with Manisha Aggarwal
Tuesday 24th August | 6-6:30pm | £3 | Book here
This fun and friendly introduction into hip hop and commercial dance will explore high energy movement and sleek choreography leaving you feeling energised and empowered.
---
Intro to Contemporary Indian Dance with Kali Chandrasegaram
Tuesday 24th August | 6:45-7:15pm | £3 | Book here
A fun and vibrant Contemporary Indian Folk Dance workshop set to upbeat Bollywood music. Kali is a multi disciplined, experimental dancer and choreographer, working across many genres from Indian classical to contemporary and believes in dance as a personal journey of the soul for self and communal awareness.
---
Intro to Solo Salsa with Helen McCarron
Tuesday 24th August | 7:30-8pm | £3 | Book here
A fun and energetic salsa class, taking things right back to basics. This class will cover the basic footwork used in salsa, then moving onto fun choreography to get a feel for that salsa style! You don't need a partner for this class, solo footwork and styling only!
Please Note
– Advance booking essential as there are limited places available.
– This class is outdoors.  In the event of bad weather, classes will move into MDI Studio (24 Hope Street)
– The event will take place on the Cathedral Piazza (at the front of the Cathedral at the bottom of the steps) where you will see MDI signage.
– Please arrive in the clothes you intend to practice in and bring limited personal belongings. Items left unattended will be at your own risk.
– This event will be photographed and filmed for promotional purposes. If you do not wish to be included in these photographs please let a member of MDI staff know upon arrival.
---
Event Date: Tuesday 17th August – Tuesday 24th August 2021
LOCATION: Liverpool Metropolitan Cathedral
---