Liverpool Theatre Festival presents: The Twelfth Night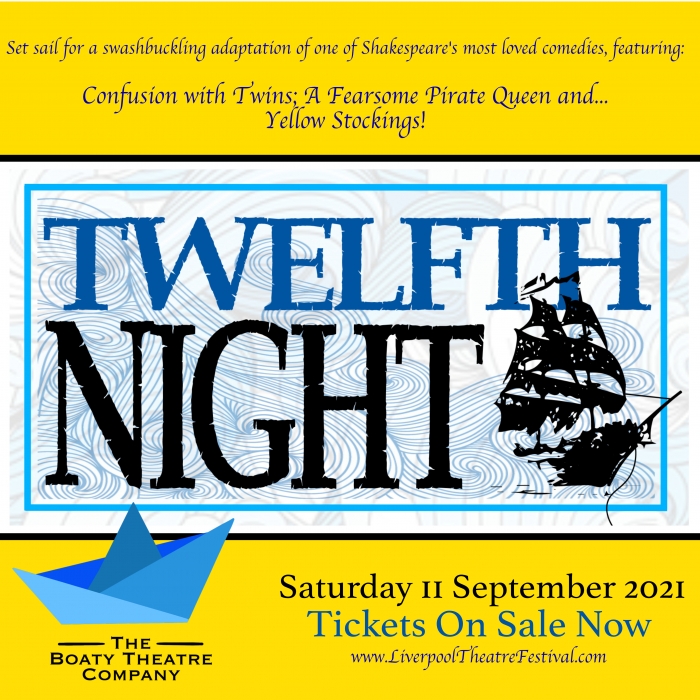 The Boaty Theatre Company present The Twelfth Night by William Shakespeare
A swashbuckling adventure of love, life and mistaken identity! Featuring a live 'Pirate' Band, a fearsome – yet lovable! – Pirate Queen, a Fool or two and lots of fun for all the family, The Boaty Theatre Company breathe new life into one of Shakespeare's most-loved comedies.
Meet Olivia, the young Governess of the island of Illyria. Having lost her father and brother, she struggles to rein in the Pirates currently overrunning the port and controlling the town. Under the auspicious eye of Captain Orsina, the pirates are thriving, but unless she brings Olivia onboard, she won't reign as the Pirate Queen of Illyria for long. When a devastating storm separates and shipwrecks twins Olivia and Sebastian, just off the coast, they must do their best to carve out a new life in a strange land, each believing the other twin has perished.
Add to the mix a power-hungry Overseer – in the form of Malvolia – a houseful of servants who cannot stand her pomposity, a drunken uncle and his rich new friend, a Fool, a pirate crew, a dash of music, a sprig of confused identities and sprinkling of unrequited love… What could possibly go wrong?
2hrs including interval
---
Event Date: Saturday 11th September – Saturday 11th September 2021
LOCATION: Bombed Out Church, Liverpool
Please note:
This event has been submitted by the event organiser and is not endorsed by Culture Liverpool or Liverpool City Council. If you have any questions, please direct them to the event organiser.
---