Liverpool Christmas Ice Festival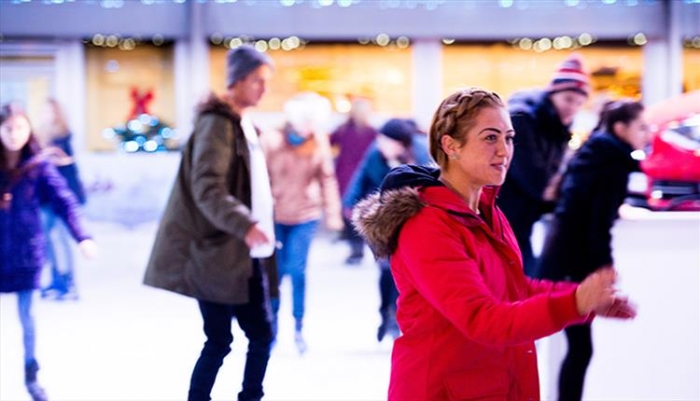 Everyone's favourite Ice Festival returns for another year! Join us this winter for the return of the enchanting Ice Festival at the Liverpool's Pier Head, which will be transformed into a winter wonderland.
Ice Rink
Grab your skates! The open air Ice Rink is the ideal destination for some winter fun. Don't worry; if ice skating isn't your forte, there's some handy penguin skate aids to help you glide a little more gracefully across the rink! Open to over-3s.
Ice Slide
Liverpool Christmas Ice Festival is proudly home to the UK's largest ever real Ice Slide! This year the fun has been supersized with an extra run, so there's three super speedy 30m runs, 6m above the park. Experience the buzz of skimming along at an exhilarating pace, while taking in the whole view of the Ice Festival (tip: it's prettiest in the evening!). Open to adults and children (must be over 60cm tall)
Ice Bar
Feel the freeze in minus three degrees in the real Ice Bar! The cool bar features a glittering room of crystal clear sculptures and furniture, all impressively carved from real ice. Whilst you are there you can even enjoy an ice cold shot. Sessions last 25 minutes so don't forget to wrap up warm – but don't worry, you will also be provided with your very own foil blanket to keep in the heat.
Opening Times
Friday 17 November 2017 – Sunday 7 January 2018
Open from 11am daily. Christmas Day – CLOSED. Christmas Eve / Boxing Day /Boxing Day Holiday / New Year's Eve/New Years Day – 6pm (Last Skate) – Close 7pm.
For all information and prices, please visit www.icefestivalliverpool.co.uk
---
Event Date: Friday 17th November – Sunday 7th January 2018
Please note:
This event has been submitted by the event organiser and is not endorsed by Culture Liverpool or Liverpool City Council. If you have any questions, please direct them to the event organiser.
---