LA FERIA – Liverpool's festival of Latin American arts and culture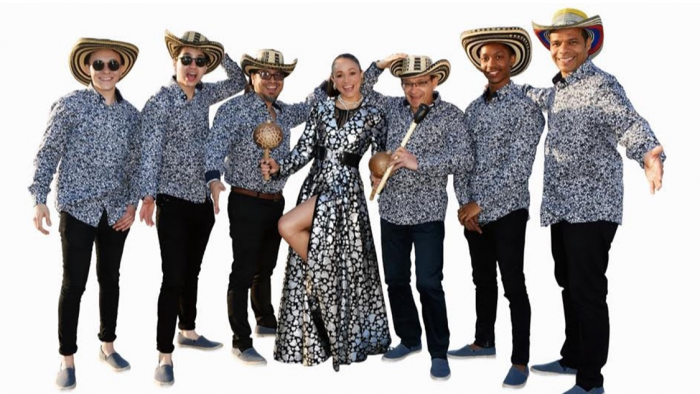 For their 10th Anniversary activities, local arts organisation LUMA Creations present LA FERIA, an innovative and colourful celebration of Latin American Arts and Culture.
The programme of events, featuring an exciting line-up of dance, musical performances and activities is a great way to experience the diversity of Latin American Arts and Culture at different venues across Liverpool City Centre.
The festival will kick off on Thursday 23rd September with 'Music of the Americas' at District in the Baltic Triangle, featuring Latin American Lucas Music Award winner, Angelica Lopez and her eight-piece band, along with Liverpool groups, LUMA Quintet and Katumba Bloco – one of the leading drum ensembles in the UK. The night will also feature DJ Irmita, the UK's first pioneering female Latin DJ.
The following night – Friday 24th September – will see an evening of Latin American Dance in the beautiful surroundings of the Bombed Out Church, showcasing an exciting array of companies including: colourful Caporales, San Simon from Bolivia; beautiful Mexican Dances from the exciting Colibri Company; offerings from Liverpool's own Katumba Bloco; a wonderful presentation of original Cumbia from Colombia by Elkin Rodriguez; LUMA's very own Candombe Troupe; and the mystical sounds of Mestisa, with their wonderful songs from South America.
Liverpool Central Library will also play host to a FREE family day of exciting performances, workshops, stalls, exhibitions and much more on Saturday 25th September. The day will feature the exciting Chinchinero (a Chilean traditional one man band); the magical, master puppeteer and mime artist from Peru, Jose Navarro; the wonderful sounds of Colombian musician, Suso Mejia; and the wondrous Caporales San Simon.
Participants of all ages will get the chance to make beautiful lanterns, head-dresses and much more, as well as be given the chance to see some of the Latin American Dolls which are appearing in an exhibition in Centro Cervantes in October, hosted by North West charity, SOMOSCR.
Finally, to close the festival on Sunday 26th September, an exciting programme of pop-up street performances will appear in Liverpool City Centre with artists from Peru, Chile, Colombia, Mexico and more.
LA FERIA runs from 23rd to 26th September across Liverpool venues. For more information and to book for the ticketed events, please visit lumacreations.org/events/la-feria-2021.
---
Event Date: Thursday 23rd September – Sunday 26th September 2021
---