FERIA LATINA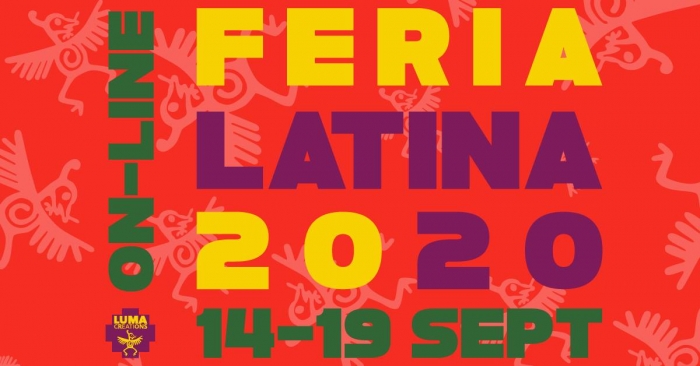 FERIA LATINA 2020 (Online) brings artists from Peru, Chile, Mexico, Colombia, Brazil, Argentina and UK. We have worked hard to ensure we came up with an interesting mix and we believe we have created an excellent programme for our friends, supporters and audiences in general.
This year's programme, which is a Free online Festival, funded by Arts Council England and the National Lottery Community Fund, travels from Jose Navarro's beautifully crafted puppetry and wondrous landscapes of the Andes to a musical performance by Alonso Farias and La Doctrina from the south of Chile's Patagonia. Our commissioned artists were given the chance to create something which represented an element of their work in Covid-19 times. And they have created wonderful work, as we knew they would. We have also been able to bring them together on a panel conversation about how they create in these times and what might be next.
We have In conversation with series with wonderful artists including the charismatic pair that are: Pato Cisterna and Rodrigo Quevedo who have produced one of the most popular food programmes in Chile's TV history, "Hacedor de Hambre" (You can catch many episodes on YouTube).
Two of our amazing associate artists, Estibaliz Moure Abad and Antonio de la Torre will share daily shorts of their travels across Latin America and we have a number of musical interludes from our own artistic team as well as invited guest artists, including the wonderful Mestisa and our very own LUMA Trio. We have also been able to work with new up and coming singers who have risen to the challenge including Gabriel Nelson Alder.
Every day of the festival, from 5.00pm to 9.00pm, we will be sharing stories, making workshops, music and performances. There's lots to see and we hope something for everyone. All you need to do is join us on Facebook Live Stream
via LUMA CREATIONS' Facebook Page.
PROGRAMME
…………………………………………………………………………………………………………………………………
A Walk through South America
North of Chile to Ecuador and back
5.00pm, Monday to Saturday 14-19th September
Two of our associate artists, Estibaliz Moure Abad and Antonio de la Torre filmed as they traveled into the heart of the Andes regions during a trip in 2015.
This is more than an exotic holiday or a trekking adventure, it is a full immersion in local traditions, people, history and wild nature. A very low budget long time trip, step by step to meet the spirit of Andes folks.
In Conversation With
Francisco Carrasco, Linda Wilton, Max Alder
6.45pm, Monday to Saturday 14-19th September
A series of interviews with a range of artists including Jimena Pardo from
"Bordando por la Memoria" project, an insightful interview with this year's commissioned artists, Oscar Carrasco (writer of Little Ears) and the Little Ears Cast (interviewed by Denise Jones from Liverpool Central Library). Pato Cisterna & Rodrigo Quevedo from Hacedor de Hambre in Chile & the wonderful Tango singer, Martin Alvaro from Argentina. In these interviews we hear about the artists' work, how they've continued to create through the global pandemic and how they see the future and their work going forward, post Covid-19.
Making Corner
5.45pm, Monday to Saturday 14-19th September
The Luma volunteers and team created a daily set of online tutorials for you to
make fun things, including paper flowers, musical instruments, Mate tea and more. Short and sweet for all the family!
Storytelling Corner
5.30pm, Monday to Saturday 14-19th September
We set our volunteers and team the task of picking traditional stories from the Americas and filmed them reading the stories for you. A magical door to traditional folk stories from days gone by.
The Storyteller
Tanya Cusan-Espinosa
6.00pm Tuesday 15th September
To make a video that reflects on my past work and the work that I've been creating with my mother Cecilia Espinosa de Cusan who lives in Colombia translating her stories from Spanish to English. The video will involve the reading of some of the stories in both languages. During this time I've also been working in my allotment nurturing and growing seeds, watching how everything is interconnected getting more and more interested in permaculture and seeing this as an opportunity for developing my work and how I might use the permaculture philosophy in relation to my storytelling and theatrical work.
Sembrando Futuros
Mestisa Latin American Folk Music Ensemble
6.00pm, Wednesday 16th September
A project exploring the expression of creativity through growing flowers and food in our gardens during lockdown. All members of Mestisa, like many of our friends have been indulging in good food, trying to grow healthy diets to ward against the danger of the disease that haunts us all. We turned to Pachamama (mother earth) for comfort and to food that keeps us connected to our roots and families as we talk about recipes and growing tips. Many of the foods we grow also have Latin American roots and like us have settled here, like potato, pumpkin, maize, beans and artichokes. We also are part of a supportive online community of growers called Seeds of Hope, which gave us the idea for the project. We will be playing a set relating to food, plants and garden, the visuals and interpretation will reflect the theme.
LITTLE EARS
Luma Creations
6.00pm, Thursday 17th September
Written by Oscar Carrasco, this magical story about a boy who went looking for
his name and found himself was transformed into a puppet storytelling project
with puppets by Antonio de la Torre and has toured the Liverpool City Region.
It was set to tour across the North West when lockdown came. Luma Creations
then decided to film it as part of their online programming. Performed by Estibaliz Moure Abad, Oscar Carrasco, Max Alder and Francisco Carrasco and filmed by Antonio de la Torre.
Danza del Venado Yaqui
Magaly Flores & Colibri Mexican Dance Group
6.00pm, Friday 18th September
Magaly delivers a talk about the historical and cultural significance of one of the most revered and ancient Pre-Hispanic dances amongst the Yaqui and Mayo tribes from the North of Mexico – Danza del Venado (Dance of the Deer). The impact of the coronavirus has meant that it has been very difficult for the people of this region to celebrate their strongly held traditions and beliefs during Springtime, when the dance is usually performed.
Quarantine in Patagonia
Alonso Farías y La Doctrina
7.30pm, Friday 18th September
Alonso has spent his quarantine creating new music whilst working in a farm in the beautiful Patagonia (Chile). It's been very inspiring and here he shares some of these creations in an online concert for Feria Latina 2020. These lyrics present his feelings and political thoughts in pandemic times. The music is a fusion of Latin American folklore and African melodies and rhythms. rhythms such as blues, funk, soul. Alonso performs most of his set alone and La Doctrina join him at the end. This online set features English subtitles for non-Spanish speakers.
Puppet & Music Collage Performance
Jose Navarro Theatre
6.00pm, Saturday 19th September
A family puppet and music extravaganza, celebrating traditions and international performance culture; featuring: dancers and musicians; using a broad range of different puppet techniques. This performance was executed at indoor and outdoor settings; adapted to the current lockdown Covid 19 situation, working within the limitations during these conditions to be able to join in at FERIA LATINA 2020.
SONGS FROM BACK HOME
Luma Trio (Francisco, Max & Oscar)
7.30pm, Saturday 19th September
Luma Trio present a set of songs from South America representing the times of the Protest Song Movement with songs from Victor Jara, Mercedes Sosa, Inti Illimani and Isabel & Angel Parra. Luma Trio pay tribute to the courage and creativity of these amazing artists.
---
Event Date: Monday 14th September – Saturday 19th September 2020
Please note:
This event has been submitted by the event organiser and is not endorsed by Culture Liverpool or Liverpool City Council. If you have any questions, please direct them to the event organiser.
---