Disco Socrates
Music Festival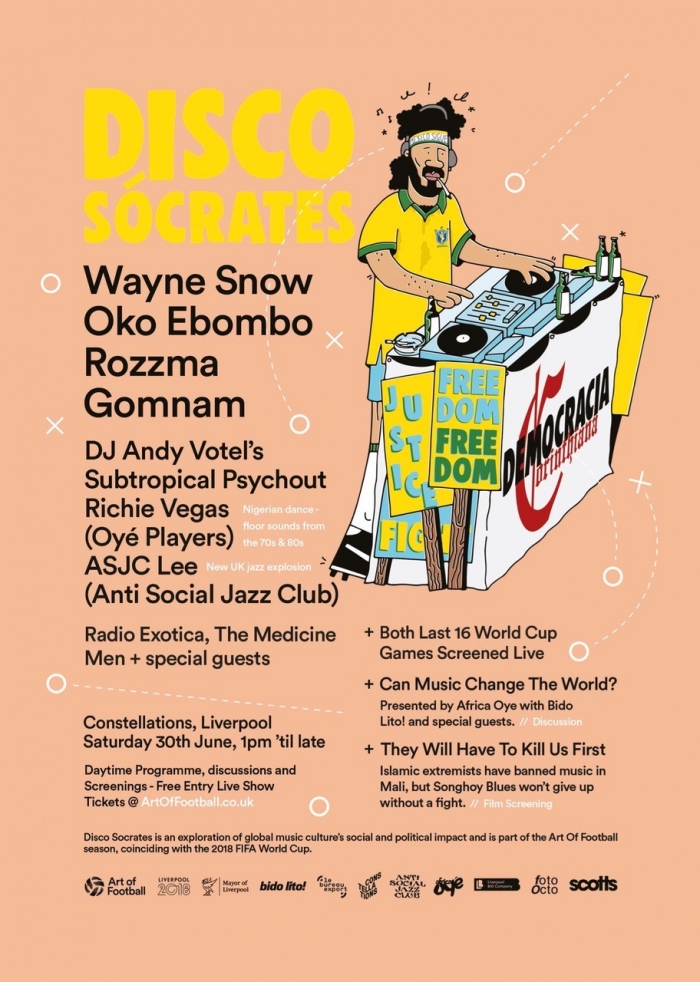 Constellations / 30th June, 1pm / Tickets (£10) available here.
In honour of the ultimate anti-footballer, socio-political activist and godfather of football cool, Disco Sócrates is an exploration of music culture and its social and political impact around the globe.
Anchored around a one-day festival, Disco Sócrates will see live performances from artists drawn from the participating World Cup nations, reflecting the power of musical movements to affect change around the globe. The festival will also feature DJ sets from some of today's finest selectors taking us through the 32 nations' sonic histories.
Alongside acclaimed DJ Andy Votel, who will be unleashing a Subtrópical Psychout set of Amazonian gold on the audience, performers include Wayne Snow (Nigeria), Oko Ebombo (France), Rozzma (Egypt) and Gomnam (Iran) – see below for more details. There will also be a programme of free daytime activity in Constellations Garden, including a panel discussion with Africa Oyé (Can Music Change The World?) and a screening of the film They Will Have To Kill Us First featuring Malian group Songhoy Blues.
---
Event Date: Saturday 30th June – Saturday 30th June 2018
---