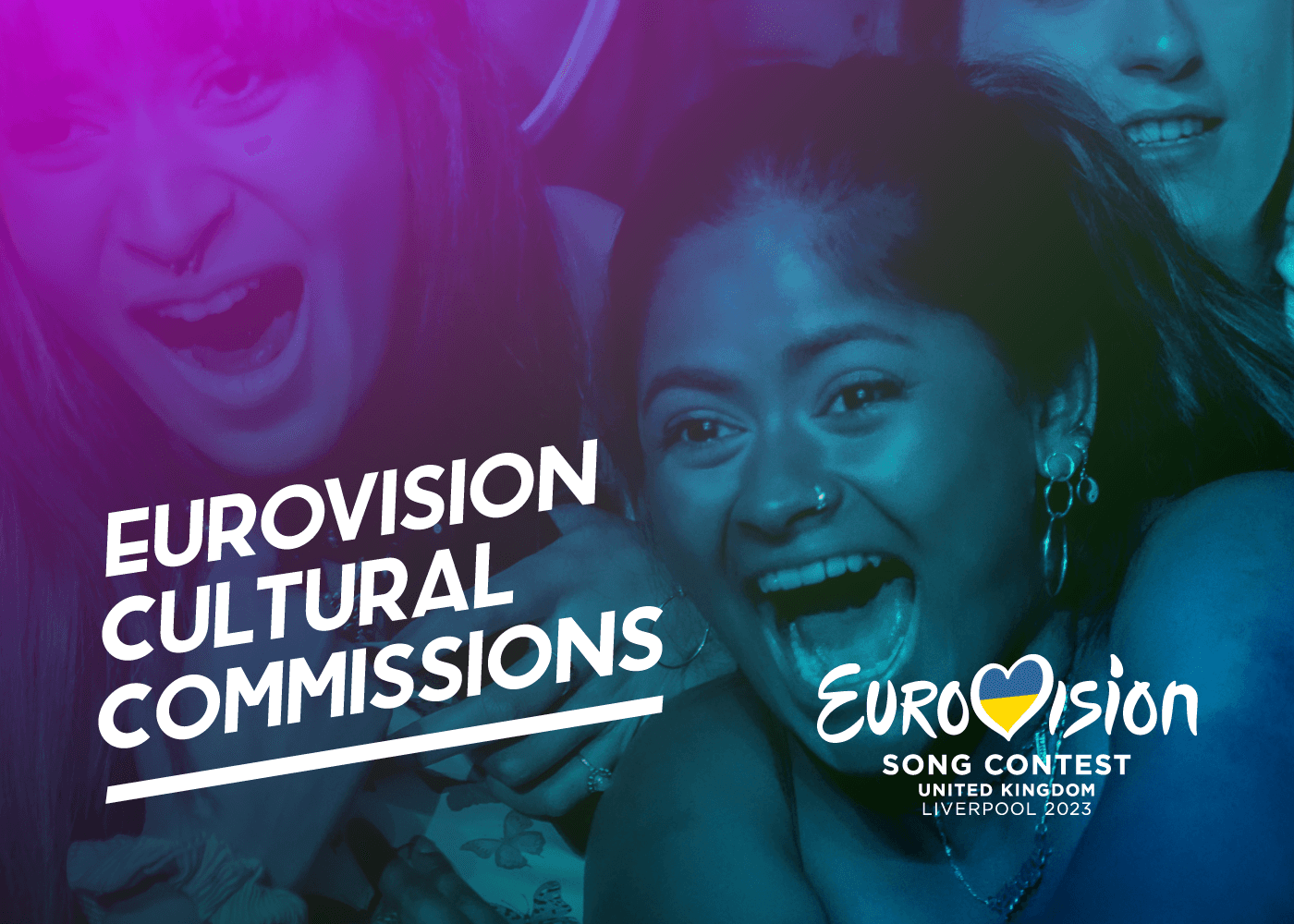 ---
In 2023, Liverpool will host the Eurovision Song Contest.
The event should be taking place in Ukraine, but the ongoing full-scale invasion of the country means the UK will instead host the competition this year.
This will bring together three distinct cultures – Ukraine, UK and Eurovision – and present them on an extraordinary stage – the city of Liverpool.
This provides a unique creative opportunity.
The Grand Final of Eurovision is being delivered by the BBC and will be broadcast live on 13 May to 160 million across the world.
To support this, as host city Liverpool will be delivering a cultural festival in the lead up to the main event with a series of commissions, events and installations which will act as a platform for modern Ukraine – telling a story of an ambitious, progressive country.
Alongside that we will be marking the power of music as well as the unbridled joy, diversity and expression which Eurovision represents.
This is a unique arts and cultural commissioning programme operating within a limited timeframe.
We are looking for creatives, artists, makers, performers and dreamers to help transform Liverpool through this period.
---
What is the opportunity?
---
There are three strands of commissioning:
UK x Ukraine Commissions(wt)
Music United
Eurovision in Liverpool
---
UK x Ukraine Commissions(wt)
These commissions will bring together Ukrainian and UK based artists and producers to collaborate on creating new projects which offer a platform to tell the story of modern Ukrainian culture.
Artists can come from any discipline, although we are particularly interested in large scale outdoor works and installations.
Each commission must bring together a Ukrainian artist, creative or collective with a UK counterpart. If you are a Ukrainian national still based in Ukraine or outside of the UK, we are keen to hear from you so we can support in matching you up with a UK collaborator.
Individually these works will be ambitious, accessible and inspiring, yet collectively will tell a compelling story about modern Ukraine.
The team in Liverpool are working alongside the Ukrainian Institute and the British Council, who will be our partners in the commissioning process around these works.
---
Music United
These commissions will celebrate the power of music to bring communities together. They will encapsulate the joy and congregation which music can bring across boundaries, ages and backgrounds.
These commissions are not limited to performance – there might be a range of ways in which these ideals can be expressed.
---
Eurovision in Liverpool
The Eurovision Song Contest and Liverpool are the perfect match.
These commissions will celebrate the joy, diversity of spirit, plurality of opinion and sheer fabulousness of Eurovision in the heart of the UK's most exciting city.
These commissions might draw on the history of the competition, look to its future or simply revel in what it stands for.
---
Funding
---
There are two funding streams available:
Large Scale – up to £125,000
It is likely the majority of these commissions will come from the UK x Ukraine strand although in the instance of an extraordinary idea, we are happy to receive pitches from the other two strands as well.
These projects will need a clear production and delivery partner attached to them who can start to work from January 2023.
The costs will need to include allocations for any travel and accommodation linked to Ukrainian partners although help around Visas and other related areas will come from the project team.
Medium Scale – up to £25,000
These commissions can come from any of the commissioning strands.
Due to the tight timeline of this commissioning round, there is no expectation of any match funding towards the delivery of the project.
However clearly where match can be found or offered through in kind resource, this will be looked on favourably through the process.
---
What are we looking for?
---
We are looking for artists who:
Have a history of creating high quality work of scale, ambition and accessibility
Are willing to work in collaboration with other artists and producers
Can deliver breath-taking work in a short timeframe
We have a particular interest in working with artists from Ukraine and Liverpool however this fund is available to artists from across UK and all nations competing in Eurovision 2023.
---
Process
---
Fund launched: Wednesday 23 November 2022
Expression of interest deadline: Monday 12 December 2022
Artists shortlisted and informed: Friday 16 December 2022
Shortlisted artists will be funded with £2,000 grants to develop a formal proposal and budget. This grant will be paid on receipt of the formal costed proposal.
Formal proposals and costings provided: Wednesday 18 January 2023
Final works commissioned: Wednesday 25 January 2023
Commissions announced: w/c 30 January 2023
Cultural Festival to run: Friday 14 April – Sunday 14 May 2023 (Eurovision Grand Final Saturday 13 May)
In an instance where a project may need to deliver later than Sunday 14 May, please specify this in your application process.
---
Next Step
---
To register your expression of interest, complete and submit the online form below, which includes the following information:
Name
Nationality and where you are currently based
Which of the 3 commissioning strands you are proposing to create work for
A portfolio or link to website
A short paragraph outlining any initial project ideas (sketches welcomed but not necessary)
An indication of budget you would be looking for
---
Expression of Interest Form
---
Complete and submit the online form HERE before 12 noon on Monday 12 December 2022.
---
Got a Question?
---
If you have any specific questions regarding the first stage of this process, please email [email protected] and we will come back to you.
---