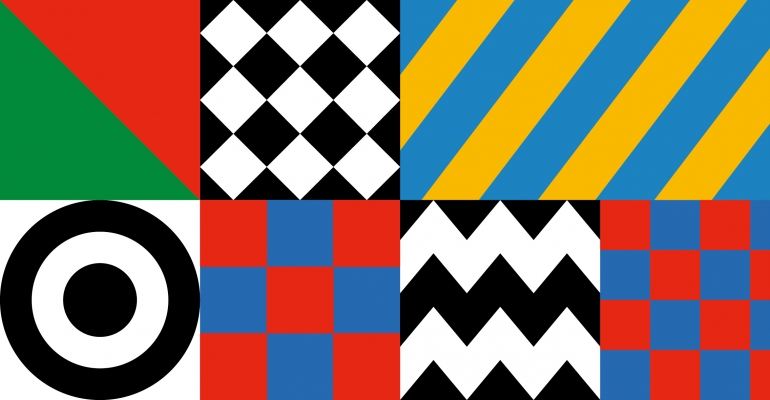 Everybody Razzle Dazzle Peter Blake creates new commissioned artwork for Liverpool
Liverpool Biennial, 14-18 NOW WW1 Centenary Art Commissions and Tate Liverpool have co-commissioned one of the major figures of British pop art, Sir Peter Blake, to 'dazzle' a Mersey Ferry in partnership with Merseytravel and National Museums Liverpool.
This is the third in the series of Dazzle Ship commissions, following Induction Chromatique à Double Fréquence pour l'Edmund Gardner Ship / Liverpool. Paris 2014 by Carlos Cruz-Diez on the Liverpool Waterfront, and Tobias Rehberger's Dazzle Ship on the River Thames in London.
Sir Peter's design entitled Everybody Razzle Dazzle will cover the Mersey Ferry Snowdrop, surrounding the passenger vessel with a distinctive pattern that can be seen for the next two years, as it continues its commuter service, River Explorer and Manchester Ship Canal Cruises; making this the first of the Dazzle Ship commissions to be a working vessel. Peter Blake (b. 1932) is a leading figure in the development of British pop art and his work is synonymous with the use of imagery from modern culture, including comic books, consumer goods and advertisements. During his career he developed strong links with Liverpool and first visited the city during his National Service with the RAF (1951 – 53). His training required that he travel to Belfast, so he sailed by ferry from Liverpool's iconic waterfront. Highly evocative of Sir Peter's signature pop art style, the design is based on his use of and interest in colour, monochrome and shape.
Unlike other forms of camouflage, dazzle works not by concealing but by baffling the eye, making it difficult to estimate a target's range, speed and direction. Artist Norman Wilkinson, credited with inventing the technique, explained that dazzle was intended primarily to mislead the enemy; each ship's dazzle pattern, realised in monochrome and colour, was unique in order to avoid making classes of ships instantly recognisable to enemy U- boats and aircraft.
As well as being a moving artwork, visitors who board the Snowdrop can learn more about the history of dazzle and the role that the Mersey Ferries took in the First World War in a display developed by curators from National Museums Liverpool and Tate Liverpool.
An integrated education programme underpins the project and includes a digital resource for schools, online commissions by artists and writers, with opportunities for groups and individuals to visit and participate in the project. Everybody Razzle Dazzle and the accompanying display and education programme have been funded through Arts Council England's Exceptional Awards, which aims to fund projects that deliver great art for everyone.
Sally Tallant, Director of Liverpool Biennial, said:
'It is an honour to commission Sir Peter Blake to revisit the practice of 'dazzle camouflage' and to invite him to paint the Snowdrop – an iconic Mersey Ferry. This is the third vessel that we have co-commissioned with our partners and it is wonderful that we are able to undertake this ambitious project with the support of the Exceptional Awards programme from Arts Council England. Millions of people will have the opportunity to see and engage with the artwork and we are delighted to be able to bring this exciting project to Liverpool.'
Jenny Waldman, Director 14-18 NOW said,
'14-18 NOW congratulates Peter Blake on this wonderful artwork, which follows the success of the 'dazzled' Edmund Gardner in Liverpool and HMS President (1918) in London. Snowdrop offers a completely new way for visitors to experience a dazzle ship and learn more about the rich maritime history of Liverpool and the Mersey Ferries during the First World War. We are grateful for the support of Bloomberg Philanthropies.'
Everybody Razzle Dazzle 2015 is co-commissioned by Liverpool Biennial, 14-18 NOW WW1 Centenary Art Commissions and Tate Liverpool in partnership with Merseytravel, who own and operate Mersey Ferries, and National Museums Liverpool (Merseyside Maritime Museum). Supported by Arts Council England, National Lottery through the Heritage Lottery Fund and Department for Culture Media and Sport.
If you would like to find out more about the Dazzle Ferry, visit the Biennial website or search for #DazzleFerry on social media.