FAQ's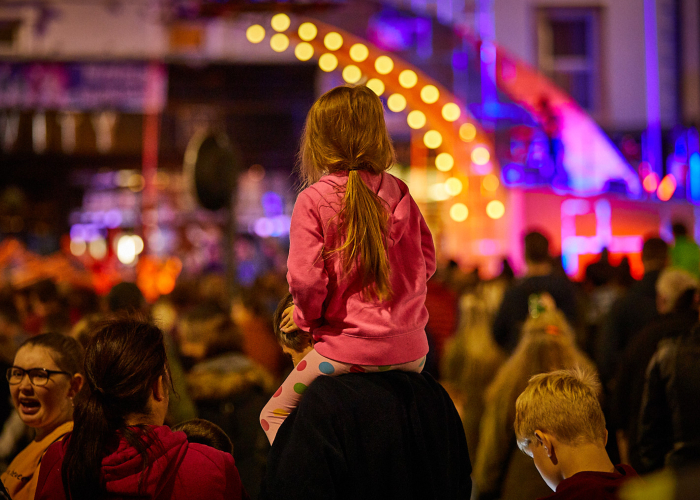 ---
We're really happy to be able to hold the 'Bridge' event at 'The Rezzy', Breeze Hill Millennium Green and our aim is to leave it as beautiful as we found it. We'd be grateful if you would help us achieve this by putting your litter in the bin, leaving the park and surrounding streets just as you found them and respecting any wildlife you come across.
Got a question about the event? Then please check out our handy FAQ's for all you need to know to make your visit as enjoyable as possible. Can't see what you are looking for then please email a member of the Culture Liverpool team on [email protected].
---
Is the event Covid safe?
The 'Bridge' event will follow all government guidelines on Covid-19, which are subject to change. Please remember the key message: HANDS, FACE, SPACE.
Can anyone attend?
Absolutely, the 'Bridge' event is suitable for all ages. If you are 14 or under, please remember you need to be accompanied by a responsible adult (18yrs +) at all times.
Do children need to be accompanied by an adult?
Anyone aged 14 or under will need to be accompanied by a responsible adult (18yrs +) at all times.
Is the event FREE?
Absolutely. However, the night-time element of the show, which takes place on Friday 6 and Saturday 7 August between 8.45pm-9.45pm, is ticketed.
You can book your FREE ticket to the evening performances of 'Bridge' HERE.
Do you need a ticket?
If you are planning on attending the night-time element of the Bridge event, which takes place on Friday 6 and Saturday 7 August between 8.45pm-9.45pm, then yes you will need a ticket.
You can book your FREE ticket to the evening performances of 'Bridge' HERE.
Is the event accessible?
The event is located on a grassed area and is accessible to all. However, please be mindful of the site conditions especially if it has been raining.
Our partners for this event, Imagineer Productions, have produced a downloadable user friendly guide to the event and performance which may be of assistance to anyone visiting who may wish to be prepared in understanding what the event entails.
Is parking available?
No parking is available in the area surrounding the event, with the exception of limited disabled parking bays, which can be accessed on a first come first served basis. We strongly urge you to use the local public transport links.
To plan your journey, more detailed travel information can be found at merseytravel.gov.uk.
What clothing should I wear?
Please dress for the weather and wear appropriate footwear and clothing for an outdoor event, including warm clothing for the evening. Don't forget to bring plenty of sunscreen if it's sunny!
Can I bring an umbrella?
We advise the use of small umbrellas if needed. That way everyone is still able to enjoy the performances without their view being obscured.
Can I bring my dog?
Due to loud noises and lighting as part of the 'Bridge' performance, we recommend you do not bring dogs on site apart from assistance dogs.
Can I enter and leave the event whenever I want?
During the day-time element of the 'Bridge' event, which takes place between 10am and 5pm, you are free to come and go as you please.
As the night-time element of the event is ticketed, you will be unable to re-enter the site if you decide to leave for any reason.
Can I bring my own food and soft drinks?
There will be a small selection of concessions to choose from at the event. However, should you wish to, you can bring your own food and any unopened soft drinks (water, fizzy pop, fruit juice).
Is seating provided?
No seating is provided, but you are welcome to bring along a blanket. In fact we encourage you to sit, so everyone gets to see the performances in all their glory.
Are there any toilet facilities?
Yes, there will be toilet facilities located within the event site.
Are you allowed to smoke?
This is a no smoking site, so please refrain from smoking.
Will there be loud noises & flashing lights?
Yes there will be elements of loud noises and flashing lights as part of the 'Bridge' evening performance.
What happens if I can't find my child?
'Bridge' is a safe, family-friendly event. However, we must be clear children remain the responsibility of their parents and guardians – so please keep an eye on your little ones. Should you become separated from your child, please make your way to the nearest steward who will be able to help you.
Are there any items that are not allowed at the event?
Please take some time to read through the event terms and conditions and understand what is expected of you at 'Bridge'.
Boring we know, but essential reading!
In these Terms & Conditions (the 'Conditions'), (i) 'Event' means any of the events taking place at Breeze Hill Millennium Green as part of 'Bridge'; (ii) 'the Promoter', 'we', 'us' and 'our' means Liverpool City Council and any associated promoter(s) of the Event; and (iii) 'you' and 'your' means you as the patron.
The Promoter is unable to accept liability for personal damages, losses, or injuries sustained at the Event. Any personal property brought to the Event is at your own risk.
Whilst every effort is made to ensure that the full, advertised billed performances take place, the Promoter reserves the right to change the published bill and/or running times without notification. This includes, but is not limited to, artists and billed attractions.
Entry is for the Event and not a specific artist.
The Promoter reserves the right to refuse admission.
The Promoter has granted Merseyside Police the right to refuse admission to the entire Event site.
Strictly no illegal substances.
Any alcoholic drinks brought to the Event will be confiscated on entry.
The Promoter shall be entitled to confiscate (i) any of the items listed below and (ii) any other items which the Promoter considers may be used as weapons, or are otherwise deemed by the Promoter to be dangerous or inappropriate. The Promoter shall not be liable for any loss, theft or damage to confiscated items.
Prohibited Items – air horns, all recording equipment, animals (except for assistance dogs), BBQs, Chinese lanterns, firearms, fireworks, flares, gas canisters/cylinders, glass bottles, glass of any kind, hammers, illegal substances, knives, laser pens/laser equipment, legal highs, smoke canisters, sound systems, tape recorders, video recorders, umbrellas and any items deemed by management to be dangerous or inappropriate.
No unauthorised filming or sound recording. Any unauthorised recordings may be confiscated and/or destroyed by the Promoter.
By attending the Event, you give your express consent to your actual or simulated likeness being included with any film, photograph, audio and/or audio-visual recording to be exploited in any and all media for any purpose at any time throughout the world, the copyright to which shall be owned by the Promoter or its contractors without payment or compensation. If you attend an Event with your child aged 16 years or under you give the foregoing your express consent on their behalf. This includes filming by the police or security staff that may be carried out for the security of customers.
Strictly no trading allowed on site without the Promoter's consent.
Further information for local residents will be distributed by letter to households in the immediate vicinity of Breeze Hill Millennium Green. For any direct queries please email us.
If before or during the Event you have a complaint, please contact a steward or send us an email at [email protected] as soon as you can as complaints are difficult to deal with after the event.