2020
2020 witnessed a global pandemic hit the health and economies of cities around the world. During this time the arts and cultural sector of Liverpool was impacted including our events and cultural programme.
We could have sat back and spiralled into decline, waiting for someone else to provide the solution but we didn't. We continued to develop creative initiatives that sparked the imagination and worked to bring us out of an international disaster ready to go. We can't sit back and wait for help, we never have.
---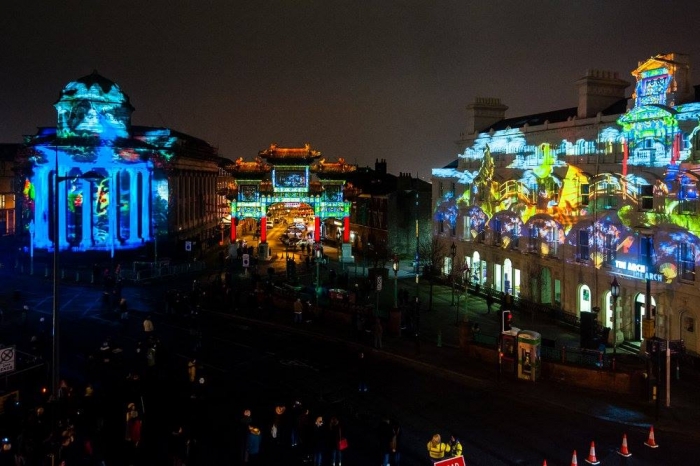 Chinese New Year 2020
Celebrating Chinese New Year on 26 January, the Chinese New Year festivities took place over one day this year and witnessed traditional Chinese culture blended with modern performances to create must-see street, stage and music acts, aerial demonstrations, family workshops, a fairground and with the hugely popular dragon, unicorn and lion parades and firecracker displays. In addition to which, we hosted the traditional Chinese market on George Street retailing souvenirs and food.
In addition to a day of family friendly inclusive activity, thousands of Chinese lanterns where installed throughout the city centre streets, and a number of buildings were illuminated in red in honour of the new year – signifying good fortune and joy to everyone. These buildings are the Cunard Building, Liverpool Town Hall, St George's Hall, Central Library Picton Colonnades, Toxteth Library, World Museum, Open Eye Gallery, Everyman & Playhouse Theatres and Mersey Tunnels George's Dock Building.
---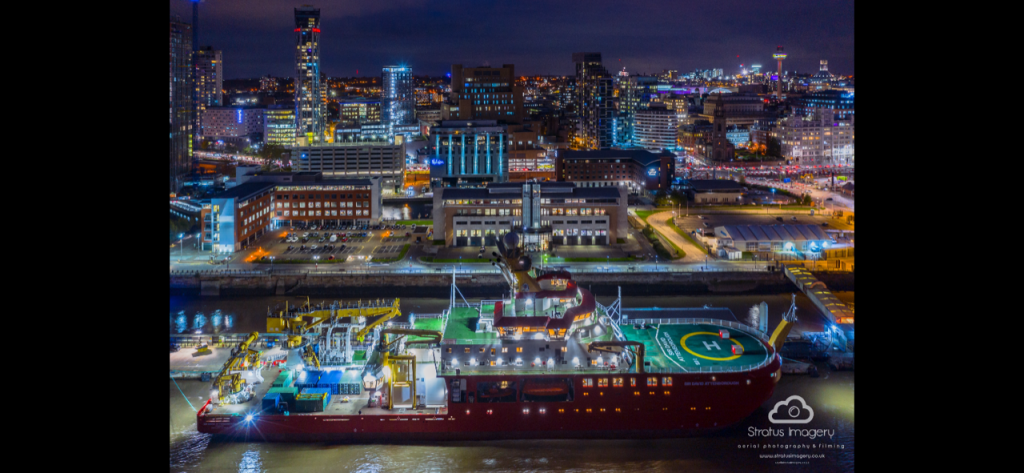 Virgin Voyages / Sir David Attenborough
As well as dock side activities, at Culture Liverpool we also have our fantastic Cruise Liverpool facility. The Cruise season at our Cruise Liverpool terminal started with the arrival of the Virgin Voyages cruise ship, Scarlet Lady, as Virgin Voyages chose Liverpool as one of two UK ports to showcase their first cruise ship on 24/25 February 2020.
This inaugural call to the city was closely followed by the arrival of HMS Prince of Wales in February of 2020 when we welcomed the second of the Royal Navy's giant new aircraft carriers at our Cruise Liverpool Terminal. Docked for one week, a once in a lifetime opportunity enabled more than 15,000 people to take a look on board the Royal Navy vessel and explore the craft over the weekend.
Not to do things by halves, we continued the celebrations with a week  long programme of celebrations featuring a range of military crafts and personnel showcasing our city's relationship with our maritime and services sector.
Sadly, the global pandemic meant we couldn't host more of our large scale Cruise events in 2020 however we were delighted to host the Sir David Attenborough at the cruise terminal, not once but twice, before she sailed on her voyage to the Antarctic on her sea trails to end our season.
---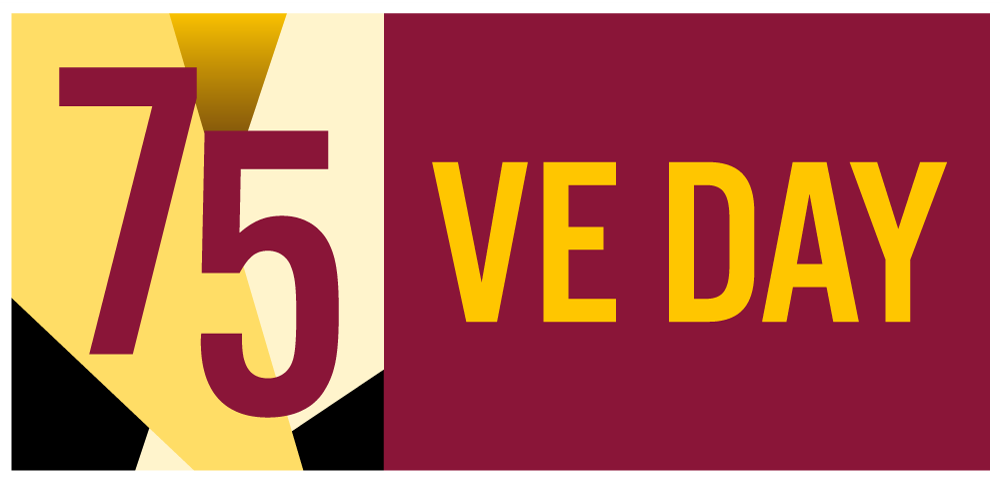 VE Day: 75
While we couldn't gather together in person to celebrate the 75th anniversary of VE Day we worked with DCMS to ensure that Liverpool was able to remember in a different manner which was so well received, our work was mentioned at Downing Street in the parliamentary briefing.
Buildings across the city turned red, white and blue to mark 75 years since Victory in Europe Day, when allied forces announced the surrender of Germany in Europe, ending Europe's involvement in World War Two. The Three Graces, St George's Hall, Liverpool Cathedral, St John's Beacon and Radio City, the M&S Bank Arena, Exchange Flags and Liverpool ONE are were some of the venues that took part in the region wide celebration.
A special VE Day 'Thank You' image also appeared on 18 huge digital screens across the city throughout the day, at locations such as Lime Street, Lord Street, Scotland Road, the M62 screens the Royal Court and one located at Anfield Stadium in a coordinated campaign with 10 Downing Street.
Taking things online, we are proud to have worked with the residents of the Liverpool City Region on our website providing downloadable bunting, special music playlists featuring popular artists from the time including Vera Lynn, Glenn Miller and Frank Sinatra and lyrics in addition to suggestions for lockdown home schooling – from activities to take part in, a video produced by The Imperial War Museum right through to a creative challenge set by historian and presenter, Dan Snow. The website also showcased tips on how to investigate local archives to find out about Liverpool's fascinating history, and how residents could find out if their family members played a part in the war effort.
Click here find out more about how the city marked the occasion
---
Liverpool International Music Festival
Liverpool International Music Festival was proud to present a virtual event that explored and contextualised Liverpool as a music city as we go into the next phase.
On the day we should have been at Sefton Park for our annual festival, we invited LIMF fans to join us for an afternoon of screening, debate and performance with LIMF Academy artists Lydia, Podge and Tee, renowned artists Nikki Kand and Red Rum Club and DJs G33, Hannah Lynch and Subcora.
Tying in with the event title, Kev McManus hosted a panel discussion with Cath Hurley, Mat Flynn, Paul Gallagher, Jennifer John, Beija Flo to talk about what next for Liverpool as a music city.
Further details can be found on our LIMF website here
---
Festival 31
Festival 31 focused on highlighting the work of local arts organisations alongside the refugee and asylum seeker community in Liverpool as part of the the annual festival managed and delivered by SOLA Arts with a number of partner organisatons.
In 2020, we partnered with SOLA and Everyman & Playhouse to inform the development of the programme over the next few years and to bring the festival onto a digital platform in response to the ongoing pandemic.
Festival 31 artists, arts organisations and supporters were asked to respond to the theme of Creative Connections  in 2020 and an exploration of what 31 can be, 31 days, 31 connections, 31 hours, 31 thoughts, 31 people, 31 countries, 31 smiles, 31 questions… Anything from a virtual meal, sharing recipes from where people of Liverpool's refugee communities originate, to poetry and spoken word performances, dance, video, sound, comedy or music. The work comprised of pieces from artists of refugee and asylum seeker backgrounds through to artists collaborating with people from displaced and settled communities in the region to create something wonderful together, our creative connections.
---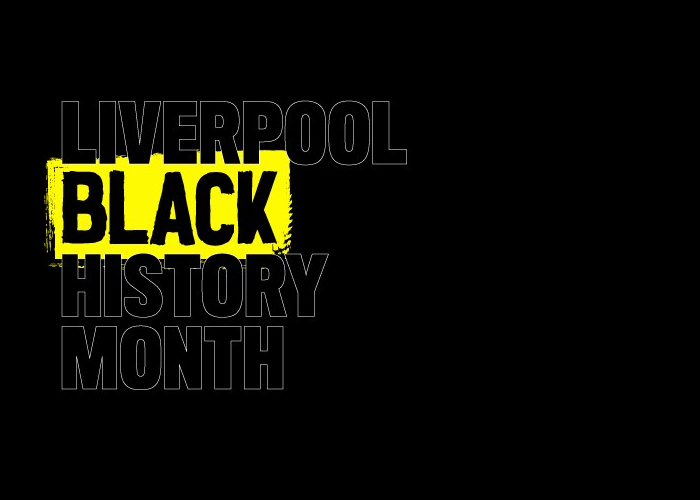 Black History Month
In October 2020 we were proud to support the Creative Organisations of Liverpool (COoL) and partners and their special commissions created for Liverpool Black History Month 2020. The Black Lives Matter protests in response to the racist killing of George Floyd and the Coronavirus pandemic have laid bare deep structural inequalities and in 2020, Black communities and anti-racists across the globe  demanded change. We worked with the  Creative Organisations of Liverpool (COoL) and partners in Liverpool to recognise the role that the arts can play in affecting that change. We came together to promote equality and justice through a range of art forms and to stood in solidarity with all of our communities facing racial discrimination.
Liverpool, with the oldest continuous black community in Europe, has a vibrant heritage, enriched by successive waves of immigration. BHM2020 shined a light on the city's history but, like the Liver Bird, it looked out across the Atlantic for international connections. BHM2020 celebrated the artistic excellence of the diaspora. African Superheroes danced to Brazilian beats, Calypso arrived on the Empire Windrush, The Sankofa bird took flight and sculptor Faith Bebbington protested with plants. Poetry chimed to Afro beats and Latin sounds. The Chinese Youth Orchestra, representing a community at the sharp end of Coronavirus inspired bigotry, reflected on quarantine though a musical fusion of east and west. Travelling back in time, BHM2020 led us through the riot torn streets of 1919 and into the heart of the slave trading capital of Europe. Booker prize winner Marlon James 'Zoomed' in from America with Afrofuturist Ytasha Womack, bringing the WoW factor to BHM2020.
ON RECORD: Untold & Retold celebrated, honoured and showcased black music on Merseyside through performance, exclusive content and debate.
Find out more on our activities for Black History Month here
---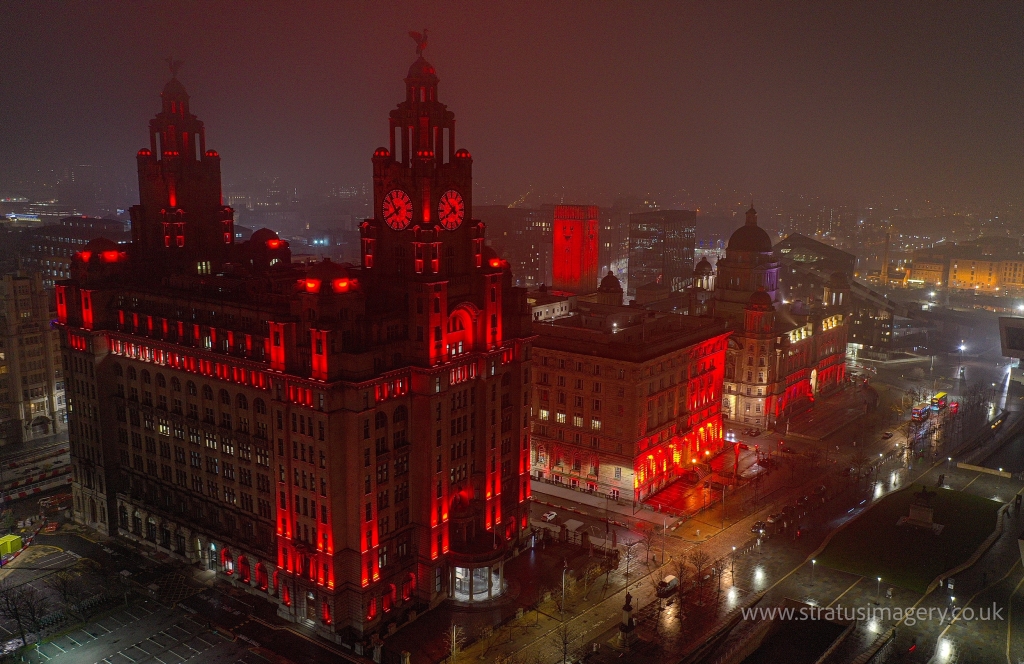 Service of Remembrance 2020
In 2020, due to the ongoing health pandemic, the annual Service of Remembrance could not take place in person and as such, it was pre-recorded at St George's Hall. Entitled Remember from Home and officiated by The Rector of Liverpool and The Reverend Canon Dr Crispin Pailing, civic dignitaries including The Mayor of Liverpool, Mr Joe Anderson OBE and Lord Mayor of Liverpool Councillor Anna Rothery were joined by key representatives from the Military, Ex-Service Organisations, Clergy and Faith Leaders.
The online service featured a virtual parade made up of footage supplied by regiments and associations across Liverpool, accompanied by music from The Band of The Duke of Lancaster's Regiment. The service reflected the city's diverse communities and their contribution to Britain's war effort, with a particular emphasis on black service personnel who served during World War One and their subsequent treatment when they returned to the UK and Liverpool which was further enhanced via the supplementary education programme and digital marketing campaign across social media and the dedicated Service of Remembrance website.
A specially commissioned spoken-word piece by Liverpool poet, rapper, singer-songwriter, and producer Daniel Sebuyange, known professionally as Blue Saint was also performed and released in the run-up to the service to express the deep significance Remembrance Sunday is especially this year. Key venues across the city were also lit in red in support of the city wide campaign to remember the fallen of conflict.
Find out more about Service of Remembrance and our digital memory wall >
---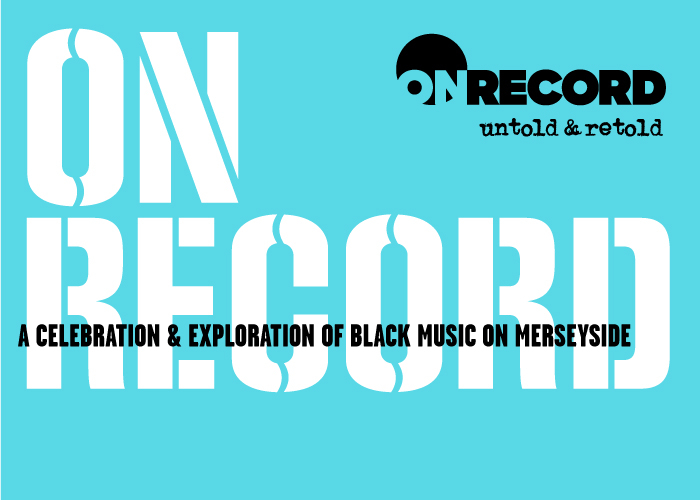 ON Record
Launched as part of black history month in October 2020, this specially curated festival explored the black music in Liverpool and the role it has played in the city and in communities over the past 7o years.
The month long festival brought together a wealth of original commissioned content including streamed performances, exclusive in-conversation events, film screenings, podcasts, an exhibition and much more.
Iconic masters of music The Real Thing and The Christians joined MiC Lowry, Jennifer John, Hannah Lynch and many more artists to kick start the festival with an evening of live performances, intertwined with a panel discussion and films.
Find out more about On Record here
---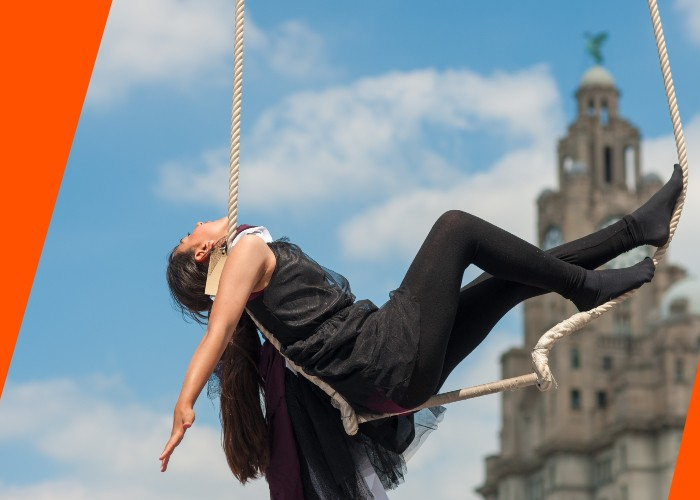 Liverpool Without Walls
Responding to #Covid19 we invented a short-term response and a long-term strategic plan for the city. Firstly, thanks to funding from Arts Council England, we were able to give out our investment money to cultural organisations within the city region within two weeks of COVID-19 hitting. This was a light-touch process to the 27 cultural organisations we regularly fund from Liverpool Biennial to Africa Oyé , the only criteria we put in was for them to honour freelance contracts.
Secondly, we devised the Liverpool Without Walls programme. And, thirdly, we developed a ten-year strategy on the back of COVID-19. Without Walls is about turning the city inside out — literally bringing businesses out on to the street with plans in place further down the line to remove barriers to cultural participation. In simple terms, Culture Liverpool closed streets to traffic and repurposed capital spend to buy outdoor furniture for restaurants to fill those streets and bring them to life. Following hundreds of applications, we awarded almost 50 cultural organisations and freelance artists funding to bring the city streets to life with live music, theatrics, dance, light installations, murals, photography and street theatre.
---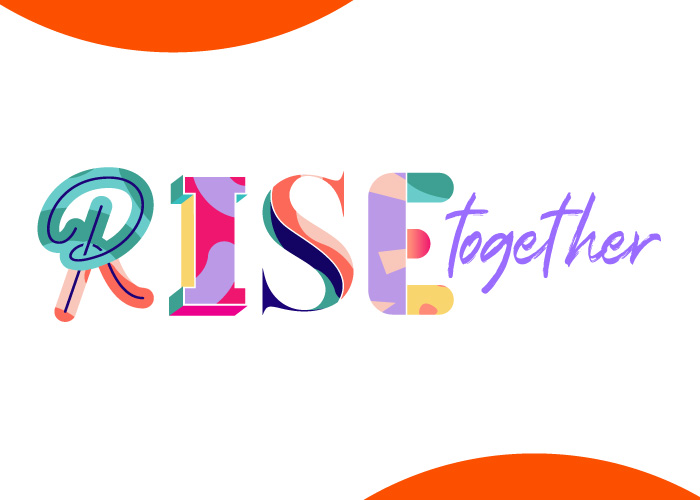 RISE
In 2019, we commissioned RISE; a season of commissions, exhibitions, events and happenings exploring and telling the stories of women in all their power and glory, through a cultural lens. Featuring women from Liverpool, the UK and the rest of the world, RISE shone a light on those females whose legacy educates, empowers and inspires us and future generations.
The RISE programme was ongoing for 2020 but the recent COVID-19 pandemic did, as with other events and activities, bring the project to a halt for now. However, as women, surely we have something to say about current events, the impact they're having on our everyday lives and those of others around us and our communities, the impact this will have on our work, our families, our arts and cultural organisations now and in the future. How will we RISE out of this situation?
Culture Liverpool produced a specially curated programme for RISE which once again showcases the fantastic talent, creativity and the female strength and spirit. The programme is a social commentary on social inequalities, isolation, and how this has become the new norm through loss and separation. The stories are told through the eyes of female artists of different ages and backgrounds and brings them visibility through a digital platform of podcast, blogs, music, visual art, and comedy.