2018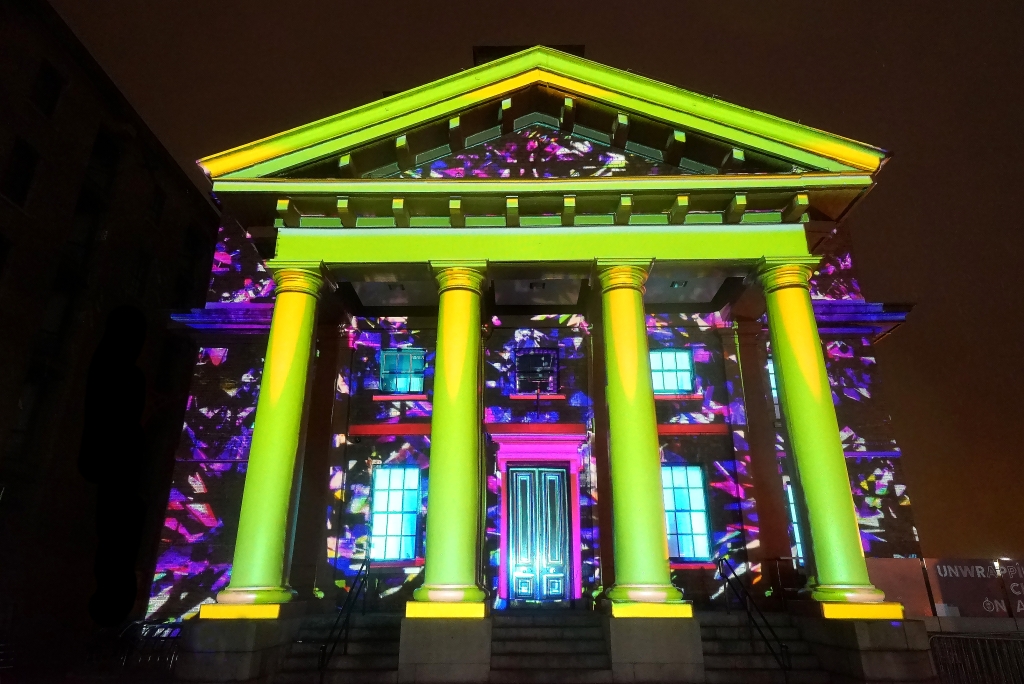 Happy New Neon
We started 2018 with a brand new digital artwork by leading light artist Rupert Newman, with a supporting music composition by Sarah Warne. Designed for the iconic Martin Luther King Jr Building on the Royal Albert Dock Liverpool, the artwork was commissioned to kick-start #Liverpool2018, a year-long celebration of the city as a cultural capital. The bursting light and colour trailer became the teaser for the creative, ambitious and exciting 12 months across the Liverpool City Region.
Rapid Response (RRU)
Rapid Response Unit was a unique cultural experiment designed to look at how we interpret, create and challenge the news. A bespoke newsroom was set up in St Johns Market where we worked with some of the biggest names in art and music to create brand new work which responded to the global news agenda which put artistic responses into the national news cycle. Through engaging local communities and working with the local culture sector, we developed an extraordinary range of new commissions working with a broad range of artists including  Damon Albarn, Charli XCX, Lubaina Himid, Lily Cole, Jeremy Deller and Musa Okwonga who worked alongside local artists and organisations including LRLPO, WOW and Tate Liverpool.
These commissions featured across the BBC, C4, ITV, The Guardian, New York Times, The Independent, Vice and Vogue amongst others and in many instances led to increased journalistic scrutiny such as The Guardian's extensive research and reporting on inherent racial bias within the UK was a response to the work RRU commissioned through Lubaina Himid. The RRU ended the year with a major commission alongside BBC Radio with the works exhibited between February and April 2019.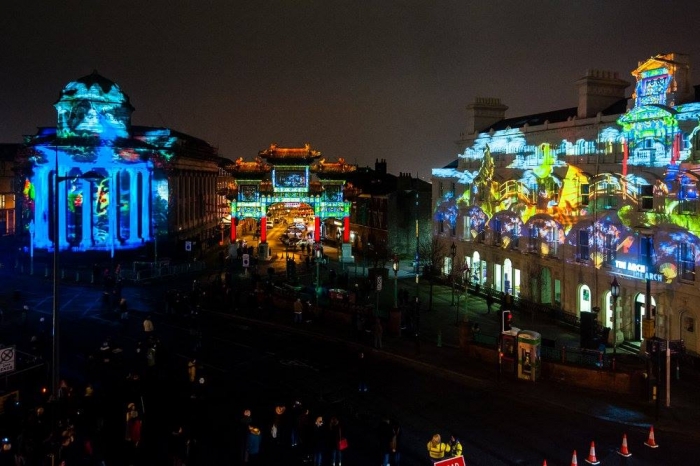 China Dream
Our 9-month arts season celebrating Chinese contemporary art and culture was China Dream. To coincide with the China's First Emperor and the Terracotta Warriors exhibition at the World Museum,  we presented an entire season-worth of arts, culture and events over three chapters from February to November beginning with Chinese New Year. The season of contemporary art was a juxtaposing exhibition of cutting edge contemporary art that celebrated the city's current relationship with China, with a nod to the future.
China Dream – Chapter One: Chinese New Year
Celebrating the 'Year of the Dog' was part of the first season of the China Dream programme It included a three night evening projection show and the traditional Sunday Chinese New Year event. The evening projections created by Illuminos were accompanied by street theatre and a specially commissioned soundtrack by Jah Wobble with members of the Pagoda Youth Orchestra performing on the track. Sunday's show included a pyrotechnic finale. The city was also dressed with Chinese Lanterns to mark the opening of the Terracotta Warriors at the World Museum, including in Liverpool One, BID areas (Church Street, Bold Street, Castle Street) and Exchange Flags.
The traditional free Chinese New Year event took place on Sunday 29th January and included traditional unicorn and lion dancer's parade throughout the China Town area, firecrackers, funfairs at Great George Street and Grenville Street South and concessions and traditional Chinese traders on Great George Street. Performances included Tai Chi, a Chinese orchestra and drummers, animation at Great George Square, workshops for families and aerial displays and performances by the Black-e.
China Dream – Chapter One: Presence, A Window into Chinese Contemporary Art
The exhibition included sculptures, paintings, installations, videos and photographs installed throughout St George's Hall, including spaces not normally open to the public. The artists covered a range of themes including consumerism, technology, connectivity and the individual's place in the world today. 19 works, never exhibited in their entirety, punctuated the gallery spaces hidden in the vaults of the Hall. The exhibition provided a window into work by some of the best artists from mainland China, Hong Kong and Taiwan, including Luke Ching, Cao Fei and Wu Chi-Tsung. Along with this exhibition we worked with cultural partners from the city including Open Eye Gallery and FACT to present further works that ran from February to June 2018.
Feast of Fire
Feast of Fire was celebrated on the weekend prior to Easter, and saw St Johns Garden hosting Walk the Plank's Fire Garden with a fiery garden organic-shaped fire installations, supported by performers from the Bring the Fire Project.  The event was complemented by a 'Feast of Fire Lates' aimed at providing a different cultural offering each evening for an older audience collaborating with partners including the Kazimier, Africa Oye, Liverpool Pride, Milapfest, Liverpool SoulFest, Irish Festival, Movema and Pagoda Arts.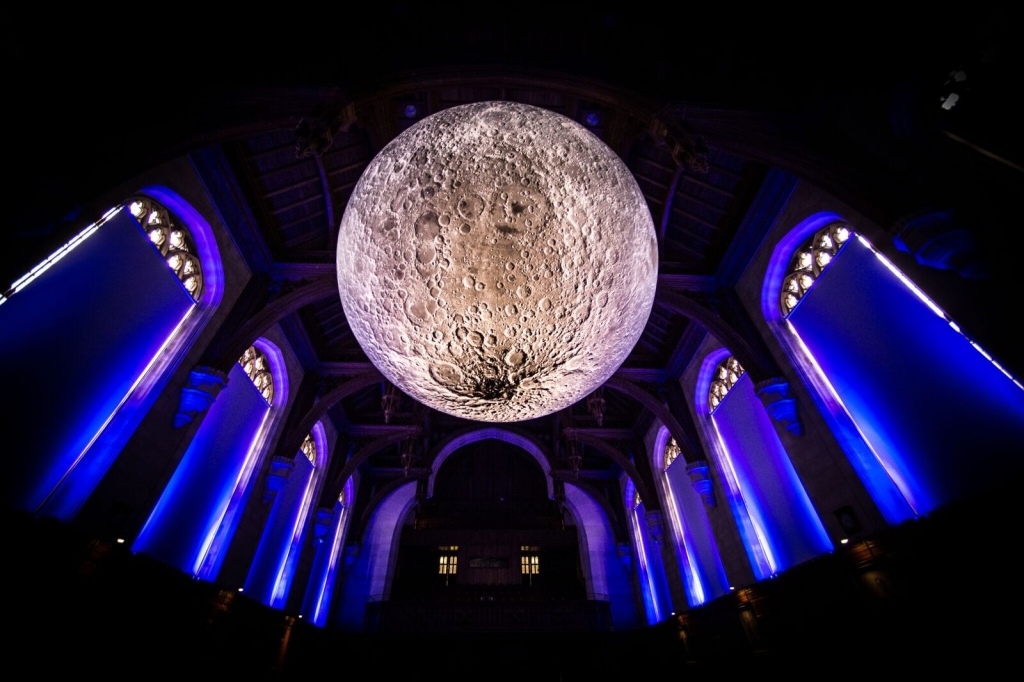 3 Festivals Tall Ships Regatta and Bordeaux Wine Festival
Over the May bank holiday of 2018 we were proud to host the initial leg of Sail Training International's (STI) Tall Ships Regatta over the weekend alongside Liverpool's inaugural Bordeaux Wine Festival.
The 15 ships that attended produced a fantastic back drop for the festival around the Royal Albert Dock Liverpool and alongside our very own Cruise Liverpool terminal. The race saw the ships start in Liverpool, on what would have been our annual Mersey River Festival weekend, sail to Dublin to coincide with the annual Dublin Maritime Festival and finish in Bordeaux at the bi-annual Bordeaux Wine Festival. As part of the festival Liverpool provided 41 sail trainees and five mentors to sail the ships across the Irish Sea from Liverpool to Dublin. The sail trainees came from a number of different backgrounds including apprentices from local businesses, university students from the University of Liverpool and hard to reach local youths, giving them a once in a lifetime opportunity to sail a Tall Ship. We were also honoured to host the Royal Navy's Frigate, HMS Somerset as part of the Festival in its only public event in the UK during 2018.
Thursday 24th May saw the opening event at the Anglican Cathedral in conjunction with the Bordeaux Wine Festival's 'Blessing of the Grape' Ceremony. Saturday 26th saw the Tall Ships crews' parade through the City, culminating in an awards ceremony for the ships' prize winners on the Pier Head followed by a crew party at Liverpool's Town Hall. Monday 28th saw a spectacular grand parade of sail on the River Mersey, as the ships left Liverpool for their onward journey to Dublin, with both sides of Mersey filled with watching public.
A key element of the event, our Changing Tides programme of new commissions, performance, music and art themed around the shared 'celticness' of Liverpool, Dublin and Bordeaux and the effect on rising sea levels on navigation and our sense of connectedness. 21 new commissions/world premieres and one British premiere were performed across the site, stretching from Royal Albert Dock Liverpool to Mann Island, Liverpool Cathedral and throughout the BID area of the city centre. Highlights included The Ghost Ship which featured in the Telegraph as photo of the day, Luke Jerram's Museum of the Moon at the Anglican Cathedral which attracted more than 60,000 in one week, nearly seven times more than average and Wired Aerial Theatre who were commissioned to produce a new festival touring duet From Me To You which was seen by over 10,000 and is now on tour.
Liverpool and Bordeaux toasted an exciting new alliance which brought the world's most prestigious wine festival to the banks of the Mersey. For the first time the Bordeaux Wine Festival was held in the UK, with Liverpool joining Brussels, Hong Kong and Quebec as very special international partners of the French 'fete le vin'. Agreed between the city's two mayors, this biennial celebration of the glorious grape saw Liverpool welcomed in to Bordeaux's festival family. A paid for event, ticket holders got the chance to sample six different wines as well as a chance to learn all about the diversity of Bordeaux wines from the official L'École Du Vin De Bordeaux. The specially created Vins de Bordeaux Pavilions featured over 65 appellations from the Bordeaux region, while the Bordeaux Wine School offered lessons in how to taste and experience the diversity of Bordeaux wines. Ticket holders could then pair their favourite Bordeaux wine with a grand gastronomic experience provided by some of Liverpool's finest chefs such as Paul Askew and restaurants such as The Art School. Entertainment included some cool jazz along with magical live entertainment created especially for the festival, against the backdrop of one the most beautiful iconic skylines in the world. In November the Bordeaux Wine Festival was awarded 'Best New UK Outdoor Event 2018' at the NOEA Awards.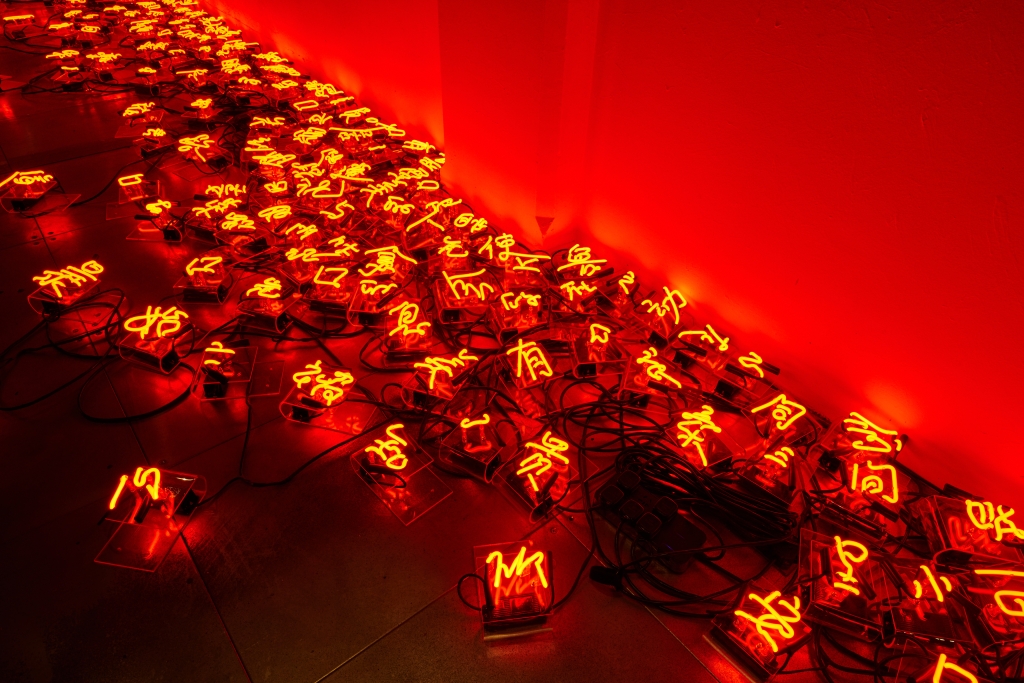 China Dream – Chapter Two: This is Shanghai
A free, eight-week exhibition of Chinese contemporary art featured ten of Shanghai's leading visual artists, curated especially to explore the similarities between Liverpool and its twin city, Shanghai. We worked with Shanghai born Curator Jiang Jiehong to exhibit the works in key waterfront locations including Cunard Building, Tate Exchange, Pier Head and Mann Island. Culture Liverpool worked with four creative partners, Open Eye Gallery, Tate Liverpool, Liverpool Biennial and Art Collection, University of Salford. We also partnered with ShanghArt Gallery who represents six of the ten exhibiting artists.
Future World of World (FWOW)
FWOW was a season of commissions, content and events which looked at what the Future World of Work means for the people of Liverpool. The season included the work undertaken within the International Business Festival as well as a collection of nine commissions which saw artists working in sectors as diverse as Deliveroo riders to adult social care to look at how the Future World of Work will effect individuals, business and society.
This project is a long term commitment for Liverpool to take a lead in exploring these complicated ideas and tackling them with creativity and innovation.
Uniglobal
In June, of 2018, Liverpool hosted the international congress for Uniglobal at ACC Liverpool, and we were commissioned to deliver the Opening Ceremony. We worked in partnership with Liverpool John Moores University, Young Everyman & Playhouse and Institute of the Arts Barcelona. Directed by Andrew Sherlock of LJMU, the Opening Ceremony was a theatrical interpretation of unions and employment around the world today working with 300 artists over 1,000 days.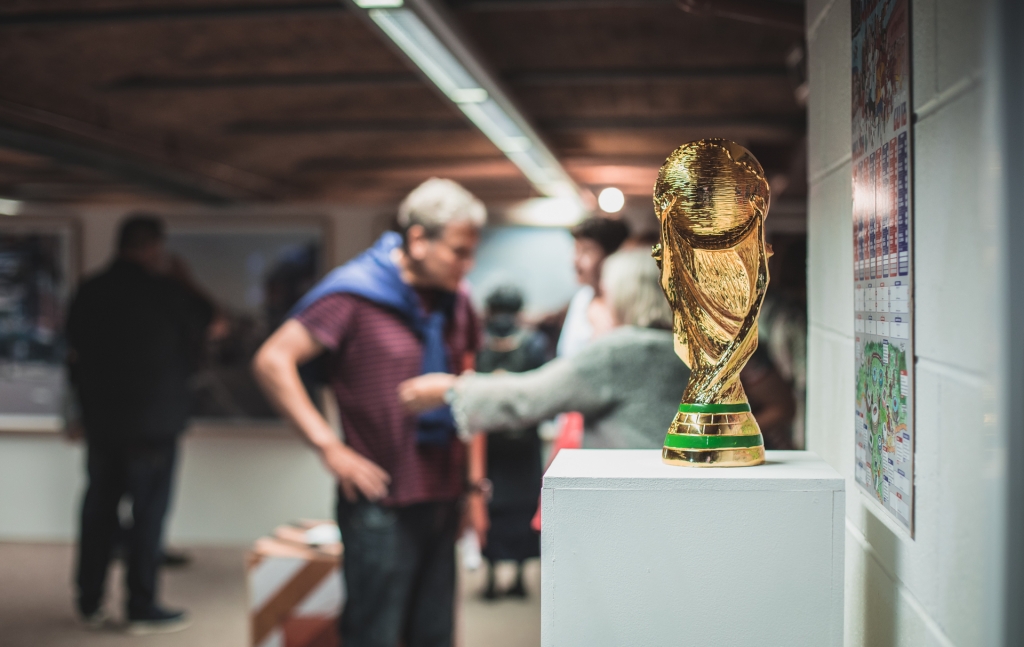 Art of Football
Coinciding with the 2018 FIFA World Cup, Art of Football was a festival consisting of a series of projects that generated debates and ideas around the subject of football, such as expression of woman's rights, disruptive politics, people power and populism. The festival ran for the entire duration of the world cup with three large scale exhibitions that explored these themes via photography, illustration and design. There was an exploration of fan culture through the lens of banners and a symposium of discussions on football as a force for social change that included a critique of its failings too.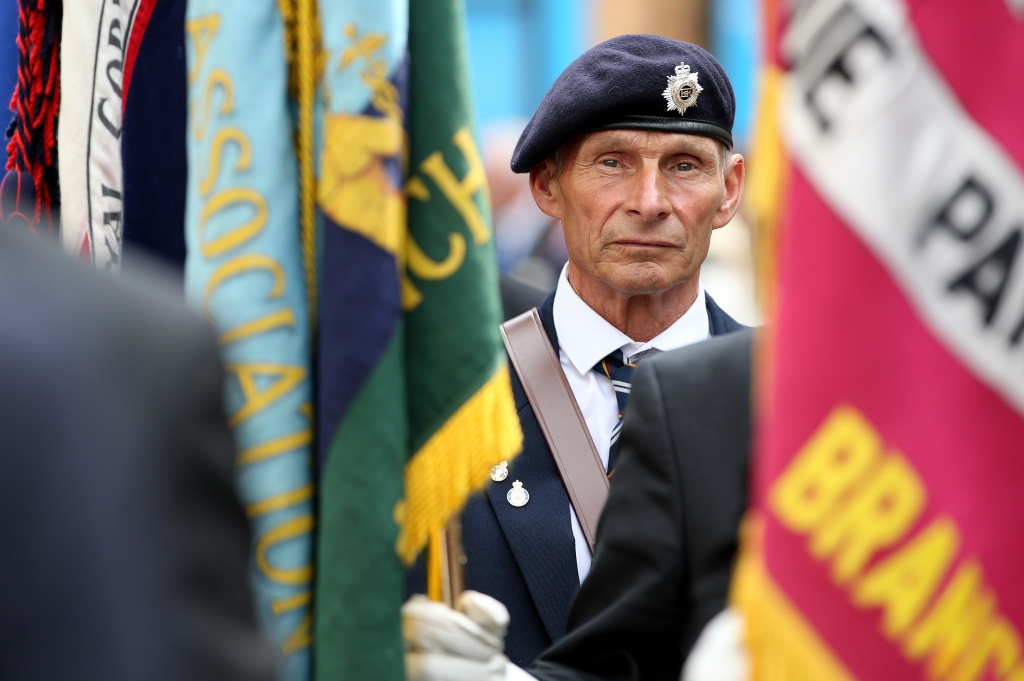 Armed Forces Day 2018
Celebrating our military personnel, we hosted the city's Armed Forces Day event in June of 2018. . It offered everyone a chance to #SaluteOurForces, with a formal ceremony at Our Lady & St Nicholas Church followed by a drum and flag parade to the Royal Albert Dock Liverpool, which hosted a range of demonstrations and displays from Armed Forces personnel.
Our animation programme entertained the crowds throughout the day including installations, street theatre, participatory performances and engagement workshops such as a Tree of Thanks ran by local artist Simon Armstrong. Organisations involving the tri services were located across the Royal Albert Dock Liverpool with content including the 208 Field Hospital Unit Displays , cadets, a dynamic display arena and a number of military vehicles including Mobile Operating Vehicle's,  Aircraft Carrier Model, military engagement activities alongside a large number of military based charities raising awareness. The event was opened by the Lord Mayor of Liverpool and was attended by a significant number of military personal from all services, including the merchant Navy.
Feis
There was a mixture of ceol, craic and sunlight on Liverpool's waterfront in July which saw a crowd of over 10,000 fans bask in the scorching sunshine to welcome the first 'Feis Liverpool'. Van Morrison headlined a busy programme of musicians, including The Dubliners, Imelda May, Hothouse Flowers, The Chieftains, Foy Vance, Mary Coughlan and Shane MacGowan of Pogues fame joining the stage for the big finale. Liverpool Feis was co-organised with music promoter Vince Power, founder of the famous Mean Fiddler who was behind festivals such as Glastonbury and Leeds/ Reading.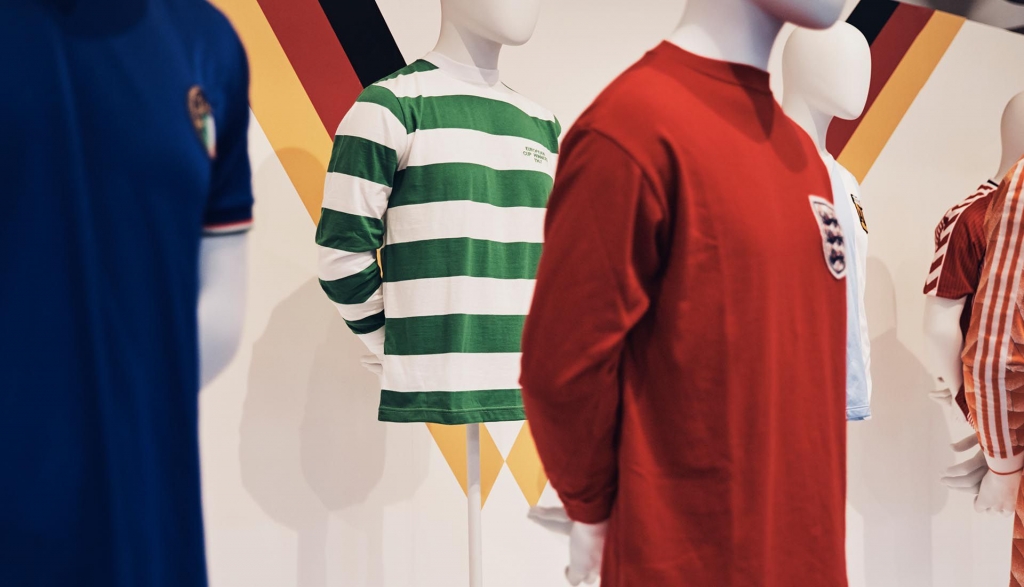 World Cup Football Screenings
With England's unexpected progress in the summer's World Cup, we were tasked with hosting an outdoor screening of the semi-final. In less than 48hrs, an arena for 4,000 supporters was built on the Pier Head for the England v Croatia match. Although the result ended in disappointment for the national team, we continued to demonstrate that events of this nature can be delivered in a safe and successful manner for the city once again.
Liverpool International Music Festival (LIMF)
Taking place from 21-22 July, LIMF attracted more than 50,000 music lovers, cementing Liverpool's reputation as a must-visit destination and establishing LIMF as the current voice of this global music city, with an experimental but accessible programme for all. In 2018, the festival became a paid for event, with tickets being sold for the first time, for as little as £5 per ticket.
Attendees enjoyed nine hours of music per day across four stages, including performances from the likes of Hacienda Classical, Basement Jaxx, Wiley, Tim Westwood and Trevor Nelson. LIMF'S VIP area was back for a second year, which gave ticket holders exclusive access to a private bar, deluxe toilets and a designated area in front of the stage.
The LIMF Family and Children Zone was hugely popular working alongside local arts organisation, Make Space Create with funding from Arts Council England the Family Zone at LIMF was redesigned and developed to incorporate a new commission from sand sculptor, Zara Gaze and a bespoke cabaret space for families to enjoy comedy, storytelling and circus.
Our LIMF Academy made its return in 2018, honing homegrown music talent and boosting careers.  2018 saw over 250 applications made from young people eager to be part of the LIMF Academy and for the first time in the academy's history the top three artists were female. Those lucky enough to be selected to be part of the initiative received exclusive access to activities and insider know-how from the music industry. The top three  benefited from an Elite Talent Development Programme, which includes financial investment advice; a live session for BBC Introducing, creation of professional press assets, year round mentoring by an industry professional and showcase opportunities to key press and industry in both Liverpool and London.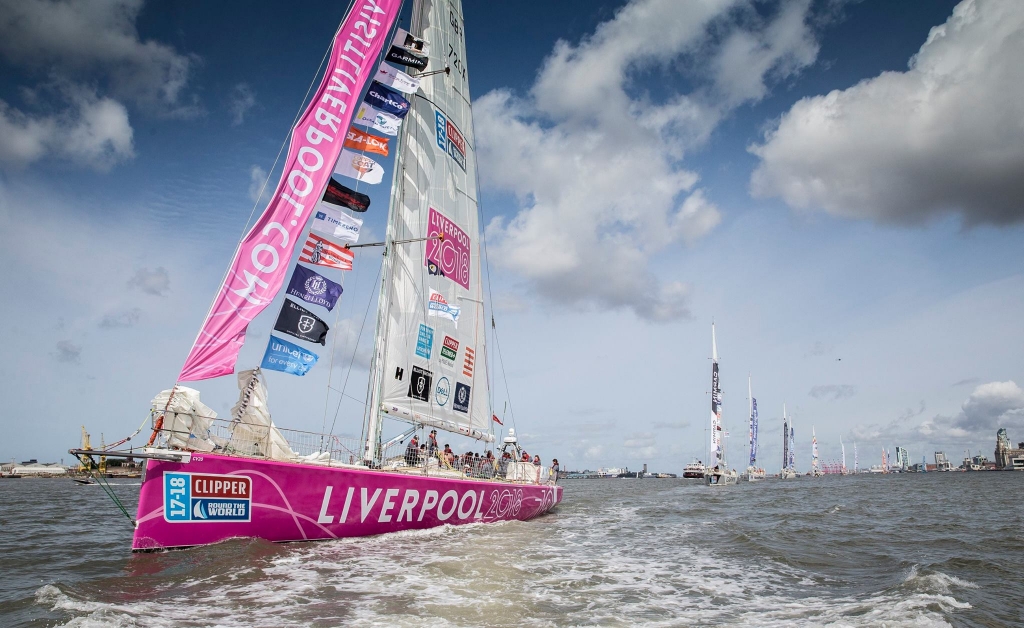 Clipper Round the World Yacht Race Finish
After setting off at Royal Albert Dock Liverpool in August 2017, the 2017-18 Clipper Round the World Yacht Race returned to Liverpool on the 28th July 2018. Thousands of well-wishers lined the waterfront to welcome home the crews after their gruelling eleven month, 40,000 nautical mile race with a dozen 70ft ocean racing yachts returning to a safe berth.
We worked in partnership with The Clipper Race team to deliver an engaging participation event which captured the hearts and minds of not only the race crew and local visitors but also national and international visitors. The event showcased Liverpool on a global stage, not only as a city steeped in maritime history, but as a port with modern nautical assets and ambitions further consolidating Liverpool's waterfront as world class event destination. The team were supported by 18 volunteers who worked as Event Ambassadors and Team Presentation Assistants.
History was made when Australian Sailor Wendy Tuck became the first ever woman to win a round the world yacht race.  A varied programme entertained visitors at the race village which gave a nod to all the countries the fleet had visited, as well as live music from the Bandstand Stage.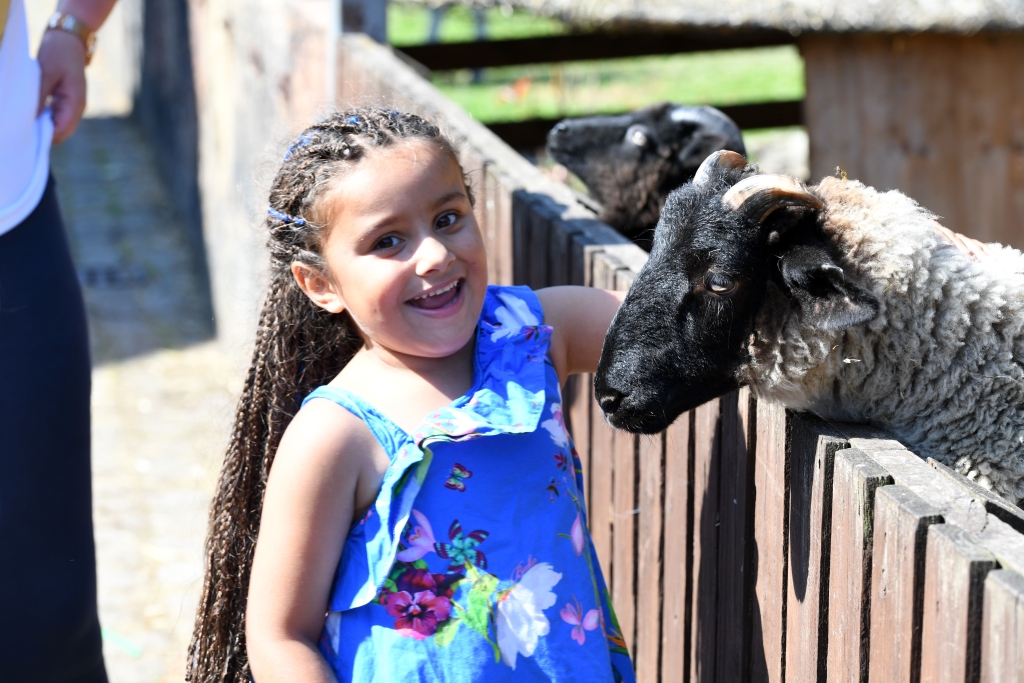 CBBC Summer Social
Culture Liverpool supported the BBC to bring the inaugural CBBC Summer social to Croxteth Hall and Country Park over the weekend of the 3rd – 5th August 2018. Billed as a brand new festival for kids (who could bring their grown ups) the outdoor event included performances from Union J, HRVY, Mackenzie Ziegler and Matt Terry, key BBC acts such as Mr Tumble and included firm Croxteth Park favourites such as The farm and the Walled Garden which was overtaken by the Clangers. The event included live broadcasts from the park across CBBC and CBeebies which showcased Croxteth park as a wonderful venue for events.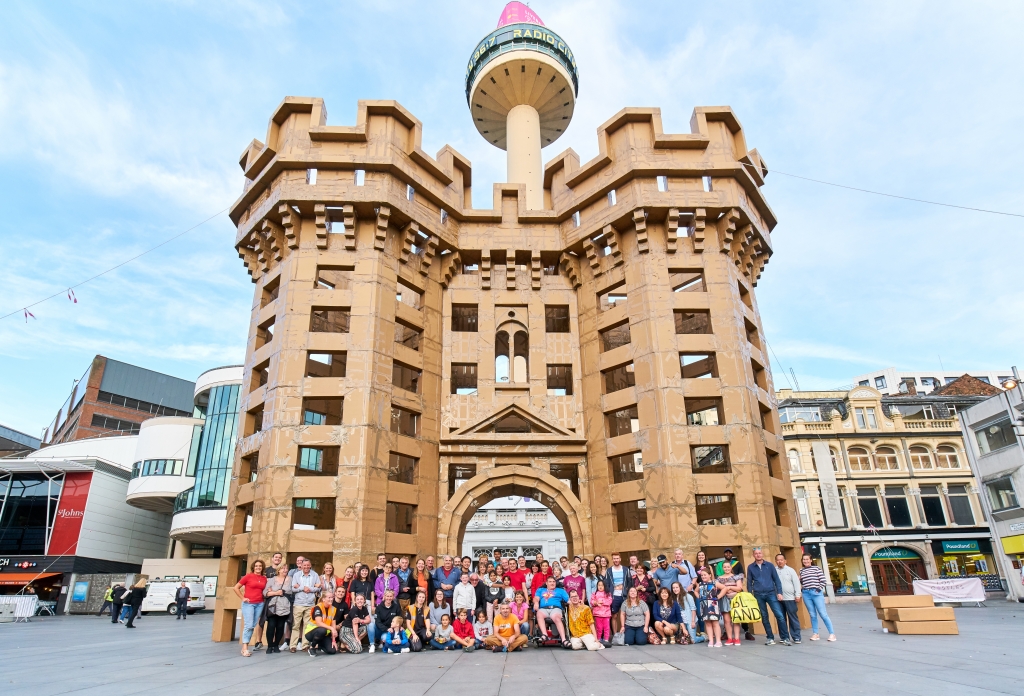 Lost Castles
Across one weekend in August, French artist Olivier Grossette worked with over 2,000 participants across six locations in the Liverpool City Region to recreate castles which once stood in those communities out of cardboard boxes.
Prior to the event build and live dates, all six boroughs facilitated four days of workshops for volunteers to work with Grossetete's artistic team to help create the cardboard structures. On 9th and 10th August, volunteers built the structures – each taking roughly 13 hours to complete. The following day a full day of free artistic content was programmed in and around the six castles which included storytellers and street entertainment, live music and theatre performances as well as demonstrations and creative engagement workshops. On the 12th August, all of the castles were demolished by the public who had constructed them in the first place although some wet weather meant some of the structures starting to crumble slightly earlier than planned although all programmed content still went ahead as planned.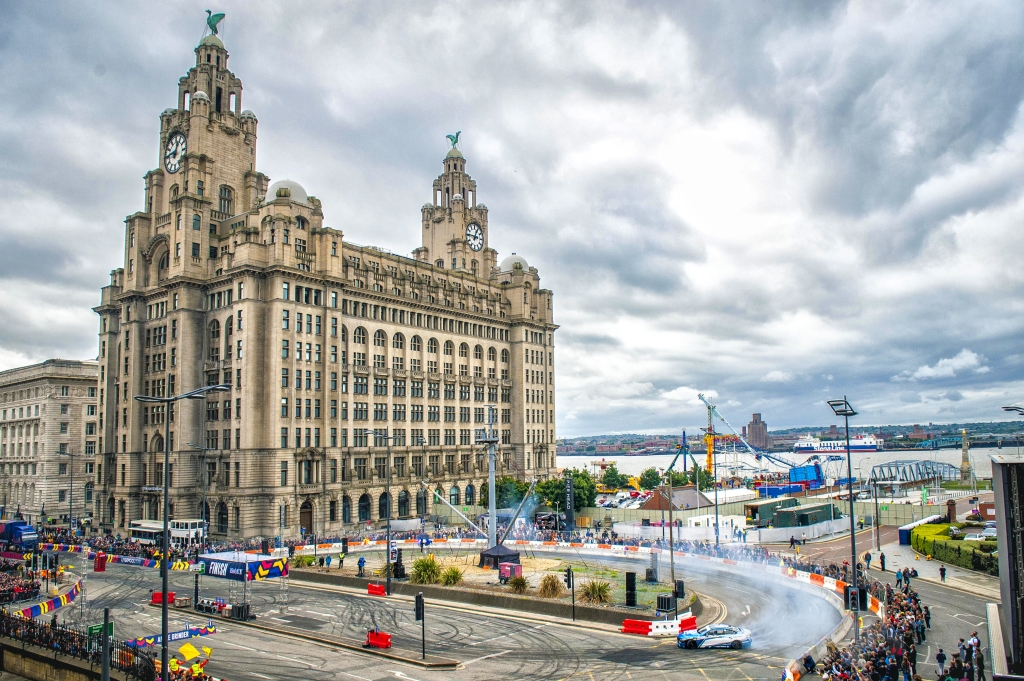 Red Bull Drift Shifters
Red Bull Drift Shifters roared through the city's streets with a cloud of smoke and the smell of burning rubber, and was the first venture into the northern hemisphere for this unique motorsport event. The Three Graces offered an amazing backdrop for the noisiest event in motorsports as the Strand was transformed into a racetrack with water-filled plastic barriers and concrete buffers featuring a yellow submarine, two red telephone boxes and the 'undertaker' truck itself was installed and removed. The Strand reopened in under 60 hours and was likened to a giant pinball machine, with twelve drivers each given 100 seconds to gain points for getting close to sensors along the sides of the track and the objects within it.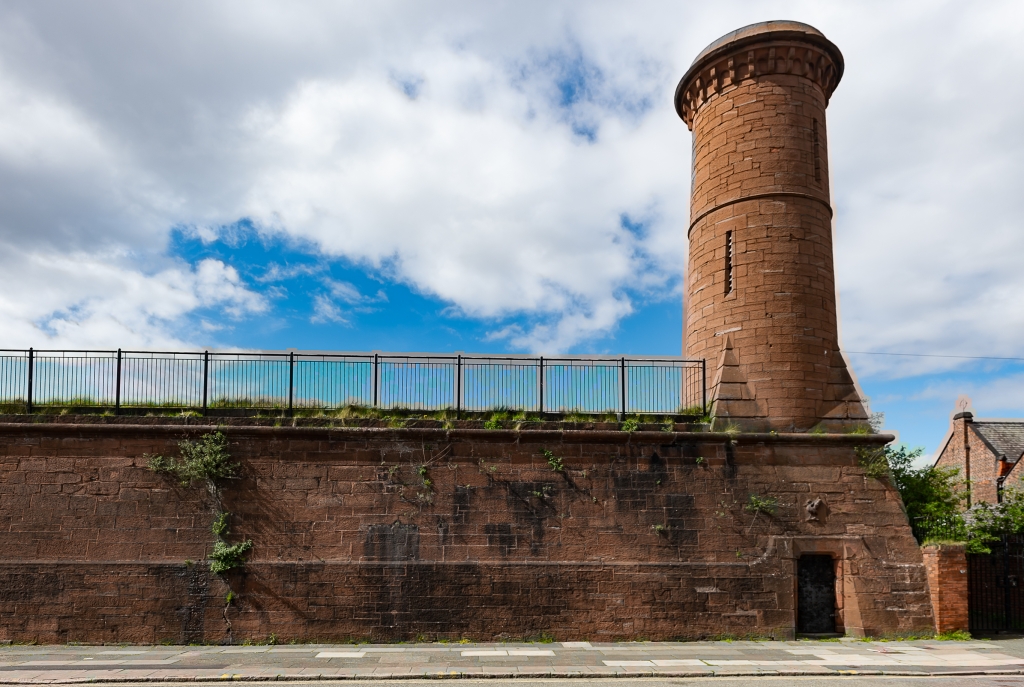 Aurora
Aurora was an interactive experience which took over the iconic Toxteth Reservoir in September, delivered in partnership with FACT and commissioned artists Invisible Flock. The reservoir became a setting to re-imagine and challenge relationships with water on a three week sell out run which attracted fantastic critical responses from national and international press. The strength of the work lay in its ability to bring together some of the most cutting edge technologies, in particular the use of lasers, with strong and well delivered local community engagement. A number of leading international cities have asked for Aurora to be re-imagined for them which are currently being explored.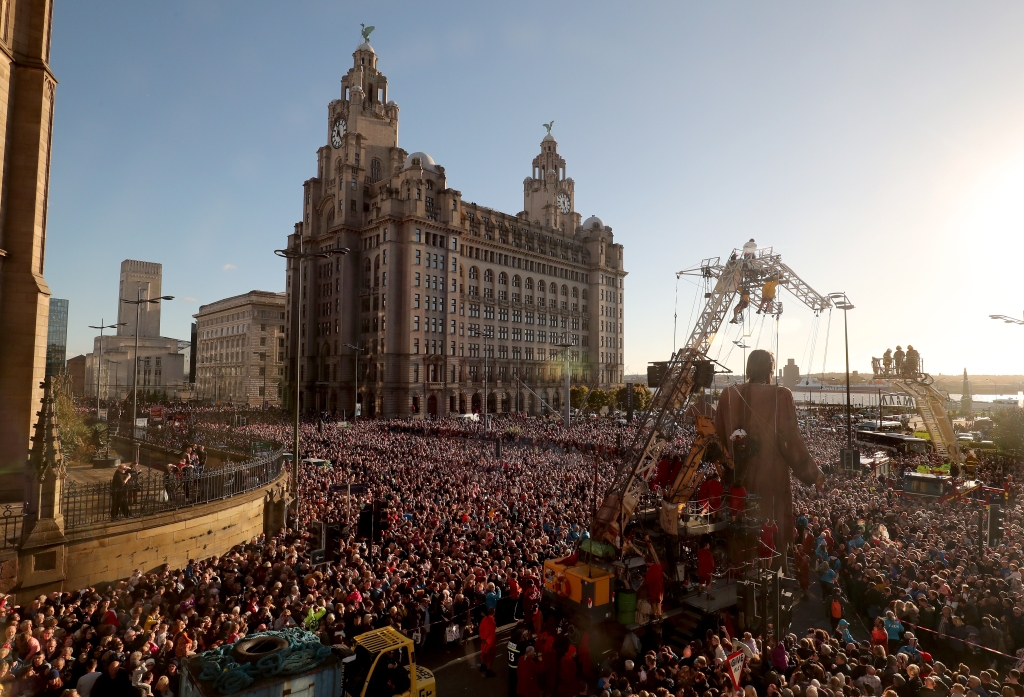 Giant Spectacular: Liverpool's Dream
Between 4th – 7th October in the last of our giant trilogy with Royal de Luxe, the Giants performed in Liverpool, and Wirral in a Giant show which lasted four days and saw the Giants travel over 20.6 miles. The theme of Dreams allowed all of Royal de Luxe's magic and imagination to produce a show which captured the hearts and minds of the 1.3 million attendees. Massive crowds witnessed the Giants explore New Brighton, Liverpool City Centre and Princes Park, with a rousing finale which featured a surprise appearance from everyone's favourite Little Girl Giant.
The event is officially the largest free event Liverpool has ever produced with 1.3 million attendees visiting over the four days bringing in a massive £60.6m to the local economy, £58m to Liverpool, and a further £2.2m to Wirral who were visited by 80,000 visitors. It smashed the previous Giants events which recorded £46m economic impact and 1 million people.
Community participation was an integral part of the show which included Giant Dreams – a citywide curated exhibition of works created by 1,020 school children from 34 schools and community groups, which focussed on their ambitions and dreams for the future. Artwork ranged from t-shirts to life-size marionettes made from recycled rubbish which were displayed at Sinking Sails at Mann Island in Liverpool and Sleeping Whirlwind at Birkenhead Priory which ran from 4th-28th October. Picnics in the Parks invited school children and community groups to decorate a picnic blanket and join the Giants for a picnic in Princes Park or New Brighton Dips alongside the Giants themselves – over 1,348 children from 38 schools. And, free football coaching sessions were provided to 116 schools engaging 3,480 kids alongside coaches from Liverpool, Everton and Tranmere culminating in Giant penalty shoot outs into a Giant sandal! The Giants also required a massive volunteer workforce including the famous benevols who walked alongside the Giants.
Impacts 18
In 2018,  we looked back on our 10 year anniversary of European Capital of Culture as the only city to have so comprehensively documented its journey since the bid stage, over 20 years ago. The ground-breaking original research programme, Impacts 08 together with its successor research programme, Impacts 18 collectively represent twenty years worth of evidence on the impact and value of the EU awarded status as a catalyst for urban change.
From 17-19th October 2018, Culture Liverpool partnered with the Institute of Cultural Capital, CreArt and the British Council to deliver a two day international symposium dedicated to discussing the long term impact of hosting major events and in doing so, underlined the case for the value of culture as a catalyst for change in cities more generally. The symposium discussed opportunities as well as challenges; in particular, what it takes for cities to maintain a distinctive and competitive edge, in an era where becoming a 'city of culture' is a common aspiration. Featuring conversations with cities from the UK, Europe and beyond, these discussions considered not only the rewards that can be reaped by event-led regeneration, but also the barriers to, and risks of, success.
The conference was hosted in Liverpool Town Hall, with breakout events taking place in the Titanic Hotel and the British Music Experience. It included 45 speakers and contributors representing various parts of the world including Liverpool, London, Newcastle, Hull, Manchester, Coventry, Birmingham and Edinburgh in the UK and Shanghai, USA, Portugal, Italy, France and Spain from across the world, attended by 250 people. Feedback has been positive with a 7.7/10 overall satisfaction rating from ticket buyers.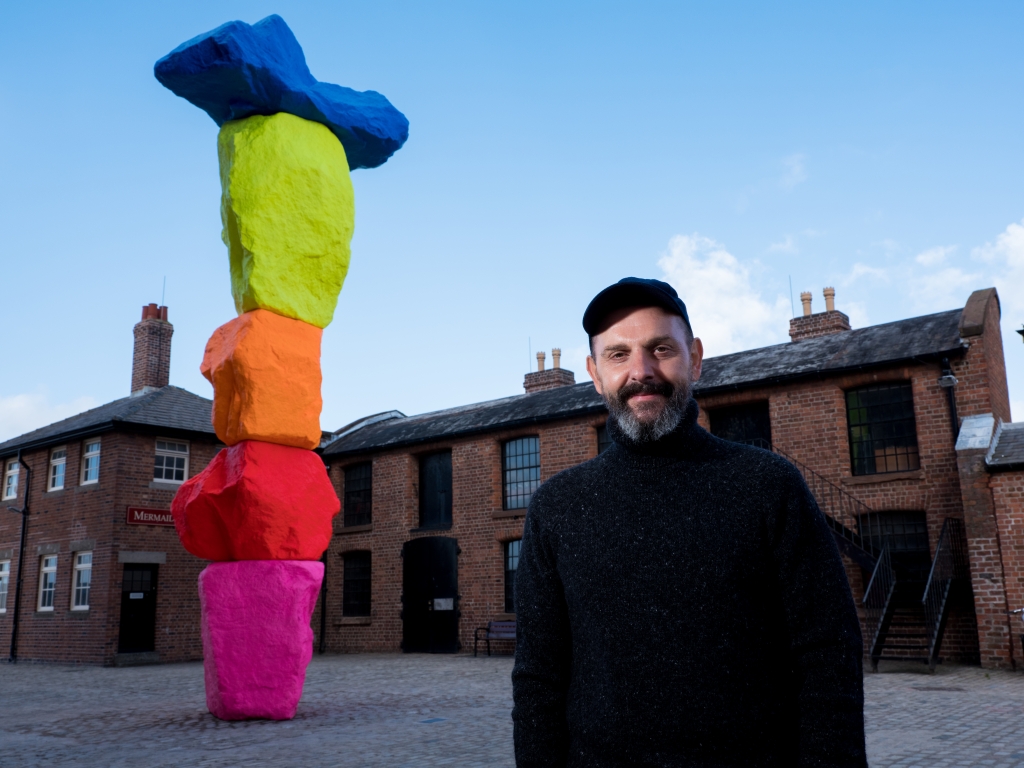 Liverpool Mountain
Liverpool Mountain by internationally renowned artist Ugo Rondinone is a major new public artwork for the city region. The 10-metre high sculpture is situated on Liverpool's historic waterfront within the Royal Albert Dock Liverpool and consists of vertically-stacked rocks painted in bright fluorescent colours. Reminiscent both of ancient totems and of land art, Liverpool Mountain is inspired by naturally occurring hoodoos – spires or pyramids of rock – and the art of meditative rock balancing. This is Ugo Rondinone's first public artwork in the UK and part of his Magic Mountains series, with similar outdoor sculptures in Miami, Gwangju and Las Vegas.
Installed in October Liverpool Mountain was not only part of the Liverpool 2018 programme; but also celebrated the 20th anniversary of Liverpool Biennial and the 30th anniversary of Tate Liverpool. The project was funded by Liverpool City Region Combined Authority Fund, fully supported and delivered by Liverpool City Council supported by partners Royal Albert Dock Liverpool, National Museums Liverpool and Arup.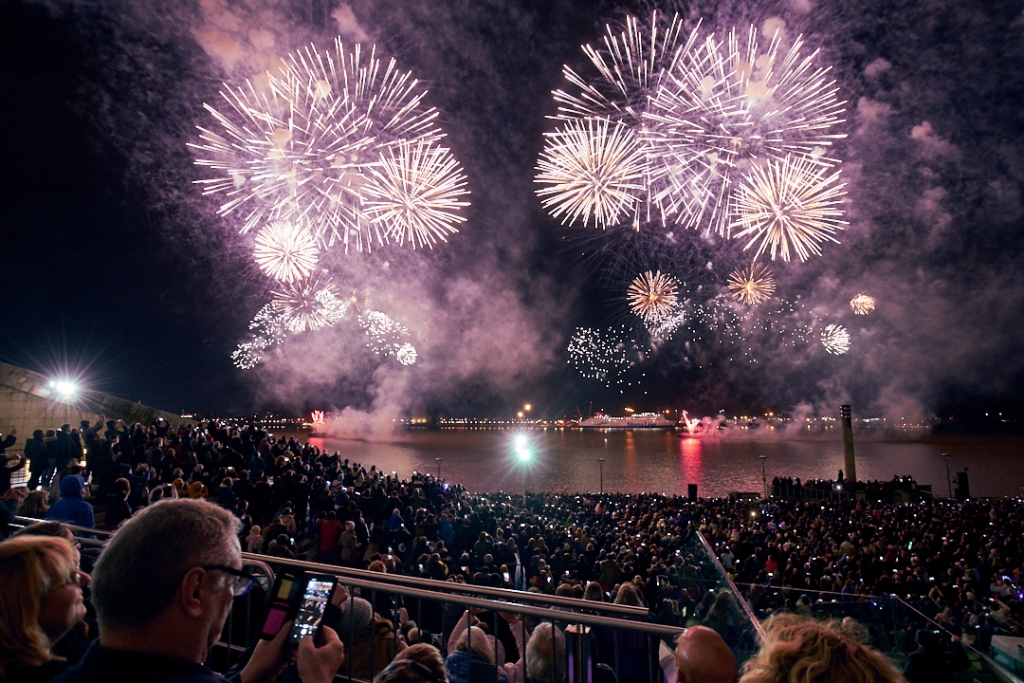 China Dream – Chapter Three: The Elements and River of Light
Our  River of Light event took place for the third time on Liverpool's waterfront on Sunday 4 November with a partner event again at New Brighton on the Wirral. Part of this year's China Dream programme, River of Light was themed 'The Elements' where between 2nd – 4th we worked with four artists from around the world to present works that reflected the five key elements that underpin Chinese theory, mythology and philosophy. Knowing that fireworks are an ever present in Chinese culture, this celebration highlighted all five Chinese elements in a very new, contemporary way.
As well as fantastic live performances and an extraordinary firework display, there were also four breath taking lighting installations that punctuated the waterfront during the River of Light weekend. These included Anahad in Mann Island Basin (wood) by artist Stefano Casati, Pool of Mirrors in the South Pier Head canal (metal) by Kazimier Productions, TERRA (earth) by Adlib Design onto the Royal Liver Building and The Wave on The Strand (water) by Vertigo and of course Fire by Titanium with fireworks over the river.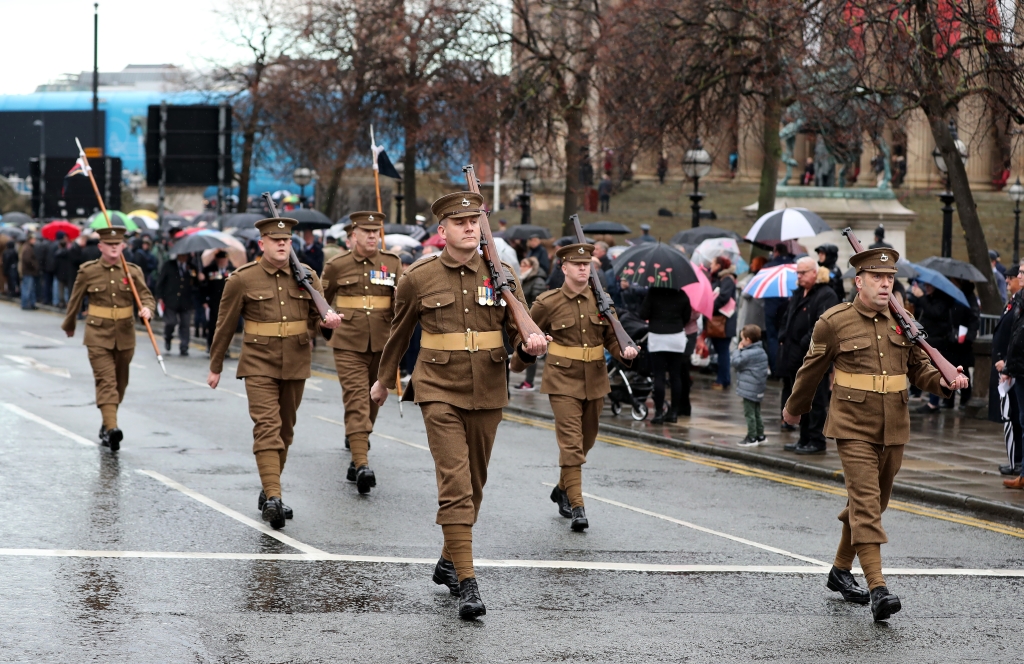 Brittle Heart and Remembrance Sunday
Our annual Service of Remembrance took on extra significance in 2019, as not only did it fall on Sunday 11th November but it also coincided with the 100th Anniversary of the signing of the Armistice to end the First World War. As part of the overarching Brittle Heart programme additional activities included the scrolling of nearly 14,000 names onto Exchange Flags of those local service personnel who lost their lives in the First World War conflict which coincided with the opening of the Town Hall's Hall of Remembrance in order for 12,000 visitors to sign a Book of Remembrance. In addition Radio City and St John's Market illuminated St. John's Beacon with a poppy display, and projected an image of the late Wilfred Owen onto the side of the new premises in Skelhorne Street on the evening of both the 10th and 11th November.
As part of the service, key military personnel wore replica First World War army uniforms, a Wilfred Owen poem was read out by actress Sue Johnston, local former Royal Marine, Andy Grant, reminisced about his time in Iraq and Afghanistan and during the piper's lament the usual poppy petal drop from the roof of St. George's Hall was replicated with a drop of some 100,000 petals from the top of St. John's Beacon. The service continues to be very well attended by the public, estimated to be the biggest attended service of its nature in the country outside the Cenotaph with this years figure raising from the usual 15,000 to closer to 20,000.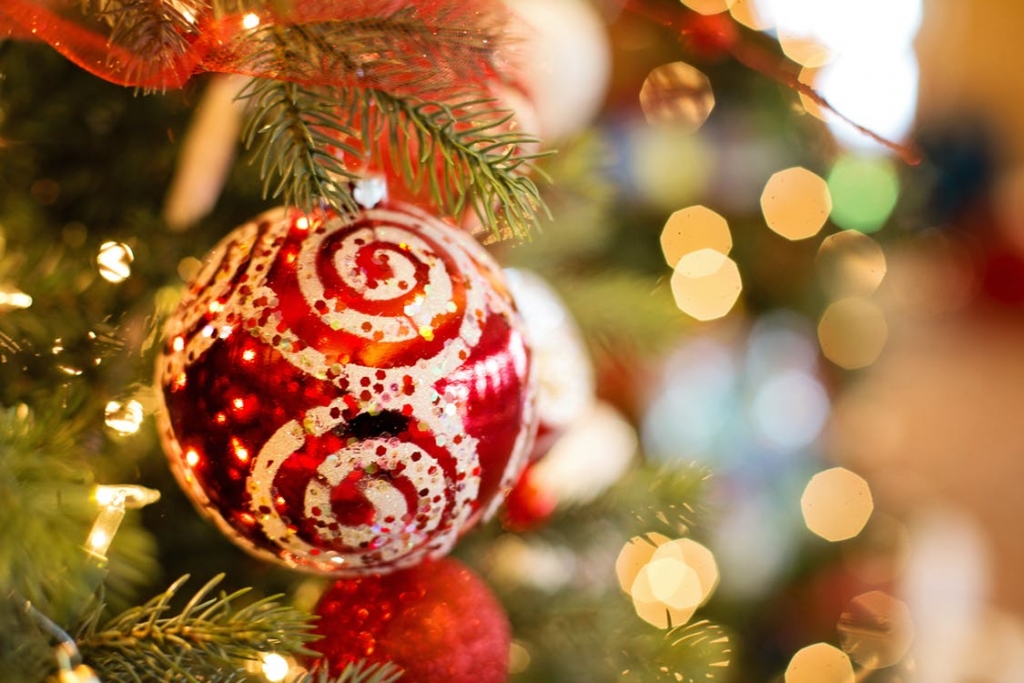 Christmas 2018
Working alongside partners in Liverpool ONE, Liverpool Bid Company and Royal Albert Dock Liverpool, the celebrations saw the return of commissions by Kazimier, as the  Follow the Star' content grew with new assets in Williamson Square and the start of a new approach to lighting which removed the traditional cross street spans with LED and laser technologies.
Added to this, a new approach to viral marketing was implemented through the creation of 'selfie walls' for shoppers to photograph themselves in and share through their social platforms., The movement towards a more experiential and light-led approach to Christmas continues with the longer term vision being for light commissions to work consistently across all areas of the city centre at a similar scale to the key shopping districts in London. This is long term plan remains budget dependent as the current total budget represents 15% of the total budget which is spent on Carnaby Street in London alone.