2014
In 2014, Culture Liverpool produced three major events, among which were the return of the Mersey River Festival and Music on the Waterfront, Liverpool International Music Festival and Giant Spectacular: Memories of August 1914 – all of which combined to attract 1.4 million people, generating an economic impact of £55million.
View the Culture Liverpool 2014 Review report here>
---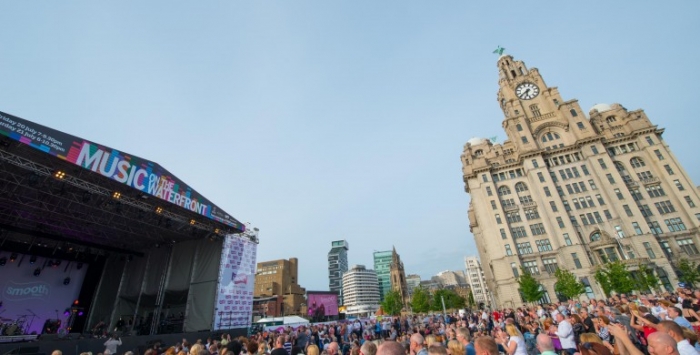 ---
International Mersey River Festival 2014
---
The International Mersey River Festival and Music on the Waterfront 2014 took place from Friday 13 to Sunday 15 June, welcoming around 200,000 visitors through the course of the weekend.
Highlights included a fleet of vessels which were open for visitors to explore at set times across the weekend, including two year old naval vessel HMS Dauntless, the Tall Ship Mercedes, tug Daniel Adamson, historic schooner Kathleen and May, the University of Liverpool Research Vessel, the Border Force's customs cutter Vigilant and the square-rigger Zebu.
The Merseyside Adventure Sailing Trust brought along four Tall Ships crewed by young people aged from 14-25, all of whom were learning  about life on the seas aboard the Lady of Avenel, Maybe, Pelican of London and 2041 – The Yacht.
On top of that, 12 Dutch barges appeared as part of a special rally which saw the largest convoy on the Leeds-Liverpool canal for many years.
Walking tours, Yakovlev Air Shows, model boat displays, flyboarding, Zap Cat racing, have-a-go water sport sessions, the 25th International Canoe Polo Tournament, a special Brouhaha parade,  and field gun displays made up an extensive roster of activities for visitors to enjoy over the three days.
Live music also took place throughout, with Craig Charles,  The Christians, Rhydian, Jaki Graham, Esco Williams, the Band of HM Royal Marines Scotland, Rat Pack Live and Russell Watson among those to perform.
View International Mersey River Festival 2014 Report highlights here>
Please note: Video highlights are available at the foot of this page, under 2014 Highlights.
---

---
Liverpool International Music Festival 2014
---
2014 saw the second Liverpool International Music Festival (LIMF) take place across the city, welcoming over 100,000 people to over two weeks of events.
Culture Liverpool organised a diverse set of events under the LIMF banner which included; MTV Brand New (a show going to 22 million homes across Europe), BET (Black Entertainment Television) –televised in December to 90 million homes worldwide, Boy George in St George's Hall in a collaboration with Grammy award-winning producer Steve Levine, ClubMTV as well as several commissions supported by LIMF. Other venues included Camp and Furnace, East Villages Arts Club, FACT, The Kazimier, The Bluecoat, The Everyman and Sefton Park Palm House.
These commissions sat alongside Summer Jam, the free outdoor element of LIMF which contained three stages and two other music areas within Sefton Park over the August Bank Holiday weekend, welcoming 90,000 attendees. In total 250 artists performed; 128 from Merseyside, 31 international artists, 22 Multi-Platinum winning artists, four Grammy Winners, six BRIT Award Winners, seven BRIT Award Nominees and 16 MOBO Award Winners including the Royal Liverpool Philharmonic Orchestra, DJ Fresh, Foxes, Boy George, Shaggy, Kid Creole, Ian Broudie, Marsha, Ella Eyre, Lemar, Tim Burgess, Marsha Ambrosius, 2 Many DJs, Goldie, Evian Christ, Rustie, Stylo G, Kate Tempest and The Farm.
 View LIMF 2014 video highlights here>
---

---
Giant Spectacular: Memories of August 1914
---
Two years after the hugely successful Giant Spectacular: Sea Odyssey event in 2012, we rekindled our collaboration with Royal de Luxe to present Memories of August 1914 – a five-day event marking 100 years since the start of the First World War, which took place from 23 to 27 July 2014.
During the five days of free activity, the event attracted 1 million people to the entire city with over 42,000 people visiting the Grandmother lying inside St George's Hall and visitors exploring new areas of Liverpool including Newsham Park and Clarence Dock. Working with 55 partners across the city and beyond, Culture Liverpool brought together 101 international and 27 local artists, as well as 403 volunteers to produce an event spanning 5 days and 25 miles.
The event told the story of the Liverpool Pals and reflected that period of optimism and patriotism that was felt across the land in August 1914. It was a poignant commemoration of the beginning of World War 1 with Liverpool as the backdrop to Jean Luc Courcoult's spectacular stories. The event gained international recognition and Royal de Luxe themselves invited 111 persons from nine countries representing four continents who visited Liverpool to view how the event was organised.
View Giant Spectacular: Memories of August 1914 video here>
Read the official report for Memories of August 1914 here>
---
2014 Highlights
---
View Culture Liverpool's 2014 Highlights, which incorporates the Mersey River Festival and Music on the Waterfront, Liverpool International Music Festival and Giant Spectacular: Memories of August 1914.