What's Your Story? Gambia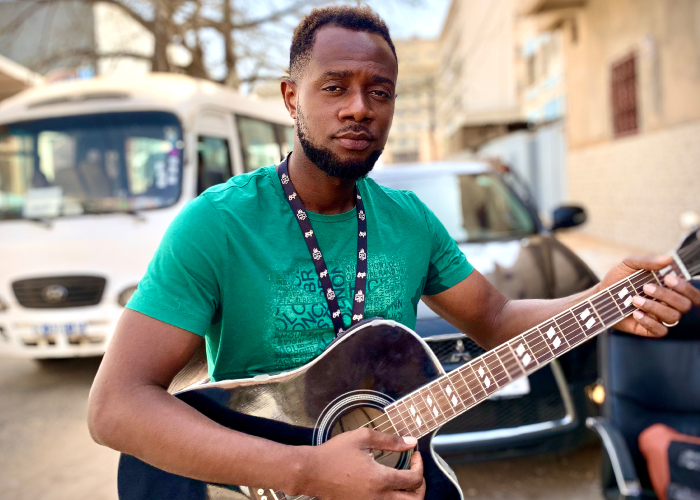 ---
Brought to you by Writing on the Wall
Thursday 14 October, 7pm
VideoOdyssey, Toxteth TV, 37-45 Windsor Street, L8 1XE
Tickets £5 per person. Pre-booking essential
---
Writing on the Wall have delivered their flagship What's Your Story Project with communities across the North West of England for the past fifteen years – from unemployed people, to the LGBTQI+ community, asylum seekers, refugees, and many more, this amazing project has inspired hundreds of participants to develop creative work.
To celebrate their 21st anniversary, WoW have taken What's Your Story on an international journey and have been working with communities and artists in the Gambia to create a very special piece of work.
Writing on the Wall's What's Your Story? project has been delivered at Brikama Presentation School, the Gambia, in partnership with singer- songwriter Nazeem and Dr Vicky Doyle who through their company Dole Ndawi NGO, engage directly with young people to foster their development and resilience. Twelve school children aged 14-20 attended a series of writing workshops designed to produce their poetry, letters and essays. Nazeem (currently on a tour of the UK) will visit Liverpool for a special screening of the project and a performance of music inspired by the work of the young participants. He will also be in-conversation, sharing his inspiring journey and his own story of life in the Gambia.
Nazeem's style of music reflects his roots and culture; influenced by a 2-year residency in Senegal where he supported musicians such as jazzman Vieux Mac Faye, Wolof pop singer Viviane Chidid and guitarist Jeanott Mendy. Nazeem plays an infectious blend of Afro Pop, Zouk, Reggae, Dancehall and Mbalax. Since the start of the pandemic, Nazeem has actively supported the COVID-19 response through sensitising Gambian communities through music videos and song; and on a world stage regularly performed at global fora. This event is an opportunity for community members to experience and engage with the important work and global partnerships WoW have created, especially with the wider African Diaspora, during Black History Month.
There are a number of free tickets available for those on a low income. Please email [email protected] with your request.
---
More information: www.eventbrite.co.uk
---
Join the conversation:
---
Facebook: @writingonthewall.liverpool
Twitter: @wowfest
Instagram: @wow_fest
---