Vacancies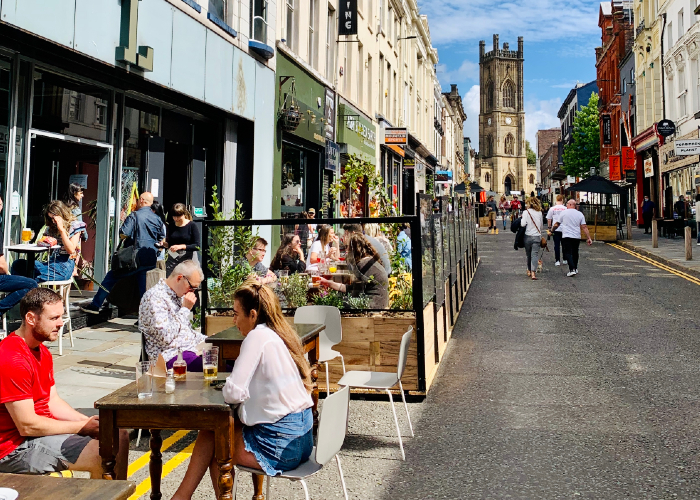 ---
Details on vacancies, volunteering and placement opportunities available within the cultural sector within the Liverpool City Region are detailed below. Full details on vacancies can be found on the external website links provided.
---
Knowsley Council
---
The vision and concept for the Knowsley Council celebratory year  is 'Everyone has a story…it's time to tell ours', Knowsley's stories of people, places and magic. Community, businesses, schools, young people and the cultural sector are at the heart of Knowsley's story with much emphasis on the heritage of place, people and tales driving the ambitious cultural programme.
Opportunities to learn, share, interpret and celebrate Knowsley's rich heritage are embedded across the whole programme. Knowsley Council are currently recruiting for a number of posts with a heritage focus which are funded by the National Lottery Heritage Fund.
Heritage Shaker  – full time for 24 months
Volunteer Co-ordinator  – 2 days per week for 24 months
Apprentice – full time for 24 months
For further information on these posts and to download an application pack, click here.
---
Movema
---
Movema are currently seeking an enthusiastic senior administrator to join their busy and dedicated team.
Movema are an award-winning community dance company based in Liverpool and Bristol since 2009. Specialising in world dance, running an annual programme of classes, performances, events and festivals, the company is led by four female artists from diverse cultural backgrounds. Creators of acclaimed schools resource World in a Box. Previous commissions include; Arts Council England, Merseycare NHS Trust, British Council, National Lottery, Liverpool City Council.
To realise their vision, Movema is seeking an enthusiastic Senior Administrator to help maintain and develop their growing activities. They will manage and develop the administrative processes working individually and as part of a team. The Senior Administrator will need to be a highly organised and focused individual, with knowledge and experience of running an organisation's administration functions.
Deadline: 5pm, Tuesday 13 April 2021
For further information, click here
---
Liverpool City Council
---
Liverpool City Council are looking to recruit a Senior Project Manager – LCR Without Walls.
Job Title: Senior Project Manager – LCR Without Walls
Company: Liverpool City Council
Salary: £43,857 Max £48,797
Agreement Type: Secondment
Schedule Type: Full Time
Work Hours: 35 Hours per Week
The Role:
Liverpool Without Walls was a project developed in Summer 2020 in response to the Covid-19 pandemic. The purpose and objective of the project initially was to react to the government guidelines in reopening the hospitality businesses across the city from the 4th July 2020, to offer a mixture of financial, physical and operational support that would allow independent (small to medium) businesses to operate in a safe manner, whilst adhering to the Central Government guidance relating to Covid-19 and social distancing.
Due to the success of the Liverpool Without Walls project, it is now being developed and extended out into the five other Liverpool City Region boroughs as the City Region begins to rebuild its hospitality, leisure and cultural offer for the remainder of 2021.
This roll out requires a Project Manager to work on the delivery of this full time for a period of 6 months initially in order to develop and deliver Liverpool Without Walls project across the Liverpool City Region. The role requirements will be as follows:
Lead all aspects of the development and strategic delivery of the 'Liverpool Without Walls' concept to each of the 5 boroughs of the City Region, leading on from the programme that was delivered in Liverpool throughout 2020.
Work with each of the boroughs to build action groups from across all Council departments including Planning, Licensing, Highways and the borough's hospitality sector to build a bespoke solution for each location.
Support each of the 5 boroughs and their dedicated team with all vital planning, design and implementation.
Be responsible for all spend and handle a centralised budget, working to create efficiency through shared procurement with the 5 boroughs.
Measure the efficiency of the schemes and make changes and developments as the project evolves.
Produce regular reports on the progress of the work and help guide decision making with partners.
Applicants must secure agreement for their release from their Line Manager before making any application for an Internal Secondment opportunity or before accepting an offer of appointment to a post on an internal secondment basis.
An employee may still apply for the opportunity without the express consent of his or her Line Manager and if successful in their application they will resign from his or her substantive post in order to take up the post on a fixed term contract basis. To be clear, in these circumstances an employee will be resigning from his/her substantive post in order to take up a fixed term offer and their contract of employment will be altered to this effect or the employee may decline the offer of the fixed term post.
Liverpool City Council is committed to having a workforce that is representative of the communities we serve. We are an Equal Opportunities Employer and believe that the decision to appoint should be based upon whether an individual's skills, experience, qualifications and abilities make them the most suitable candidate for the role. All applications for jobs in the service of the Authority will receive equal treatment irrespective of their race, gender, marital status, age, disability, religious beliefs, sexual orientation or socioeconomic status.
We will ensure that disabled applicants are provided reasonable accommodation to participate in the job application or interview process, to perform essential job functions, and to receive other benefits and privileges of employment. Please contact us to request accommodation.
How to Apply:
Your application is made up of 2 parts, Application Form and Supporting Statement. Your supporting statement must evidence in no more than 1,500 words how you meet the essential criteria on the Person Specification, the essential criteria is marked with *, all other criteria are desirable.
Liverpool City Council use a scoring process for all applications received. You must address all of the essential criteria to be shortlisted for the post and you must score a minimum of 65%. Each essential criteria is scored from 0 to 3 the more you evidence the essential criteria the higher score you will receive i.e. giving clear examples. If you should score a 0 in any of the essential criteria you will not be shortlisted for interview. Therefore, it's important that you ensure that you justify how you meet each aspect of the criteria.
We operate an anonymous recruitment process therefore when you are writing your supporting statement it is important you do not include any information that can identify your race, gender, marital status, age, disability, religious beliefs, sexual orientation, educational establishment or socioeconomic status.
If you have previously applied for a Liverpool City Council vacancy within the last twelve months and have created a CHP, you will enter your user ID and password. If you are applying online for the first time, we recommend you create and activate a homepage by entering the details as required. This will allow you to save your application if you need to take a break. Alternatively, you can skip the login and go straight to the application form, there will be no option to save and return to this.
Finally, take time to check your application to ensure that all sections have been completed and there are no spelling or grammatical mistakes. A link to the job description and person specification can be found within the advert and these provide information about the job for which you are applying. Read these documents carefully and ensure that your application details the ways in which you meet the requirements of the role.
The equal opportunities form you provide will assist us in monitoring the effects of our equal opportunities policy in recruitment and selection and will help us to develop and improve.
If you require any reasonable adjustments in line with the Equality Act 2010 such as the application form in a different format or additional time to complete your application, please contact the recruitment team on 0151 233 3003 or [email protected]
Please click here to apply for the role. If you need any assistance please contract recruitment by emailing [email protected] or calling 0151 233 3003.
Deadline: Midnight, Friday 20 April 2021
---
Liverpool Arts Regeneration Consortium & Collective Organisations of Liverpool
---
In 2019, with support from Arts Council England and Liverpool City Council, LARC and COoL commissioned Augere Consulting to explore potential future ways of collaborative working.
With further support from Arts Council England, they now wish to appoint a Liverpool Cultural Collaboration Project Manager as either an individual or team to project manage and deliver the further development and implementation of new business-led operating and tiered membership models.
The new model must help meet the expectations as expressed in the Arts Council England's Let's Create strategy, particularly in relation to organisational dynamism, and those of Liverpool City Council in relation both to its Cultural Strategy and to a likely reduction in the extent of its investment in core funding of the sector. It must also achieve the objectives of improved service delivery and real financial benefit through cost savings or increased income.
The individual or team will work with members of LARC, COoL and the wider cultural sector to develop and implement a new collaborative framework for the sector.
---
To receive a full recruitment pack for this role, please email: [email protected]
---
Project Timescale:
The work is required to be completed before the end of December 2021.
Contract:
This will be a freelance contract arrangement for services provided, for either one or more individuals or a supplier company. It will be for a fixed period between an agreed date in May 2021 and no later than 31 December 2021.
Budget:
There is a fixed budget of £35k, inclusive of VAT, for the project. It is expected that this will be sufficient to resource the activities detailed above and deliver the required evidence/outputs in the timescale.
Deadline:
Applicants are invited to provide proposals by 6pm on Monday 19 April 2021. Proposals should be provided in a Word document format and be no more than ten pages in length, and should be submitted via email to: [email protected]
Shortlisted candidates will be interviewed week commencing 27 April, by video conference and a panel made up of members of the Project Management Board.
---