Time to Remember & Reflect postcards
This page is from 2015 and has been archived.
Please be aware that the information may be out of date.
Visitors to the Weeping Window have left their reflections and made moving dedications.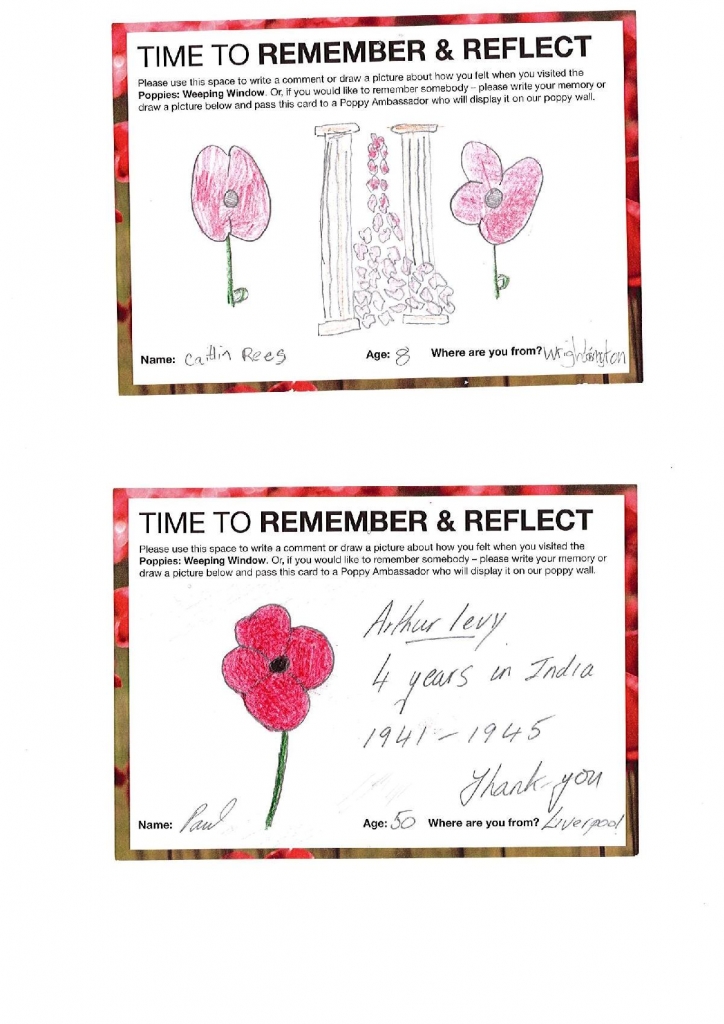 Gloria Mikovajewski  43 from Manchester 
'It was a beautiful reminder of the lives that have been lost to war … loved it xxx'
---
Dianne Scott Eilldl
'At the going down of the sun and in the moring we will remember them'
---
David
'In loving memory of Captain R W Bish RA killed whilst on active service in Germany February 1946 remember by his son David'
---
Keith Allen 61 from Scarisbrick
'For my great uncle who lost his life at sea, and my dad who suffered in Burma, God bless them all'
---
Mike & Margaret Swindells 66 from Macclesfield
'For both parents who served in the war and for brother Barry who served in the Falklands and who all survived'
---
Abigail Young 11 from Plymouth
'Officers and members of J.L.O.L NO1 Plymouth, J.L.O.L 2002 Liverpool, Lest we forget, at the going down of the sun and in the morning we will remember them'
---
Victoria Pearce  36 from West Sussex
'Humble. Sad at the anniversary,  lives lost, a sense of gratitude'
---
Lee Edwards 20 from Birkenhead
'RIP to those who died for our country, loved but never forgot'
---
Angie and Richie Thommpson from Liverpool 
'In loving memory of my grandfather who was in the Merchant Navy, my mum and dad and all those people who lived and fought through the great wars. Respect and remembrances. My father in law Tommo, who was part of the Desert Rats and fought in Cairo, Egypt miss you and your jokes'
---
James Thompson 74 from York
'Remembering my dad who fought on the Somme and Ypres. He was a machine gunner and I have photos of him in abarn with 5 men somewhere in France 1916, thank you'
---
'Sapper Charlie Williams Killed in Gallipoli 1915'
---
Gina, St Helens
'My daughter was born on Poppy day 24 years ago. It was my father's favourite day. He passed away 18 years ago, so it means a lot to me.'
---
B Williams, 69 years old, Liverpool
'I would like to remember my grandfather, Herbert Jenkins who was killed and Pachendale in the First World War. He was only a name on a wall at Tyne Cat Cemetery to remember him by, I am glad I went there.'
---
Vivienne Henry, 51 years old, California
'Long time lover, first time visitor of Liverpool. The Poppy wall took my breath away. I could surely feel the spirit of those long ago gone and the emotions of the people in Paris. God bless this beautiful world, so glad to have visited this amazing city.'
---
Mrs Williams,  Wales
'Wonderful display. In remembrance of my uncle David Wyn Williams from Morfa Nefynn North Wales and my father in law Kenneth John Dolby Huyton Liverpool'
---
Chris Dodd
'Remembering T Rose who fought and fell to secure our future and for that we are truly thankful.'
---
Fishers, Macclesfield
'Our first visit to Liverpool. What a pleasure and an extra bonus to see the Poppies around St George's Hall. A truly fitting tribute to so many to help secure our futures.'
---
'A wonderful display. Let's hope it makes everyone reflect on the sacrifices that were made and are still being made. The horrors of war are still evident every day, let's hope one day there will be peace. In loving memory of my dear dad who served in the 2nd World War.'
---
'Remembering all those in Paris this morning and praying for their families and loved ones 14.11.15'
---
R Shane, Chester
'John Albert Brown (Burma), John Messham (Africa, Italy). When you go home tell them of us and say for your tomorrow THEY gave for our today.'
---
Molly Thair, 14 years old, St Helens
'Wear a poppy to respect our soldiers and to remember those who have fallen.'
---
Three girls from Dolan Court, Liverpool
'Beautiful display, we will remember them.'
---
Jessica Hughes, 10 years old, St John Fisher Catholic
'Thanks for fighting for all of that time, you risked your lives.'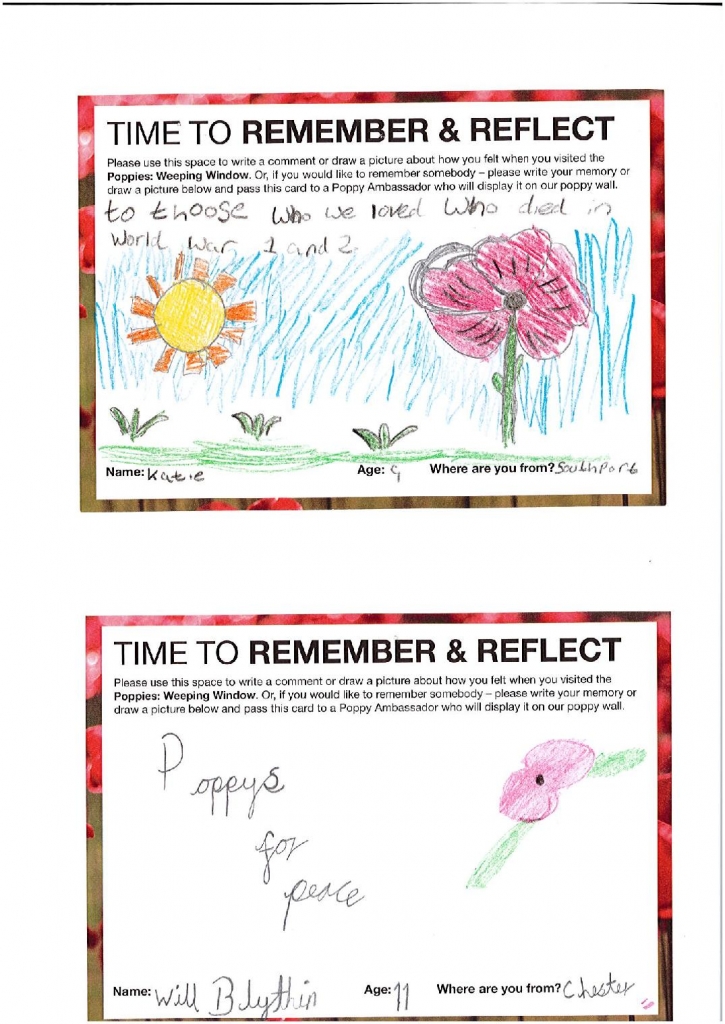 'Weeping window, beautiful, well done Liverpool. In memory of Andrew McFarlane'
---
Margaret Killen
'In loving memory of my dearest dad, brothers Piny and George, sister Grace and father in law Edward James killed torpedoed "Derry Maine" 2nd World War. Rest in Peace, never forgotten.'
---
Joe Higgins
'For grandad Jones and all those who were in and survived the war. May we never forget. The Weeping Window is a reminder of the respect all who served in both world wars.'
---
G Roberts 47
To mum (Angela Roberts) I miss you every day. Lots of love Greg
---
Veronica Shaw 54 from London
A stunning display. Thank you to all who gave their tomorrow which has given us our today. Prayers and thoughts to all concerned.
---
Alan 35 from Liverpool
'Remembering Kingsman Jason Dunn Bridgeman, Duke of Lancasters Regiment KIA – 13.09.09 and all those who gave the ultimate sacrifice. RIP brave heroes'
---
Joyce and Brian from New Zealand
'Remembering our Dad and all his mates, forever in our thoughts. Frederick Noel Heywood Lancashire Fuisilliers 1940'
---
Sue Agnew from West Yorkshire
'I have been looking forward to seeing the Weeping Window poppies display at St George's Hall, Liverpool and WOW! Beautifully done, thought provoking, looking forward to seeing them many times in different lights over the weekend. Very friendly and helpful volunteers, full of knowledge, well done'
---
Diane and Ruth 51 and 81 from Liverpool
'Weeping Window, a beautiful display for all those who gave their day for our tomorrow – you should never be forgotten. RIP. Thank you to Lady Sainsbury, Liverpool Council and all those involved for a stunning display of remembrance, very touching'
---
Grandaughter Esther Davies
'WW1 Joseph Johnson. A very young man sent to France and was lucky to be put behind the big guns. Returned a hero. He never picked up his medals and always commented that the real heroes were the ones who didn't return home'
---
'Thank you for fighting for Britain and for putting your lifes at risk.'
---
'God bless all of you, granddad, mum, dad and granddad, miss you all xx'
---
Adam Baldwin, 10 years old, Roby
'I will always remember the brave people who gave their lives to protect our country.'
---
Rhona, Roby
'At the going down of the sun and in the morning we will remember them. what an amazing sight, Weeping Window of Poppies.'
---
Pat, 62 years old
'In memory of Aaron Copeland who died November 1918 and is buried out in France. So brave FIP. For all the brave soldiers who fought in the war.'
---
Vera Burns & Ann Ray & Ann Ray & sister Vera Thomas
'In remembrance of my uncle Jack Welch, whos ship went down in Russian water at the end of WWII. Always be remembered. Didn't meet you but your memory is passed on in the family.'
---
Millie, 7 years old, Birkenhead
'Always remember my brother Steven because he has died xxx'
---
Bethany, 10 years old, Liverpool
'I remember the soliders that have died for us. Absent but ever here. Lest we forget.'
---
Chris Vickery, 62 years old, Liverpool
'My dads best friend – Joe De Ashsa, he died on the spot my dad was supposed to be assigned to. He never forgot his mate, every time he had a few drinks he cried for his lost friend.'
---
'Tom William Chester Cheshire Regiment, Will Jones Ellesemere Port Cheshire Regiment, Malaysia 1959.'
---
Eva, 10 years old, Kirkby
'Thanks for fighting.'
---
Travis, 14 years old, Liverpool
'I enjoyed being with my friends and sharing the experience with my classmates.'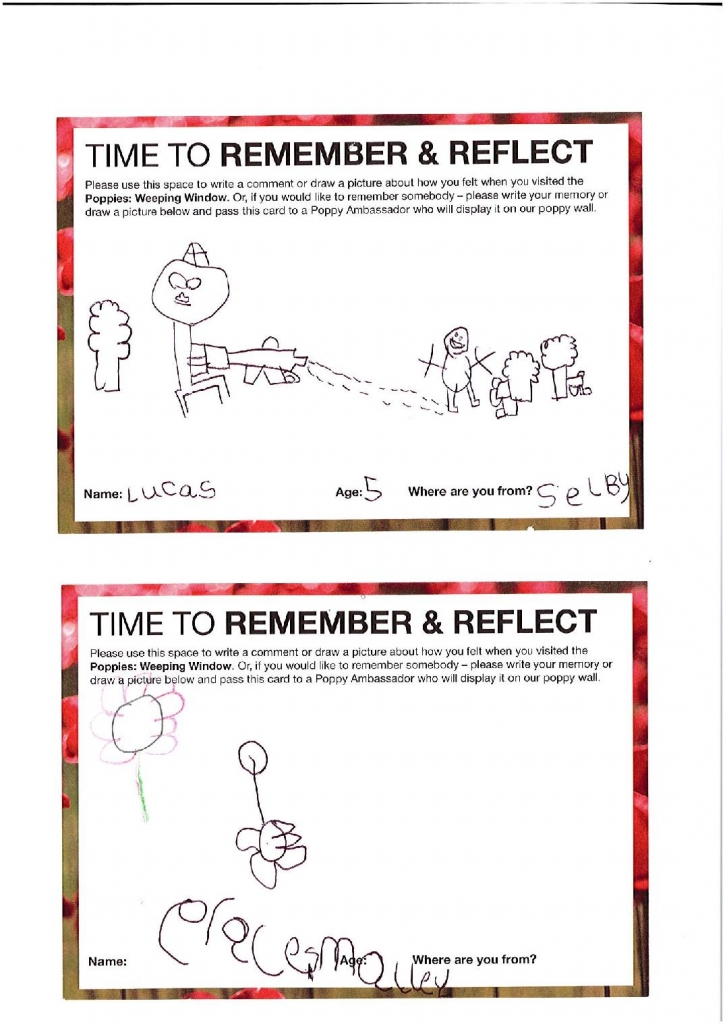 Lee Mis 80 from Chorley
'It was a wonderful sight to see the poppy display today, it was a very emotional feeling'
---
Paul 50 from Liverpool
'Arthur Levy 4 years in India 1941 – 1945 thank you'
---
Carol 55 from Wigan
'It makes me sad to remember all those who gave their lives in conflicts and all who were injured both physically and mentally. Grateful for those who fought and returned and happy that we can live freely in this country'
---
'In loving memory of Samuel King who served on the Somme July 1916. Wounded he did survived to be with the Home Guard WWII. In memory of brother Albert who served with eh RAF 49-85, they would have been proud to see today's poppies and brothers Len and Ken had service with RASC and RA respective, God bless x'
---
Hannah Keegan 12 from Bootle
'In remembrance of my granddads, always thinking of you'
---
'Charles Toner – Enniskillen Rifles, died sleepy sickness from tetsy flu around his horses in cavalry aged 40 – no war pension'
---
'With love to my dad 1914-18 war. Also brothers Larry and Mick, Burma 2nd World War. Just to say thank you and God bless'
---
'Just to say I am thinking of my dad today, with love Catherine x'
---
JM from Crosby
'Both of my grandfathers served in WW1, neither relayed the events they witnessed, undoubtedly they saw death and desolation everywhere and were expected to show stoicism at all times. I never had the opportunity to ask them about their experiences. I have visited Ypres and commonwealth war graves and I have marvelled at the names of the fallen. The Weeping Window is a fitting memorial to loved ones who lived through or died in that and other terrible conflicts.'
---
Jean  I knew a lot of WW1 veterans. I jotted down their stories as a boy. Many had kept secrets even from their wives – (Bertram K Finnie, Bootle) men in their 80s and 90s saying "This is the first and last time I am going to say this" (RIP 5th Lincolns)
---
I Bruce from Fleetwood
'Once again am most pleased to visit Liverpool. Poppies! Museum! Splendid! Art gallery'
---
J Murphy Kirkby from Kirkby
'In loving memory of John Murphy Kings Regiment and Gerard McIntyre Burma Campaign'
---
Matthew O'Neill, 11 years old, Wigan
'Remembering every soldier and every animal who fought for our freedom, we will remember them.'
---
Jonathon, 9 years old, Wigan
'To remember the soldiers who fought in the war for us and our country and the soldiers who are still fighting. We will always remember them.'
---
Shane and Tina Atkinson, 45 years old, Hull
'In respect to all who fought for our country and lost their lives for our freedom and futures.'
---
Franny, 32 years old, Liverpool
'In loving memory of my two grandfathers who served and suffered during WW1 and WW2 to protect our freedom and values. We remain indebted to all servicemen and women who are prepared to make the ultimate sacrifice.'
---
I Roberts, 56 years old, Skem
'Please remember Jimmy Sutton who was gassed in the First World War and suffered as a result for the rest of his life. Also his brother mick who went down with the Lusitania.'
---
Moira and Martin O'Dea, Liverpool
'In memory of our great uncle Stephen O Dea (an Irish man from Cork) killed August 8 1916 in France. Always remembered by O'Dea family.'
---
Kaisha, 10 years old, St John Fisher
'Respect for those who fighted for our country thank you, lest we forget.'
---
Mary Corbett, 60 years old, Liverpool
'The Poppies are beautiful and so appropriate to come to this city. Please remember Charles Mills and Andrew Madden (both from Liverpool) who fought in WW1, only one returned.'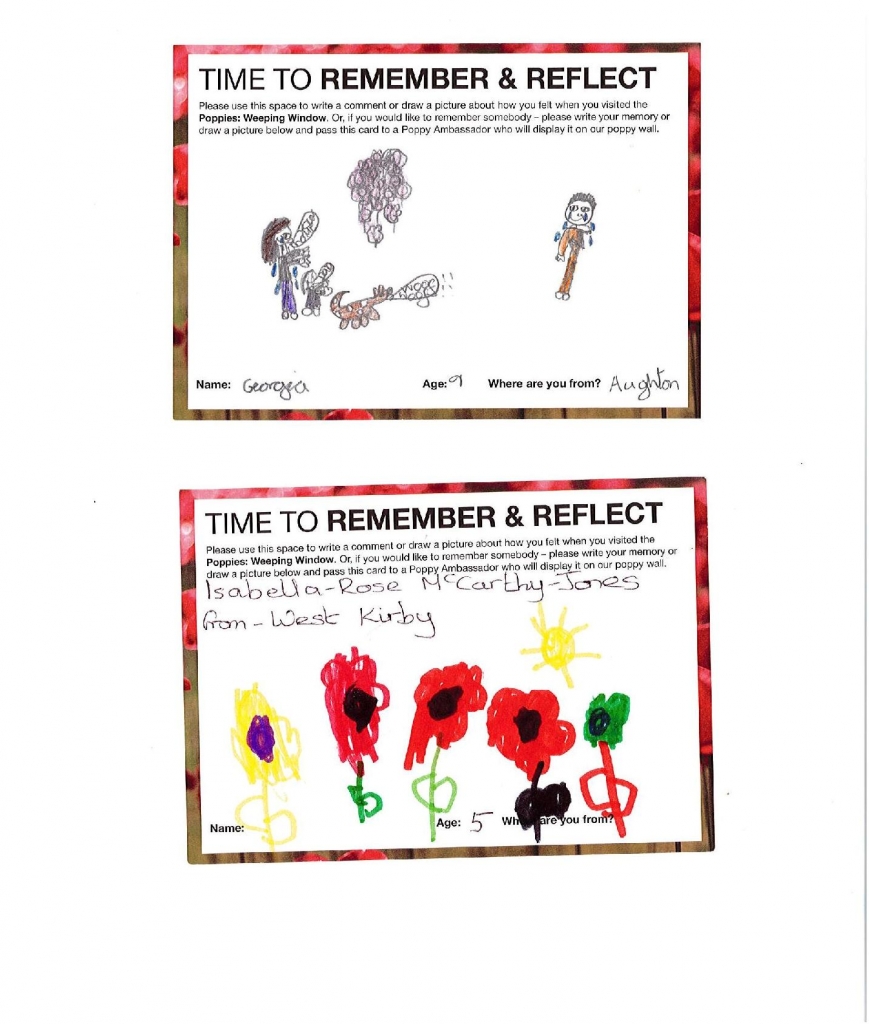 'In loving memory of my granddad Ronald who fought in the Second World War love Oliver aged 8'
---
'Just to say I'm thinking of my lovely father today and always, Alfred Moreton from his loving daughter Pat'
---
Shaun, Birkenhead aged 47
'I was remembering all those who fought and fell who never came home. The families who mourn their sons, husbands, uncles, grandparents and grandsons, the women who also fought and never came back. the soldiers this present day still fighting to protect us from evil, the people who serve countries and are prepared to die which is heart-breaking'
---
Eileen Taylor
'To remember my grandfather Henry Swift who died in Flanders in April 1918 leaving his heartbroken widow Teresa and three small children, so glad he is remembered like this'
---
M Daniel, Birkenhead aged 78 
'My dad Joe, died aged 27 years June 1940 HMS Coringa'
---
'I remember Captain V Williams. Also the crew and soldiers on the "ceramic" "Lest we forget'
---
M Eves, aged 70 North Wales
'A fitting tribute to all those who died for us. So moving and beautiful at the same time. Liverpool you have done the fallen proud.'
---
'In memory of Samuel Broomhall who lost his life 28 March 1918, a father grandfather and great grandfather never met.'
---
Rossett Platoon ACF, Rossett, Wrexham
'You gave your tomorrow for our today, we remember. The officers, NCOS and Cadets of Rossett Platoon, North Wales ACF'
---
Linda Cook, aged 63, Macclesfield
'What a wonderful way to remember the sacrifice made by all those brave men and women so that we may have freedom. Not forgetting all those mothers who lost their sons.'
---
Sharon and Jeanette Rigby
'We felt proud to be Liverpudlians, proud of our city hosting the Weeping Widow. Remembering ALL who served from Liverpool … those who came home and those who did not.'
---
Elisa, 47
'To my great grandfather who was blinded by mustard gas in the First World War, we will remember them.'
---
Sarah O'Neill, 45 years old, Wigan
'In memory of everybody who has died fighting for us and our country.  As well as the people who are still fighting and the injured veterans and the veterans who made it without any physical injury. We will always remember them God bless you all.'
---
Pat, 63 years old, Liverpool
'I remember my great granddad and uncle Teddy who were killed in the war and all the other ones too who gave their lives. My heart goes out to all the families and loved ones RIP. The poppies Weeping Window is fantastic, love it a great memory to all the people and makes you think looking at it.'
---
Mel, 24 years old, Manchester
'To remember all who served and service today.'
---
'Ralph Parkinson, brave loving man from WWII, George Jervis son in law never forgot x'
---
Anne, 76 years old, Liverpool
'In memory of the young men and women who gave their lives in defence of our country, when we fought on they may be in some forgotten place but will remain in our hearts forever.'
---
'To all the Dukes IDWR past-present-future VFC.'
---
D Solomon, 51 years old, Liverpool
'Very emotional, as in my minds eye they represent those who have fallen whilst in service of our Queen and country.'
---
'Remembering with love always our dear granddad Charlie Wright and our dearest dad Norman Getty xxx'
---
Ian, Northhampton
'You don't need to know a soldier to remember them. L/SG Mark Burgan – 14.4.82 – 23.3.11 1st Battalion Irish Guards Kia Afghanistan'
---
Sinead  Blythin, 41 years old, Chester
'I visited the Weeping Windows following the attack in Paris. We were here for the minutes silence and was very proud to see a city united in hope for peace. No pasaran'
---
Will Blytin, 11 years old, Chester
'Poppies for peace'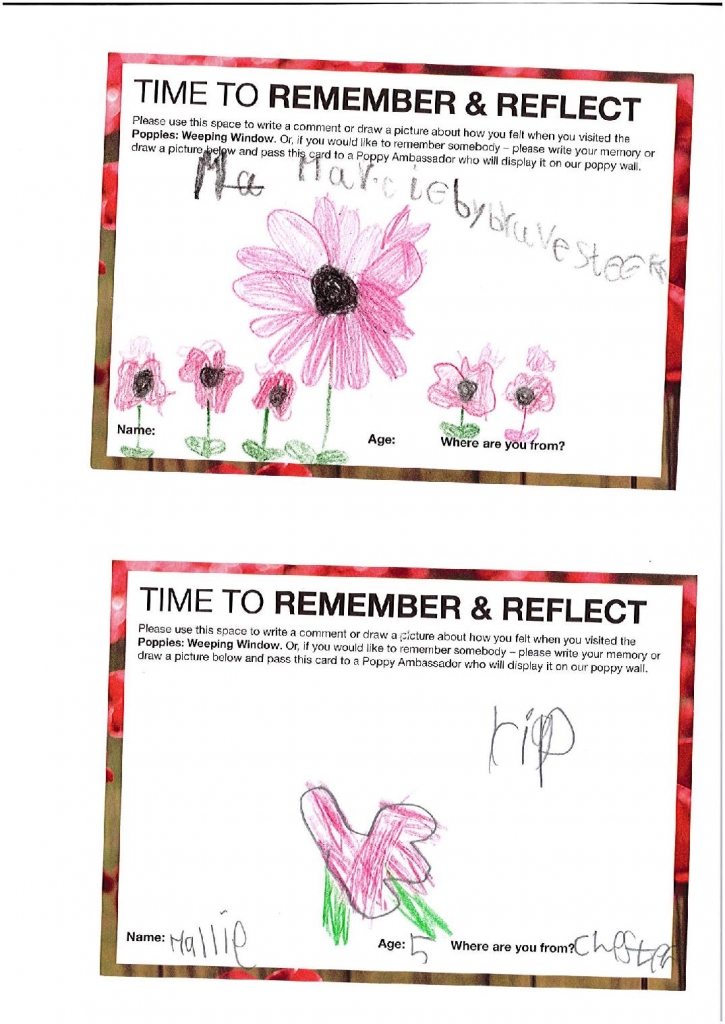 Dorothy Scott nee Goodwin
'WWII in memory of three sons of Liverpool who all went to war and unusually all three came out the other side. The eldest Ed went into the navy and three times he ended up in the sea due to ships being bombed, sadly I do not know Toms movements. Bob was at both Dunkirk and Normandy. All three have now passed away ROP'
---
Kendra aged 7
'I remember my great grandfather'
---
Angela and Matt Lucas from Hemingbrough, Yorkshire
'We will never forget the sacrifice you made for our world today, God bless.'
---
K Lenardy, Chorley
Great day out lovely to see them
---
Rhiannon Wells, 18 from Flintshire
'To all of those who have fought bravely both in WWI and all the wars that have followed, we will never forget. Time may have passed but your legacy will always live on.'
---
B Hirst, Thornton
'Remembering my Uncle John Shorrock, killed in action aged 19 years, Kings Liverpool Regiment, Ypres'
---
D Gardner, aged 66, Boston Lincs
'Having been to various World War One battlefields and cemeteries and Arnhem to see the bridge with my wife we thought it was a good idea to see the poppies on a bus trip to Liverpool'
---
Brett Murphy, aged 13, Wirral
'Never forget always in our hearts, for all the soldiers who fought for us, lest we forget.'
---
'To all the brave squaddies past, present and future. Thank you is not enough. To my granddad, dad, son Mark, son Daniel and granddaughter Karlee Thanks my amazing family.'
---
'In memory of my dad who gave his life for freedom and now sleeps in peace in a war cemetery in Italy age 26 years. Daughter who will always remember.'
---
Caitlin, aged 8, Liverpool
'Sweet soldier, open hearted soldier, lovely soldier, dedicated soldier, intelligent soldier, great soldier, remembering Sunday.'
---
Marj, Janet, Lynda and Beverly, Manchester
'Lest we never forget'
---
May and Joe, Scouse
'Remember Peggy Burns, Alice Burns, Tommy Smith, Tony Brown, Tony Funcks and all our Liverpool family love May and Joe'
---
Ann, Southport
'Very emotional – proud to be British and sad for all the lives lost. It lovely way to show how important it is never to forget those who died so we can live.'
---
Everyone from Bridge Inn Community Farm, Formby
'Thank you for fighting for us and for your bravery. Rest in peace.'
---
Angela Deakin, Burscough, Liverpool bred
'In remembrance of all those who fought for our future and especially those who died and did not return. Thank you so much you will be in our hearts and prayers forever and never forgotten.'
---
Debra, Ainsdale
'Trooper Andrew Howarth Queens Royal Lancers 28 May 1990 – 18 September 2010. Almighty God heavenly father grant (we pray) to thy faithful soldiers of the Queens Royal Lancers thy strength and courage that united in our duty to pursue thy peace. We may at last pass through death to thy eternal glory for the sake of Jesus Christ our Lord Amen.'
---
Norah O'Brien, Bangor
'A very moving and emotional experience. In memory of Morgan Roberts and his brother William Roberts of Cefn-y-ffordd, Penisarwaun, Gwynedd, Wales. Let there be peace on earth.'
---
Mike, North Wales
'Equally moved by the poppies and the fact they were surrounded by simple soaking wet sandbags. Seeing these makes me think of the horror of living in the trenches as well as dying there.'
---
Hannah Sheldon, 23, from Derby
'We will never forget. The beautiful displays we have seen today will never let the memory fade.'
---
'In memory of great uncle Ernest Bailey and all his compatriots' who died to preserve our freedom and country.'
---
'In remembrance of all our servicemen and women with respect and gratitude for your sacrifice. For David Jones VC WWI with love Barb Mac'
---
Terry Flack, 76, from Potters Bar, Hertfordshire
'In remembrance of Fred Flack Royal Air Force, love you dad and all the other brave soldiers who helped us free. Terry Flack (son) Royal Signals, Malaysia 1957'
---
P Beck, Norfolk
'In fondest memory of uncle Fred – a lovely man'
---
Chris, Cape Town, South Africa 
'Thank you to all who fought for my freedom, may my generation never forget their sacrifice and may we treasure the freedom bought at such great loss.'
---
'So very moving dare I say made the hairs on my arms stand on end. An amazing tribute to amazing people who gave their all for our tomorrows. So wonderful to always keep in our hearts all those we have loved and lost.'
---
Granddad, William Harold Weader, Second World War, torpedoed twice in an open boat, presumed missing for eight days but made it home!
---
A Claridge, Cheltenham
'Fabulous in London, fabulous in Liverpool. Wonderful display, brilliant idea lest we forget.'
---
Paula, Liverpool
Remembering my two uncles Pip and Reg who lost their lives in WW2 and my lovely dad Patrick who was badly injured as a rear gunner in a Lancaster and was awarded the DFM. Sadly died 8 years ago xxx
---
Patricia Simpson
'Felt very humble. For all who died in First and Second World War. In remembrance of great uncle Michael McGowan, aged 19 who died at Ypres First WW'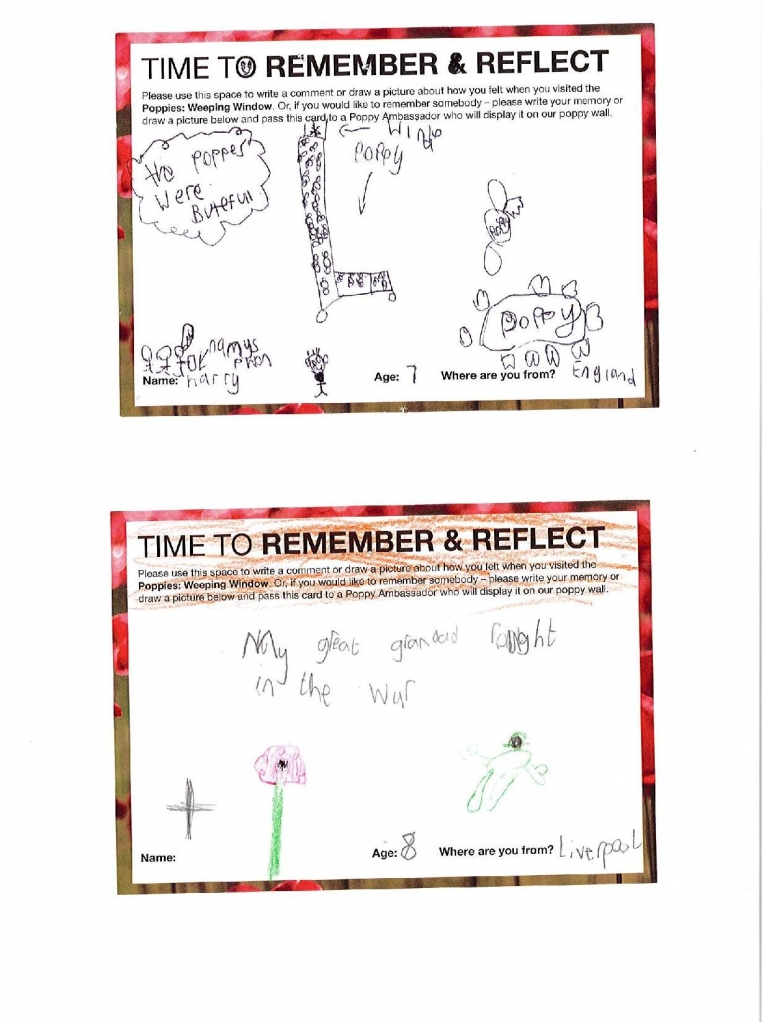 Caroline, 54, Liverpool
'So sad to think of all those young men who died in action and of those left here at home to carry on, thank you for our freedom xxx'
---
'The Royal Green jackets because even Royal Marine Commandos need a hero too'
---
Mandy, Liverpool
'Remembering granddad Norman Whitney, served with the desert rats. Never spoke of the war on his return. RIP granddad'
---
Steve
'Always in our memories, never forgotten. To all who have served to their family and friends we owe our lives.'
---
Keira Johnston, 9 years old
'God help the people who have lost their family.'
---
Jennifer Parker, Warrington
'A time to reflect on soldiers past and present who fought and continue to fight for the freedom of our country. NEC  ASPERA TERRANT Duke of Lancaster's 2nd Battalion.'
---
Jan, Minnie, Mary, Tom and Graham, Warrington
'Amazing experience, well worth the visit. We will remember them.'
---
'Jo Travis (great niece), Dronfield, Derbyshire
John Shallcross Ward, killed in action December 23 1914, buried in Kemmel, Belgium. Joined up in Liverpool Kings Regiment August 1914, aged 18. In remembrance'
---
'John Hampingstall Humphrey. 1918 – Nearly made it to the end! God bless.
---
'Thank you granddad, uncle, dad. Albert Snr, Albert Jnr Ashcroft.'
---
B Patel
'We will never forget those who fought and are currently in the forces fighting for our country.'
---
Harriet McKirdy, Derby
'Beautiful display. In memory of everyone who made the sacrifices. Thank you for everything. Lest we forget.'
---
Joan James
'Respect and gratitude to those who make the sacrifices and to their families who support them and suffer the loss. In hope of peace for their sake.'
---
Isla, 7 years old
'Remember all the people who died in the war.'
---
Elizabeth Blakemore, 81 years old
'My dad Thomas 1914–18 (Cheshire), his brothers Martin, Joseph, John who died 1914-18 (Cheshire), my brothers Tommy and Edward (19 &  17) 1940-1945 Royal Navy who thank God returned.'
---
Norah O'Brien, Bangor, North Wales
'In memory of Richard David Roberts, Bryan Madog, Brynrefail, my grandfather's brother, very moving experience. Let there be peace on earth.'
---
Simon, Manchester
'For my grandfather who fought in the Somme and my father who landed on Juno beach on D-Day ordinary men with extraordinary courage.'
---
Eileen Fisher, North Wales
'Eric Fisher was Royal Navy HMS Minesweeper, 1939-1945, love his daughter Eileen Fisher proud of my father.'
---
'A fitting tribute to all armed forces past and present, it is to them we owe everything.'
---
'A moment to stop and reflect. A time to pause and think – sacrifices made for our freedom and choice.'
---
'Thinking about my granddad and the other soldiers that fought in the WWI.'
---
Annie, 41 years old,  Liverpool
'Thank you for the chance for Liverpool to stop and reflect and see such a moving display. Our city remains proud of our soldiers – our youth grateful for the freedom.'
---
Rachel, 19 years old, Liverpool
'I felt touched, such a lovely reminder of the soldiers who fought for our country.'
---
J Moss, Skye
'I have come down from Scotland (Skye). The Weeping Window says it all. Am so proud of my city, my dad was in the Royal Navy from 1938 until 1946. He was a top gunner on the HMS Rodney was involved on the battle of the Atlantic and the Malta convoy. I am one of the lucky ones as my dad came home, God bless.'
---
Erin, 10 years old, Burscough
'I think that the Poppies were interesting and beautiful but it was sad when I thought of all the people who lost their lives.'
---
Gillian, Zoe, Darcie and Thomas, Liverpool
'Never forgotten for the fallen, RIP to all the heroes.'
---
Thompson family, Liverpool
'Looking at the Poppies we thought of all the men and women who have gave their lives in the name of freedom. Our great uncle Frankie Taylor gave his life whilst driving an army ambulance during WW2. Also Jimmy Taylor who was injured whilst fighting the Japanese in Burma.'
---
Weader, 71 years old, Liverpool
'My father William was in the Merchant Navy and was missing from his first ship was injured and before he was picked up he was torpedoed. Mum got the telegram he was missing and presumed dead but eventually he was picked up by a ship, but was ill for a long time before he could rejoin his ship.'
---
'To all our brave soldiers who fought for our freedom, thank you, a very proud scouser.'
---
Eileen Taylor
'To remember my grandfather Henry Swift who died in Flanders in April 1918 and whose body was never found.'
---
'A perfect reflection, wife of Royal Artillery'
---
Pam Joyce, 68 years old, Kirkby
'I would like to remember my grandfather who I never met, he was killed in 1914/18 war leaving my mum an orphan and I wonder how different her life may have been if he had come home.'
---
Sue, Newton-Le Willows
'The Poppies are amazing; my dad was a Royal Marine Commander in the 2nd World War. Thank you Dad.'
---
Christine and Matthew Pye, St Helens
'The Poppy Weeping Window is the most beautiful tribute I have ever seen. The Poppies are so beautiful yet create a peaceful calm. They are arranged with so much care to create such beauty; you can only feel emotion when looking at them. Liverpool has produced a 'window' that no one else can. Everyone should visit (all staff were so friendly and helpful) thank you'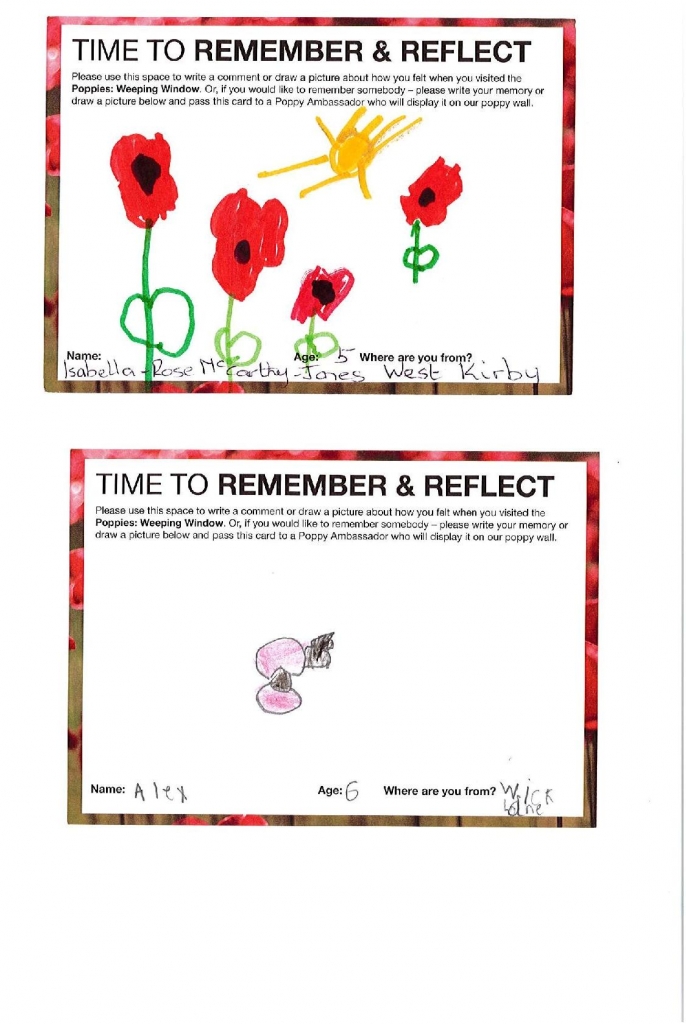 Judith Ball, St Helens
'Remembering Joe and Alf Mather (my uncles) – young boys who lost their lives in the Second World War xx'
---
Charlie Matthews, 18 years old, Liverpool
Remember the soldiers who died in the great war and fought for our country
---
Libbie Ely, 10 years old, Knowlsey
'I felt happy because I was a part of such an amazing artwork. I would like to pray for my granddads and the people who died.'
---
Sophie, 32 years old, Liverpool
'Thank you. You gave your all and paid the ultimate price for the world we have today.'
---
J Lewis, 77 years old, Liverpool
'Past family member – the Murphy and Lewis family – lest we forget'
---
'In memory of my grandfather (Taid) who fought in France with his friends from Llanberis. Their language united them while they fought. My grandfather was shot by a sniper trying to save his mother in law who was killed. Taid died in Birmingham army hospital of his wounds leaving a young widow and four young children.'
---
Sylvia Wright, 72 years old, Crosby
'Very proud see you soon my love xx we will remember'
---
Paula Howard, 40 years old, Liverpool
'Remembering both my granddads who served our country during the Second World War. Mr Owen Howard and Mr William Pratt now both passed away.'
---
Lisa, 37 years old, Wirral
'A beautiful display to remember all the fallen heroes and war animals who fought for our country and our future, thank you xxx'
---
Doreen, 68 years old, Wigan
'It brought a lump to my throat and a tear to my eye'
---
Jack Williams, 10 years old, Liverpool
'Thank you we will remember you always'
---
Frank Cumming, 72 years old, St Helens
'Very tastefully respectful. We should never forget what the forces in both wars did for us, but the way the world is now did they die for nothing?'
---
Ruth, Jennifer Moore, 51 years old, Birkenhead
Remembering uncle David age 3 killed by last bomb – and great uncle Bob Cheshire Regiment killed in North Africa, gone but not forgotten
---
Honey, Bailey and Nico, 10, 8 and 5 years old, Middleton
'We the young need to remember and show our gratitude to all those who have given so much for our freedom.'
---
Saly Giegas, 30 years old, Belgium
'I take this time to thank my great grandfather for being at the front from day 1 fighting for our freedom in WWI. I also want to thank his son who was captured from the start of WWII and was held as a prisoner of war. Forced to dispose of bodies from 'the showers'. He never got any official recognition.'
---
Patrick Manning, 10 years old, Liverpool
'Well done in war and giving us freedom.'
---
Joan and Lauren
'In remembrance of my granddad who fought in the war. Thank you for keeping us safe.'
---
Maureen Eyers, 47 years old, Liverpool
'You way say I'm a dreamer but I'm not the only one, I hope someday you will join us and the world will live as one. Thank you to our troops keeping us safe.'
---
Pauline Roberts, 72 years old, Waterloo
'Very moved, remembering my father who was involved in the 2nd World War and who also died on a remembrance Sunday in 1980.'
---
Kath, 72 years old, Wirral
'Beautiful way to remember all the people who gave their lives for us including my granddad.'
---
Macy, 10 years old, St John Fisher
'Thank you, respect for those who fought for your life today. Peace to you we pray.'
---
Helen Jones, 30 years old, Great Sutton
'Lovely to see the poppies today in Liverpool. Wish my nana and granddad was here to see them as they were both in the war. Miss them telling me their stories.'
---
HM Brichton, Blackpool
'Well worth seeing. Enjoyed the display.'
---
Bailey, 5 years old, Wirral
'I felt sad because everyone died. Remember Sunday'
---
Ann and Pete, 67 years old, Liverpool
'I thought of 'sacrifice' and how people gave their lives so others might live. How good too for Liverpool to have the poppies over Remembrance Sunday.'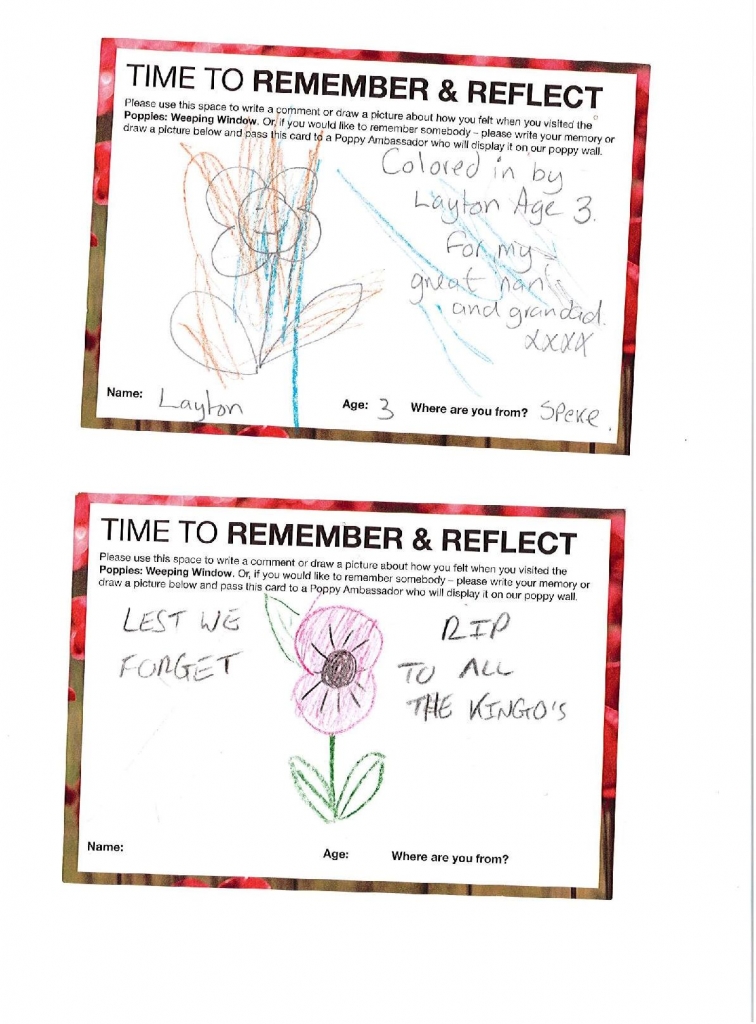 Michelle and Jack Statham, 47 and 12 years old, Liverpool
'We thought the poppies were amazing, so beautiful. Such a wonderful way to remember the fallen heroes. So proud of Liverpool to have them here in our lovely city. Wish we could keep them.'
---
'Well done, we will always remember them RIP xx'
---
'To our brave boys, God bless you for your valour and the opportunities that we enjoy after your suffering. Always remembered, never, ever forgotten RIP'
---
Ryan, 10 years old, St John Fisher
'Peace on earth for the soldiers'
---
We remember, love Steve, Emma, Amy and Mamma G xx
---
'Thank you Uncle Leonard Long Kings Own Regiment for you and other of the 3 services for giving us our freedom.'
---
Charley Ellis, 9 years old, Wirral
'I love the poppies, I was happy when I saw them but sad when I remembered about the people who died.'
---
'In remembrance of Private Terrance Joseph Moffatt 1987 – 2005, never forgotten, always missed.'
---
Ann and Anthony, Liverpool
'The poppy Weeping Window is absolutely beautiful. It moved us into tears. Remembering all the people they represent, for their bravery and sacrifice. We remember our own dads and granddad and uncles. They will all be looking down from heaven so proud. Thank you.'
---
'All courageous men and women who fought to make us free. Remember the people at home in Liverpool who had to live through times that were so awful.'
---
S Pickering, 50 years old, Liverpool
'I was very impressed with this beautiful installation – thank you for bringing it to Liverpool.  In memory of Anthony Keegan who died in the early 90s – Desest storm.'
---
Joan Owens, 79 years old, Liverpool
'Time to remember. Rest in peace. Going to have a wonderful day, love you all.'
---
Alice, 26 years old, Southport
'So wonderfully rich, each with their own story.'
---
Rosemary Butler, Crewe
'Lovely display, very moving tribute to all those who have lost their lives past and present "Walter Watson"
---
F Wood, 24 years old, Blackpool
'Enjoyed the poppies, wonderful gift.'
---
His loving niece and great niece Ruth and Jen, 71 years old, Birkenhead
'Remembering my uncle Robert age 20 who gave his life so our generation can live in peace.'
---
Sheelagh Callaghan, St Helens
'Moving tribute for all who gave their lives that we may live.'
---
Joan, 71 years old, Preston
'Thank you for giving your lives to let others live.'
---
Ruben Edwards, 11 years old, Huyton
'Pray for Paris, remember'
---
Julie Houghton,  Woolton
'I was made up to see the poppies. Something lovely to look at for a change. Unusual and emotional, very moving.'
---
Jill Smith, Liverpool
'In memory of my granddad Nathaniel Joel 1st World War stretcher carrier who suffered post-traumatic stress on returning home and hung himself leaving a wife and 5 children.'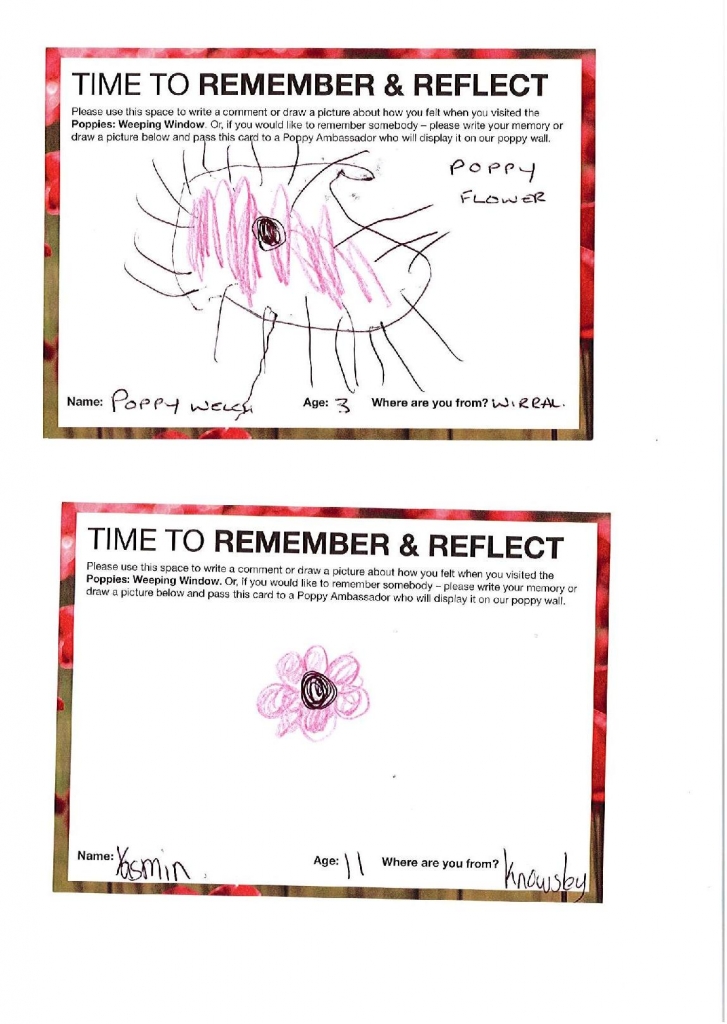 'To all our wonderful heroes and horses may you never be forgotten, bless you.'
---
Sue, Bolton
'Remembering everyone who has died at the hands of warmongers and terrorists.'
---
A E Pye, 68 years old, Liverpool
'In memory of my father 9th battalion Kings Regiment Liverpool Private Arthur Pye.'
---
Evie Wright, 13 years old, Crosby
'Proud of my dad who was a regimental sergeant major in Royal Green Jackets. It also reminds me of my grandfather Malcolm Wright (pops)'
---
Christeen. 59 years old, West Kirkby
'Always in our thoughts, Freddie and Lawrence.'
---
Kathlyn, Dukinfield
'Remembering all who fought so valiantly to keep our country free.'I am so proud of my son who gave 28 years to the army, a proud mum.'
---
Anne x
'I am so proud of my son who gave 28 years to the army, a proud mum.'
---
Lilli Anderson, 10 years old, Liverpool
'I will always remember the soldiers who made our country peaceful.'
---
'We all need people in our lives who love and take care of us. Thank you to everyone who paid the ultimate price xx special memories of our lovely mum and dad, gone but never forgotten xx'
---
M Wright, 80 years old, Lowton
'I found it profoundly moving to think that the poppies represented lives lost in the Great War – and it reminds me how futile war itself is'
---
Ann, Carole, Pam, 93 years old, Wales
'For my dad Richard Joseph Roberts who survived WWII.'
---
A Brougham, Liverpool
'Thank you for the amazing display, lovely in memory of all our lovely soldiers lost.'
---
Pamela Miller, Scotland
'Thanks for the service and the freedom you gave your lives for lest we forget.'
---
Noah
'Always in my thoughts Gideon'
---
The Unsworth Family, Southport UK
'In grateful thanks to all service personnel through the generations who laid down their lives for us all. We will remember them.'
---
C A Fellowes, 63 years old, Wales
'For my darling daddy, Captain Frank Fellowes, a mental sufferer of World War II RIP'
---
'Remembering all those who have passed. Lovely display xx'
---
The Ward family, Wirral
'To all those who died in all wars. Hopefully one day the world will be peaceful. In special memory of George & Ernest Tickle who died on the Somme'
---
'To remember and appreciate always our freedom and liberty. All our thoughts are with those in Paris – we will never change.'
---
'A very emotional sight to see, may we never forget.'
---
Shannon, 19 years old, Ormskirk
'Honourable way to remember those lost, my granddad would be proud. RIP to all those lost.'
---
Mrs P M Davies, 67 years old, Liverpool
'Albert Edward Hayhurst, machine gun corp 1914-1918 servicemen. They fought for our freedom.'
---
Ann, Manchester
'Remembering you all, God bless you all so we can live as we do today, we are truly thankful.'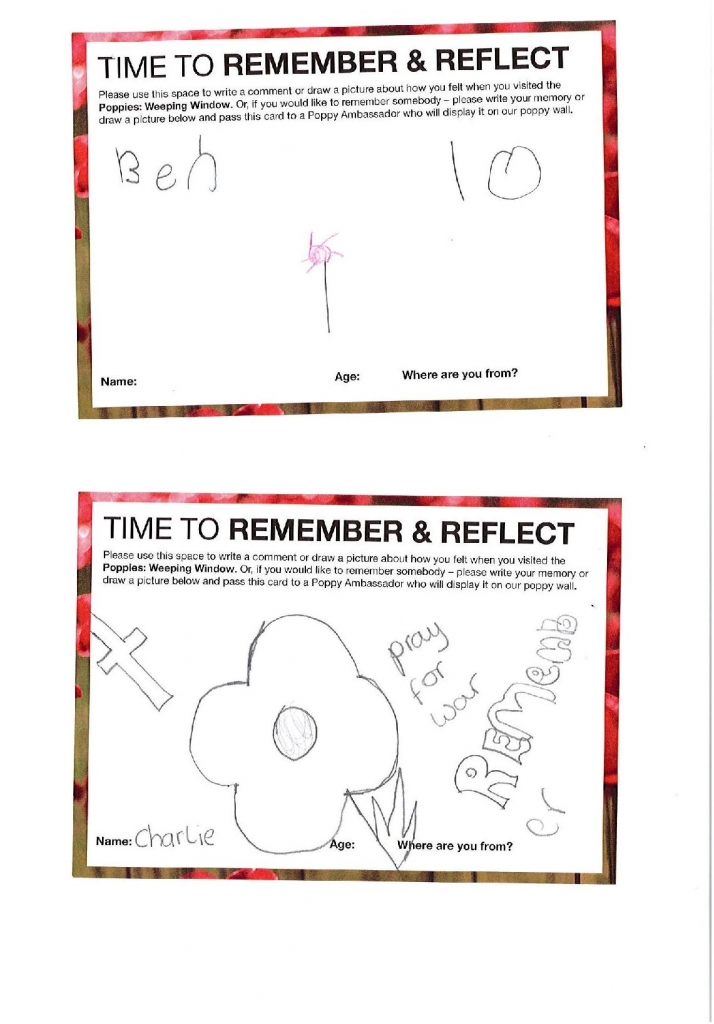 Sophie, Alison and Poppy, Freds House Oswestry
'In memory of Fred Ralphs – 16.09.16 thank you to all who fought for our world. We will remember them.'
---
Joe, Liverpool
'Always in my thoughts uncle Jimmy, died his ship was in collision with a submarine and was buried at sea.'
---
'I want to remember dad and uncle John and John Hickey, my family.'
---
'You gave us our today and how can we ever thank you when you are just a moment from the past.'
---
Jean, 72 years old, Chester
'A very poignant memorial to all those brave men who lost their lives from my own family. Herbert Hartley Senior 19 years, the Somme, John Raymond Senior 23 years, shot down over France, Robert Frost Justice, somewhere in Flanders never found'
---
Malerie Williams, Wrexham
'I never met my uncle William who died in the First World War. He served with the Gordon Highlanders and died age 19, love and gratitude to all the others who died for us xxx'
---
Diane, Liverpool
'A wonderful tribute to all who died for us. Remembering my uncle Bill who served with the marines in Singapore – Sentosa Island, God bless'
---
 Moira Owen. 54 years old, Mold
'I saw the poppies in London a year ago and it is lovely to see some of them up North and accessible to the people of Liverpool.'
---
Nigel, Bromborough
'I wish to remember my great granddad Elmoer Brown, shot in France and brought back from France to Woodside Ferry train station to Rock Ferry, and died from the wound when he sneezed. Bullet dislodged by the heart. Buried in war grave in Bebington'
---
Ted, 5 years old
Me and my baby brother loved the poppies today
---
R E Smith, 66 years old, Wirral
'To remember James Knox (PTE) of Kilrea N, Ireland Royal Enniskillen Fusiliers killed 1917, buried in Tynkop Belgium.'
---
Rebecca Hickman, 12 years old, Wigan
'Loss leaves a heartache no one can heal, Love leaves a memory no one can steal, We gave up our today so they could have their tomorrow.'
---
Dorothy Jones, 81 years old, Liverpool
Daniel Ferguson age 19 killed on the Somme 1916
---
David Crawley, Liverpool
'Paying my respects for WW1, WW" and current conflicts. I lost family during both that I never met. I know soldiers now that are homeless and not looked after – War is Bad but thank you for our Liverpool poppies, would be nice to see some white as well.'
---
Justin, 41 years old, Essex
'I wear a little poppy, as red as red can be, to show that I remember those who I shed blood sweat and tears beside on the battlefield. In memory of my brothers who gave their lives protecting me.'
---
Linda Charles, 64 years old, Grimsby
'Remembering Albert Edward Johnson Grimsby, and brother Joseph, Lancashire Regiment, killed 15 August 1917 3rd Battle Ypres'
---
Tom and Jean, Portsmouth
'Always in our thoughts, mum, dad, John Seymour, Jim and Mage Kneller. Love and miss you lots.'
---
Colette Linden, 53 years old, Liverpool
'Our thoughts and prayers are with everybody all over the world who have suffered a tragic loss in so many world conflicts. Freedom is never free. Special prayers for my dad Ronald James Collins, sunrise 11.11.25 – sunset 22.11.91 and my nephew Mark Terence Burgan Killed in Action Afghanistan 14.4.82 – sunset 23.3.1 goodnight and God bless to one and all xxx'
---
To our wonderful Aunty Dorothy Joyce Dyke aged 92 – a true veteran and an inspiration to us all xxx
---
Chris, 82 years old, Liverpool
'My granddads been in the war and I am really proud of him'
---
Kate, 52 years old
'We wanted to visit the Weeping Window to remember all those brave souls who gave their lives for us but also for my lovely mum died on 11.11.1997 at exactly 11am – miss her always.'
---
'Very poignant reminder. May we never forget all those who sacrificed their lives in the two great wars and conflicts since so that we may live in relative safety, The atrocities in Paris remind us that we are never totally safe.'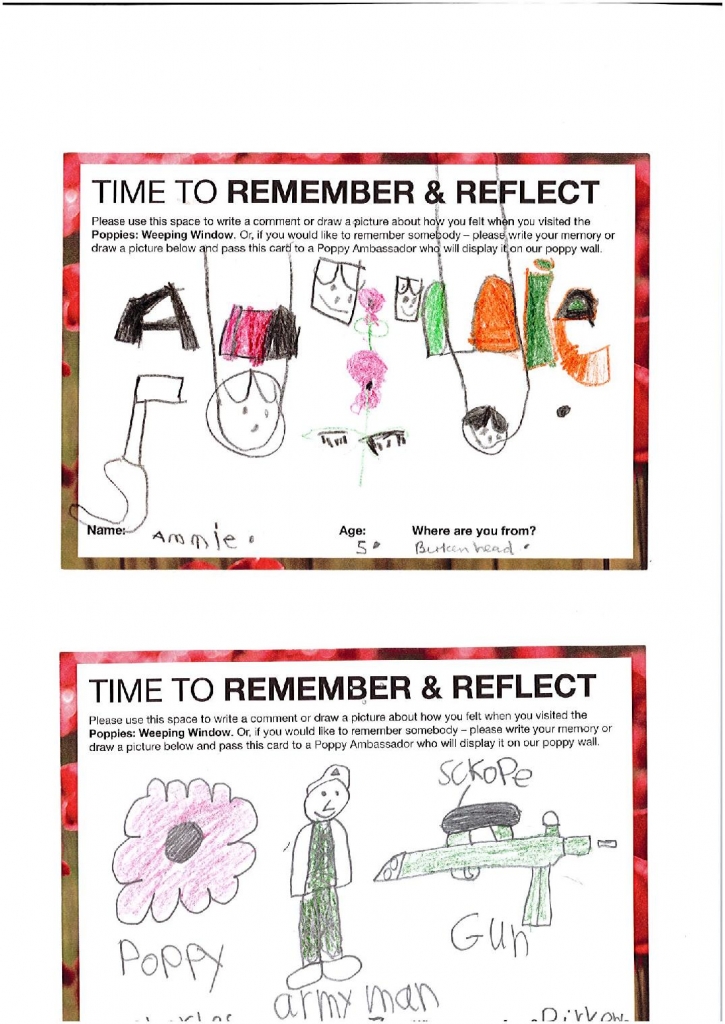 Ed Oakley, 68 years old, Liverpool
'We give thanks to our grandfathers and fathers who served in WW1 and WW", without them we would not be here. To all the people of yester year and yesterday who served and still serve in the armed forces, thank you'
---
Mary Brown and Terry Brown
'For the Kings Company C who were killed in Northern Ireland 25 years ago'
---
Mrs Margaret Gardner, 68 years old, Boston
'We visited to see the poppies after various trips to France to visit WW1 battlefields and cemeteries and especially for my great uncle who died. Also of my dad who served in WWII and all service men and women around the world today.'
---
Janet Wood, Widnes
'What a fabulous installation. And such an inspiration for Liverpool too. Two of my uncles, Brendan and Noel Steadman lost their lives during the war and my dad Leo was on the Atlantic crossings. Thank you everyone that gave your lives to keep GB free.'
---
Julian Dowling, 62 years old, Wirral
'John Routledge Payne – died April 1942, wireless operator/gunner – wellingtons based at RAF Stradishall – shot down and killed along with is crew in April 1942 aged 26 years. Burined at Vriezenveen Netherlands – never forgotten'
---
Lilian Champman
'Red poppies for the fallen, white poppies for peace.'
---
Sherryl Court, 23 years old, Liverpool
'Remembering my grandfather who served in the Second World War, also my cousin and uncle who lost their lives in the First World War. RIP all the servicemen and women GBNF'
---
'We have come as a family to remember all of the fallen, lost great, great uncles whos surname we have taken for its to continue and never be forgotten, the Chandlers'
---
Eileen, Birkenhead
'Remembering all those served in World War One also those who served in World War Two. To make a more peaceful world and a safer place to live. God bless you all.'
---
Grace Paton, 8 years old, 
'Remember all soldiers who have fought for our country.'
---
Elaine Atherton, 48 years old, Liverpool
'In loving memory of Private Samual Atherton who died in 2nd WW in Burma and was one of the forgotten army.'
---
Mrs A Dash, Maghull
'Wonderful display of poppies and lovely remembrance of loved ones.'
---
Kendra, aged 7 years old
'I remember my great grandfather'
---
'In memory of my father Fred Brown who served in RASC during the war and died this year aged 100. I will miss him very much this year as I was always with him on Remembrance Day even going one year to the Albert Hall service.'
---
Heather, Wirral
'Well worth coming. A very lovely exhibition. So sad to remember those who lost their lives.'
---
Emma Hodain, Wirral
'In loving memory of our beautiful soldier up above, passed away on Remembrance day 12 years ago. Very sadly missed.'
---
J Campbell. 73 years old, Liverpool
'What a wonderful site in Liverpool with all the poppies. Last year I was fortunate enough to be in London to see the display there. My own parents and grandparents were there during both 1st and 2nd World Wars. My uncle was killed in 2nd. Liverpool is a fantastic place anyway. I was born near here.'
---
Kath Owen, 65 years old, Wirral
'Mum bought a poppy every year for her twin brother – died in action during the 2nd World War and is buried in France, his name was Albert Dibbinsdale Leslie.'
---
Miranda Ford, Liverpool
'Remembering Alice Miranda, Tommy Ford, Patsy Ford, Tommy Ford Jnr, Vera Townley, Billy Townley.'
---
Anne Anthony, 60 years old, Liverpool
'We remember all who have lost their lives in wars and conflicts. Our uncle Bernie lost at sea. Uncle Jimmy died in Kenya. We also remember our dads who fought in North Africa, Italy and Burma. They thankfully came home and granddad who fought in WW1. We thank them all. That they rest in peace. We also remember the animals involved in the wars.'
---
Betsy, 6 years old
'My granddad was a soldier.'
---
Kevin Murphy, Wallesey
'For a granddad I never met who died serving his country, missing but not forgotten as are all our heroes.'
---
Fletcher, aged 5 years old
'I really enjoyed looking at the poppies.'
---
Christine and Albert Cook, from Liverpool living in Spain
'Most inspiring, glad we made the effort to visit while we were here. God bless you all.'
---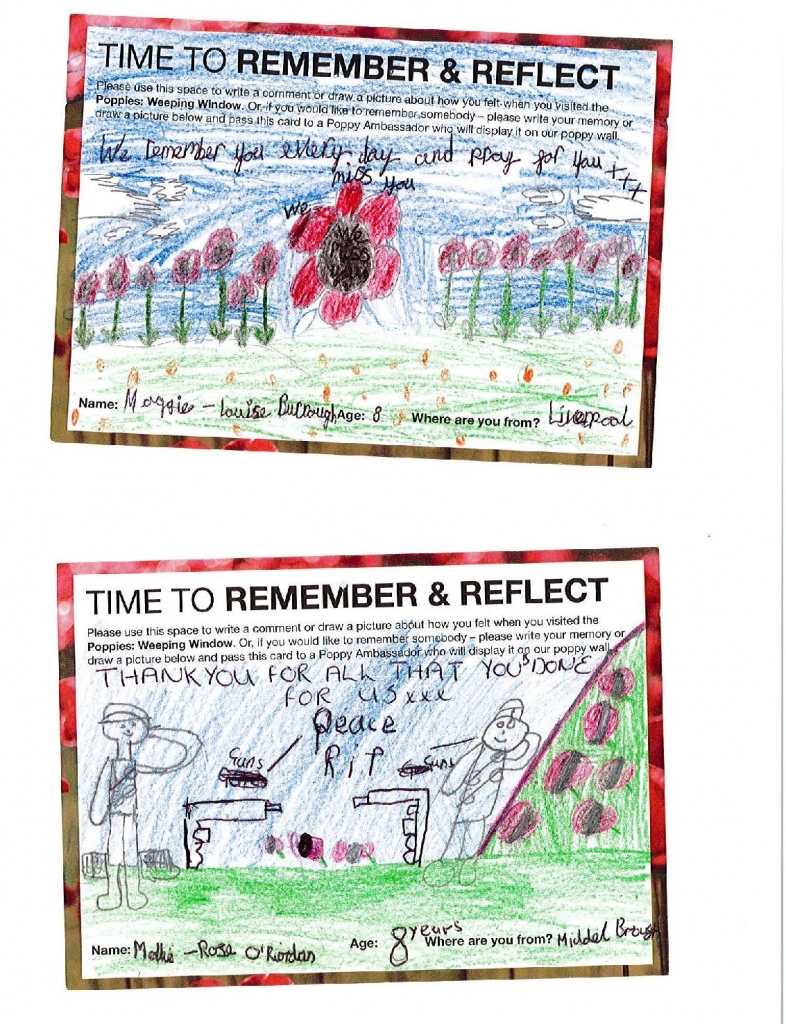 Joseph Selby, aged 7 years old, Liverpool
'With thanks for all who died to give us freedom, well done Liverpool – not a bad city afterall.'
Carol Code, May Rigby, aged 91 and 55 years old, Liverpool
'Beautiful display, so happy it came to Liverpool. My dad/husband would have loved to have seen them but are sadly in heaven. God bless all those who have died in war or battle. God bless everyone. Hope one day we will live in peace.'
'Time to remember and reflect and keep our promise never to forget.'
Janet Edge, 55 years old, Liverpool
'Remembering Mum, who was evacuated in WW2, Dad who served in N Africa and Italy in WW2. Granddad Sydney Herbert Eccleston who 100 years ago was in the air in France and who got gassed during the First World War. We shall remember all who lived through both wars and those who sadly died.'
T Stevenson, Liverpool
'In loving memory of my dad who served in the army 1938-1945 (Joe Stevenson)'
Eileen and John
'Uncle Alf, Alfred Herbert DFC, DFM 101 Squadron, we will remember you always.'
Sharon, 50 years old, Chester
'Cascading down, like a dress tall and proud and statuesque, weeping not, no not for me, a reflection for all to see.'
Barb Baker, 50 years old, Southport
'For all our friends who haven't returned – forever in our thoughts.'
C Mikey, 67 years old, Liverpool
'Dad, uncles, granddads, great granddads & great uncles who all fought in the 2 World Wars. Lest we forget.'
'With memories never forgotten. 793814 RSM Sullivan M, Royal Artillery, your son.'
'It was good to see something in the North West rather than in London. It's a reminder of the selfless sacrifice that was made for us to be free and it connects our generation to the past.'
S Morgan, 51 years old, Liverpool
'RIP all the young men and boys.'
Pete Jill Lagendigk, Rotterdam, Holland
'A wonderful display'
Janet Meehan, 44 years old, Reading
'Remembering John Lewyn Merrick my great grandfather, killed 9.4.1918, battle of Lys 270003 1/5 Kings Liverpool Regiment with love xx'
Michelle, 48 years old, Cheshire
'Liverpool …. A stunning location for this amazing tribute.'
Neil Murphy, 73 years old, Liverpool
'Remembering all those lost in action in all wars/conflicts.'
Lewis and Brian Deakin, 15 and 48 years old, Liverpool
'In remembrance of all who fought and died so that we could have a future. You will never be forgotten, we will remember you always.'
Ben Briscoe, Bletchley UK
'Thank you all of you for giving us our freedom xxx'
Ann Edwards, 70 years old, Liverpool
'So beautiful, makes you reflect how wonderful peace is. Thank you'
Halle Herd, 9 years old, Crosby
'Great nana, my great nan died of old age. She was in her 90s'
Joel Jones, 17 years old, New Brighton
'RIP to those who died for our country'
Helen Rentell, 57 years old, Crosby
'Pleased to see the installation here in Liverpool. Remembrance Day very relevant today – my great uncle Captain Robert Ports died at the very end of the 1st World War. As a child all I knew was a great sadness when his name was mentioned. Thank you'
Sharon Nutter, 57 years old, Rugeley
'Beautiful and poignant poppy display, such a tribute and in memory of James Nutter 23.4.1917'
'I thought it was very artistically done, whilst reflecting the sadness and sacrifice of the war.'
James, 28 years old, Southport
'Second time the poppies have given me goosebumps London-Liverpool'
Lucy Potter, 9 years old
'Remember all those special people in the world who fought for us.'
Pam Webster, 56 years old, Macclesfield
'In memory of a granddad I never met Gunner Robert Boyle 1709736 13 Bty 5 Searchlight Regiment Royal Artillery, Japanese POW.'
James O'Brien, 10 years old, Bootle
'Special over caring, loving, daring, intelligent, remember, super.'
Lucy,17 years old, Shropshire
'I thought the poppies were beautiful; it was well worth the visit all the way from Ludlow. We will remember them.'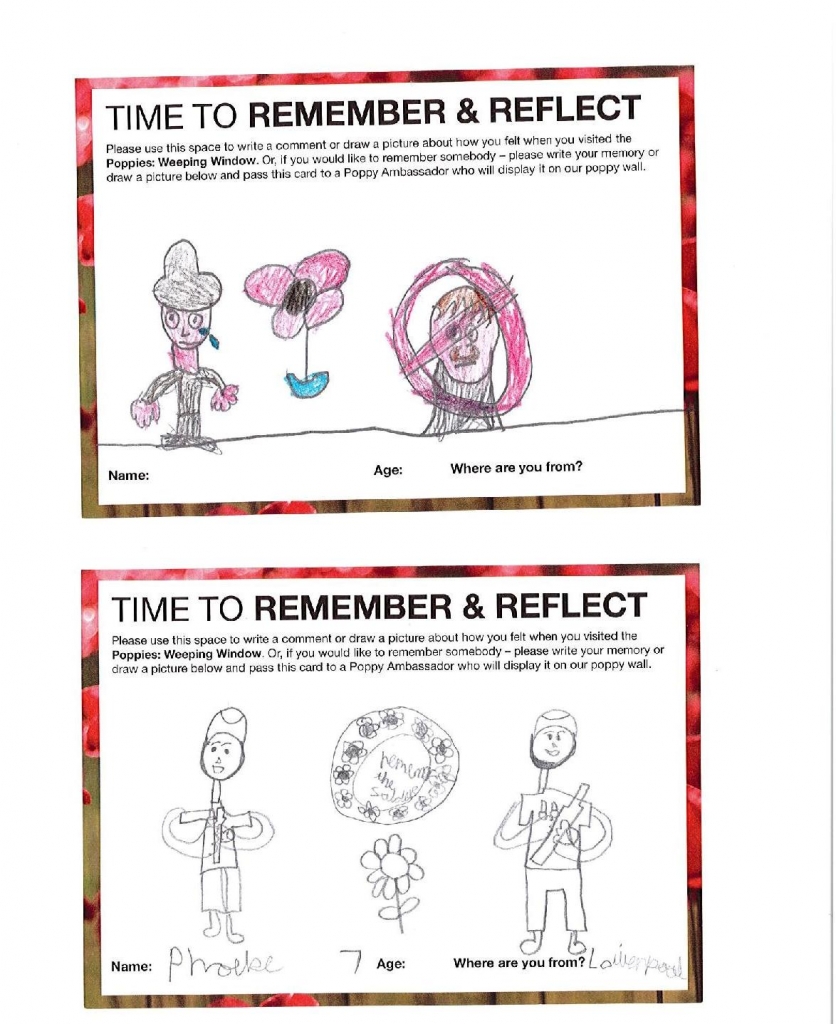 C Bollard, 60 years old, Kent
'Was in my home town and it pleased me that I was able to see the poppies. Very apt for all the people who have given us peace in our time. Beautiful and amazing.'
Linda Boast, 54 years old, Preston
'I felt in awe of all those who gave their lives so we would be free. Remembering also my uncle William Barry of Liverpool who lost his life in WW2.'
Dave and Pat, Blackpool
'Marvellous display to show your respect and remember all who died.'
'In loving memory, thinking of my soldier son Steven James Martin, love you always Dad.'
Oliver
'Thank you to all the men and women who fought for us'
Rob Wilson, Preston
'As a veteran with PTSD going to London to see the poppies was not possible. Thank you Liverpool for this opportunity, very fitting and poignant. RIP to all those that 'gave their all'
'Our son, signaller Thomas William Johnson 5 October 1993 – 23 November 2013, love and miss you, mum, dad and Liam xxx'
'Thinking of our lovely parents Alf and Elsie. Mum was a nurse at Walton hospital during the war and nursed all the soldiers who came back terribly injured. Dad was in the army. Dad in law Len was in the Royal Navy and mum in law Mary was in WAF. Can't thank them enough for all they and everyone else did for us all, God bless.'
E Cooke, Wirral
'Wasn't expecting to be quite as affected as I was. Beautiful and very emotional thank you.'
Jeannie Powell, 66 years old, Southport
'I felt a deep gratitude to all who fought and lost their lives in the wars. My dad thankfully survived. I would also like to remember my first husband Alan Pickersgill who died age 51 years he loved poppies, also my son David who we lost this year aged 36 years.'
Bryan Roe, 70 years old, Crewe
'Remember Lt Cmndr George Leslie Roe HMS Jervis Bay. Sunk by German Rocket Battleship. A relative I never knew and all others who gave their lives for our freedom.'
Pat, 80 years old, Halewood
'I lived through the war as a child, I remember a neighbour bringing 2 jugs of cocoa into the shelter it was lovely. Thank you to the brave men and women who fought for us.'
'Story my Dad told me just after the conflict. My father's job was to repatriate the people from Germany. He was at a railway station making sure that none of the German people got off. A train stopped; there was a German mother on the train with her baby. The baby was screaming. My father opened the carriage door, took her and the baby, and gave the baby milk. The lady wanted to give my father her wedding ring.'
Jean Hague, Ainsdale
'In memory of William Oatway who died on November 3 1918 aged 22 years. Queens Own Cameron Highlanders, 5th Battalion.'
'Simon's Granddad Bill Williams flew in a Lancaster, died March 1945. He was from Liverpool'
Dee, 60 years old, Bootle
'Bootle remembers the fallen, all conflicts.'
Declan Rees, 6 years old, Wrightington
'Barry and Nanny Williams'