The Arts & Culture Round-Up: 24-30 April 2020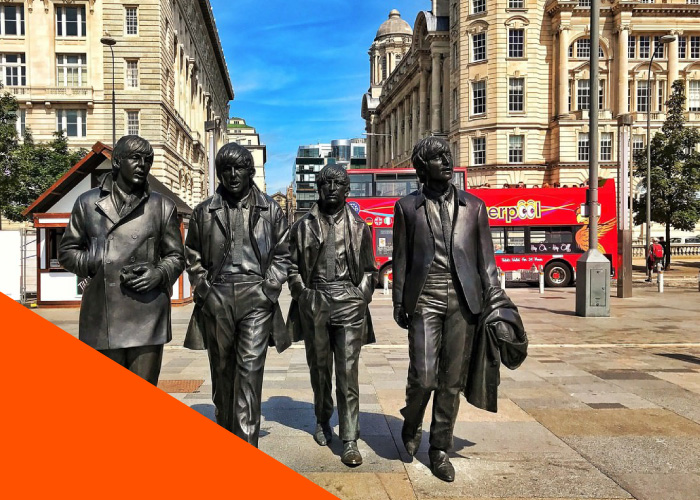 ---
Grants and funding available…
---
Are you self-employed or a member of a partnership in the UK who has lost income due to Covid-19? Then you may be eligible to claim a grant through the central government Self-employment Income Support Scheme. Find out more and see if you can apply here.
Social Investment Business have launched a Northern Cultural Regeneration Fund, which will see blended loan and grant investments of up to £150,000 go to businesses who deliver social impact to disadvantaged communities.If you are an incorporated business that works in the creative and cultural sector, can evidence social impact as a by-product of your core work and are based within one of the eleven most Northern Local Enterprise Areas find out more here.
---
Together we can do it…
---
There's still time to get involved with The Crowdfund Liverpool Programme ahead of its 30 April deadline. If you have a project idea that enables people to take a more active role in supporting their local area and help develop resilience within Liverpool's communities then this project could just be for you.
---
Opportunities call out…
---
Collective Encounters are looking for emerging artists in the Liverpool City Region to send them ideas for works that respond to the theme of 'community power' & 'community action'. They have a total of 10 small commissions each worth £300 and the final piece of work can take any form, from a poem, drawing or photograph to a montage, video or short composition. The opportunity is open until Wednesday 6 May. Head over to Collective Encounters to find out more.
Young artists aged 11-18 living in the Sefton area are being invited to take part in the Young Artist of the Year competition. Brought to you by the The Atkinson in partnership with The Arts Society Southport, the competition is based around paintings, drawings, photography, textiles or any other form of artwork that is inspires you. Entries need to be submitted by Sunday 10 May so get your thinking caps on.
---
Get lost in music…
---
Enjoy live concert videos and recordings from the comfort of your home, courtesy of Royal Liverpool Philharmonic. A full programme of activity is now available to watch and listen to, so get social and join one of our best loved cultural venues on Facebook, Spotify, YouTube, and their website where never before released material can be heard.
Why not join Blackfest on Thursday 30 April for their Night In Series? During this hour long digital performance, the amazing Breezy iDeyGoke and CC will bring a selection of dance-inducing Afrobeats and creative mixes. Want in? Then book your tickets here.
Head over to Melodic Distraction to listen to Jab on the airwaves. This month, during his Jazz, but not as we know it show he celebrates Liverpool's premier live jazz promoter Geni Lamb with a variety of tunes from the Parrjazz family. Also, in the line-up are tracks from New York-based artists from the Scirocco Music label. Good vibes all round!
---
It's good to talk…
---
Getintothis are going live on Facebook with a new interactive streaming chat show. Every Monday, Wednesday and Saturday at 8pm, they'll be joined by musicians, music industry heads, writers and broadcasters – plus readers and music lovers to talk about anything and everything. If you fancy joining in on the conversation feel free to post under their videos and if you'd like to be on the show drop them a message on the Getintothis Facebook page.
Campaign would like to invite you to join their virtual Book Club with Ann Francke OBE, as she discusses her latest book and debates issues of gender equality at work. Themed around her book Create a Gender-balanced Workplace, Franckeintroduces her solution to combating the problems at the heart of the continued imbalance and offers clear, actionable strategies for making positive changes in the workplace. Taking place on Wednesday 6 May at 2pm, you can sign up to watch here.
---
 Exhibitions at home…
---
Where the Arts Belong, is a programme launched by Bluecoat in 2019 and supports artists to collaborate with people living with dementia and their carers. Watch this insightful film which captures sculptor Brigitte Jurack bring the rich sensory aspects of working with clay into the lives of those with dementia.
Showcased online for the first time ever, Sefton Open Digital Exhibition is now live. Over 190 pieces of artworks have been brought together to celebrate the creativity and artistic talent that exist across the borough. View them in all their glory here.
---
Freedom to get creative…
---
Inspired by the clay masks in Jonathan Baldock's Facecrime exhibition, Bluecoat have created a fun, step by step guide on how to make your own face sculptures using egg boxes! Scissors and glue at the ready – on your marks, get set, go… Eggsellent!
Dot-art have launched new online art classes. Led by a talented team of artist tutors maybe now might be the right time to learn a new skill or hone existing ones. From digital photography for beginners, an introduction to lino cut, drawing techniques and an introduction to Adobe Lightroom there are many of interesting topics to keep you occupied. More themes will be added over the coming weeks and courses will be repeated, so don't worry there are plenty of opportunities to try them all. Full details, prices and booking information can be found at dot-art.co.uk/art-classes. In addition to this, the team are setting up a Teachers Corner exhibition, while they have also set up a blog giving advice on how to get creative during isolation. If that wasn't enough, they have also began a "video viewings" service for anyone interested in purchasing affordable, locally sourced, original and limited edition art online. Find out about all of these services here.
---
Positive programmes…
---
Collective Encounters have recently launched their Social Distancing Programme in response to some of the challenges being faced by local communities. Through online creative sessions, Above & Beyond offers adults the chance to explore the issues and themes of community, agency and empowerment. Radical Makers is open to those who wish to participate in theatre in a friendly environment and the Youth Theatre continues to connect via video conferencing. There are a whole host of other activities you can get involved in, so go to the Collective Encounters website to stay up to date with what's happening and when.
Liverpool dance company Movema is offering its acclaimed 'World in a Box' resource via a new online educational platform. Open to schools, communities and anyone with a passion for dance and culture, this free source of information helps to increase confidence, tackle obesity, improve mental health and give children an understanding of diverse communities and cultures from around the world. Many years in the making, this invaluable resource can be trialled for free for 6 months. Simply go to worldinabox.co and follow the links to take advantage of this offer.
---
Festivals and roadshows are go…
---
 Liverpool Arabic Arts Festival have announced they are still going ahead this year. With a few months remaining, they've had time to ponder and decided their festival is going digital. Talking to artists, collaborators, venues and funders, they believe there is still opportunity to deliver Arab arts and culture via various online platforms. Like many in the cultural world, they are finding new ways of sharing their stories via Vimeo, Facebook Live, Twitter, Instagram and, yes, Zoom, in order to stay connected with their audience. Not all elements can be delivered but expect performance, conversation, debate, dance and food. Yes, FOOD! Can't wait? Find out more here.
In a UK exclusive,the Irish National Famine Museum at Strokestown Parkand the Irish Heritage Trustare bringing together an online curated presentation and discussion called the The Great Famine Voices Roadshow. Detailing a collection of stories gathered from generations of families retelling their tails of their journey from Ireland to North America, the Great Hunger and more, you can join in the conversation on Saturday 2 May. To find out how, head on over to the Liverpool Irish Festival website for more information.
---
Light-hearted entertainment for the weekend …
---
Homotopia have an extensive library of videos from over the years, so if you're on the lookout for the sublimely bizarre why not check out their 2012 throwback video Council House Movie Star. Capturing the everyday life of drag queen Gale Force, an ageing WAG / HAG queen, this immersive theatre experience is interspersed with commentary from Writer Producer Mark Edward and Director Rosa Fong. Interested? More thought provoking films can be found at homotopia.net.
Originally performed and live streamed in 2014, Tiger Country is available to watch on demand until Sunday 26 April, courtesy of the Hampstead Theatre At Home Series. Following a group of young doctors during the busiest time of the year, this action packed drama intertwines multiple stories in a compassionate and humorous way.
---
And finally…
---

---
Leave a trace, not a footprint! That's the message from ROCK, who are presenting a FREE series of three webinars of how cities can reduce the environmental impact of cultural events. Each episode will feature a guest speaker to introduce some conceptual elements linked to the focus of the day; a training module for participants led by our partner Julie's Bicycle; illustrative case studies from EUROCITIES members. More details on the webinars are featured below:
Episode 1, 23 April 2020, 11.00-13.00 CET. The episode will focus on governance and planning and how sustainability can be inscribed in cities' strategy, illustrated by local examples from Liverpool and Nantes. Zoom registration link.
Episode 2, 30 April 2020, 11.00-13.00 CET. The episode will focus on environmental impact management and a run through the main environmental impact areas and key actions for reduction, illustrated by local examples from Bologna and Leeuwarden. Zoom registration link.
Episode 3, 07 May 2020, 11.00-13.00 CET. The episode will focus on how to better communicate around sustainable cultural events, illustrated by local examples from Edinburgh and Malaga. Zoom registration link.