Albert Dock (Dublin)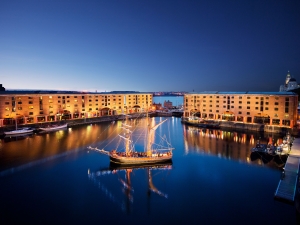 A warm Gaelic welcome is guaranteed at the historic Albert Dock where our nautical festival includes a wealth of Celtic cultural celebrations.
Ireland is Liverpool's closest cousin across the sea. And with more than half of Liverpudlians having Irish blood running through their veins, it's no wonder the city has produced generations of musicians, artists, storytellers and poets.
Enjoy a taste of that rich culture in a programme of events taking over the spaces around the dock and the Dr Martin Luther King Building – being turned in to an Irish Pavilion.
Tap your toes to the rhythmic sound of traditional Irish dance, as members of the George Ferguson and Bolger-Cunningham Dance Academies showcase the best in the irresistible high-energy artform.
And watch some ingenious and enchanting movies which were shown for the first time in Liverpool during the inaugural Celtic Animation Film Festival as part of the Liverpool Irish Festival 2017, re-curated here especially for the Three Festivals Tall Ships Regatta.
Both take place inside the porticoed Dr Martin Luther King Building, once the home of the dock traffic office when sailing ships plied their trade between Liverpool and Ireland.
Outside meanwhile there's a takeover of a historic ship, where you can enjoy some great tunes from musicians who hail from either side of the Irish Sea, along with the chance to enjoy a taste of some traditional Irish food and drink.
And stop to wonder at some spectacular new commissions created especially for the Three Festivals Tall Ships Regatta, including Faith Bebbington's giant tabby Ship's Cat and Super Rat and prepare to be dazzled by the Rising Sun installation which will come to life as the real sun sets.
Some of the festivities are supported by the creative team behind the city's annual Liverpool Irish Festival. Guaranteed to put a spring in your step and song in your heart.
For news and updates straight to your mobile or desktop, you can follow us on the Culture Liverpool social media channels including Facebook, Twitter and Instagram and use the hashtag #TallShips.