Rosa Johan Uddoh Practice Makes Perfect Exhibition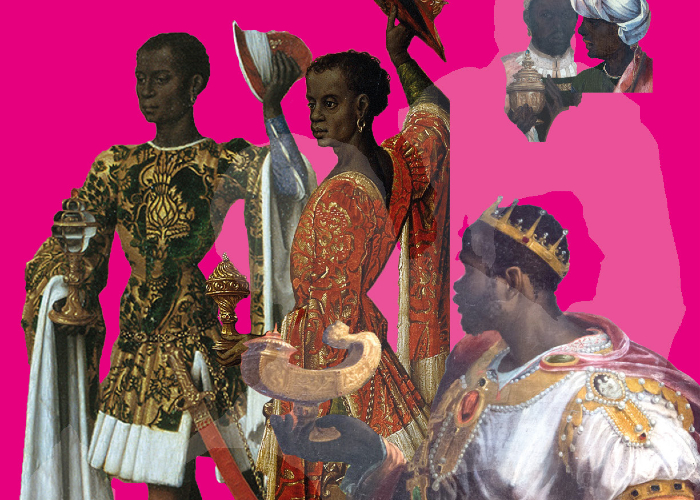 ---
Brought to you by the Bluecoat
Friday 15 October – Sunday 23 January, Wednesday – Sunday, 11am – 5pm
The Bluecoat , School Lane, Liverpool, L1 3BX
Free. Pre-booking essential
---
Practice Makes Perfect is focussed on the timely subject of childhood education in Britain. Rosa-Johan Uddoh looks at how schooling forms an early understanding of what it means to be British. Responding to current debates about Black history within the National Curriculum, Uddoh has approached creating new work for this exhibition as therapeutic 'wish fulfilment' in a time of uncertainty and tension.
The exhibition includes a major new work by Uddoh – a large-scale collage – which investigates the historical figure of Balthazar. According to tradition, Balthazar was one of the three biblical Magi and later a Saint, who offered the gift of Myrrh to Jesus. Depicted since medieval times as a lone black figure in artistic imagery of the Nativity scene or 'Adoration', this King is often the first time school children encounter a Black person of importance in history.
Historically, Balthazar is a figure through which white artists and their patrons in Europe first constructed 'Blackness'. Through her research, with the assistance of Nasra Abdullahi, Uddoh has found and catalogued around 150 historical 'Balthazars' featured in 'Adoration' paintings made throughout European history. Thinking about the real, Black European sitters for these paintings, Uddoh's billboard-style collage brings these Black kings together in friendship groups on a long march of solidarity to change the West.
Two online events will complement the programme throughout November and December. Liverpool: Black History and Black Activism, Decolonising our History and Exploring Black Liberation with Chantelle Lunt, and The Black Magus: Power and Magnificence in Renaissance Europe, with Michael Ohajuru.
Bluecoat is delighted to be showing American artist Deborah Roberts and Liverpool artist Sumuyya Khader this autumn alongside Rosa-Johan Uddoh.
---
More information: www.thebluecoat.org.uk
---
Join the conversation:
---
Facebook: @theBluecoat
Twitter: @thebluecoat
Instagram: @the_bluecoat
---
Image Credit: (c)Rosa-Johan Uddoh, Practice Makes Perfect. Here I am, Baby, 2020. Image courtesy the artist.
---