Personnel Travel Free with Arriva!
This page is from 2017 and has been archived.
Please be aware that the information may be out of date.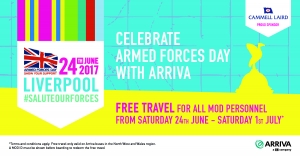 Liverpool is proud to be hosting the national celebration of Armed Forces Day on 24th June, with a packed programme for the whole family to enjoy, kicking off with a military parade of more than 1,000 serving personnel, veterans, cadets, and marching bands. There will also be stalls at the 'village' along the waterfront including interactive demonstrations and the chance to get up close and personal with helicopters, tanks, planes, and naval ships!
Arriva will also be playing a part in the celebrations, offering free travel for all servicemen and women, past and present, from 24th June – 1st July. Simply show the driver your MOD I.D and enjoy free travel throughout the North West and Wales!