Parade of Sail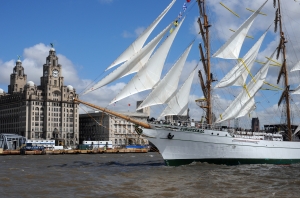 Parade of Sail
When: Monday 28 May
Time: 12pm – 1.30pm
From 12pm the Tall Ships will muster in formation for the Parade of Sail on the River Mersey. Anywhere along the waterfront will provide a great vantage point to watch the vessels as part of the Parade of Sail.
The ships will slip their moorings and move out from their births in to the river from 9am on 28 May, forming up in line upstream, close to the Echo Arena. The Parade of Sail itself will start at approximately 12noon, with fantastic views from both the Liverpool and Wirral sides of the water.
The Ships, crewed by young voltuneers, will parade toward the mouth of the Mersey, sailing past the Albert Dock, Pier Head and New Brighton before starting the race to Dublin 13 miles out in Liverpool Bay.
They will be escorted by ships from HMS Eaglet and Merseyside's Royal Naval Reserve Training Centre, who will bring up the rear of the parade.
All timings are subject to weather and tidal conditions.