National Express
This page is from 2015 and has been archived.
Please be aware that the information may be out of date.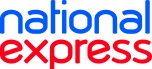 National Express are proud to be the Official Coach Partner for this series of magnificent events.
Witness the unique experiences on offer this summer, with great value fares available on travel to and from Liverpool. Liverpool Coach Station is on Norton Street and offers great access to the whole of the city.
Coaches come with reclining leather seats, air conditioning and power sockets on most vehicles, meaning you'll arrive relaxed and ready for the days of discovery ahead.
Book your tickets using the journey planner [insert 'on the left/right', 'above' as appropriate] and enjoy your stay